Services Near Marine Corps Bases
Looking for a SERVICE or TRAVEL near Marine Corps Bases? Below you'll find lists of vendors and hotels near Marine Corps Bases. Links on this page are either recommendations from other Marine Corps family members or paid advertising.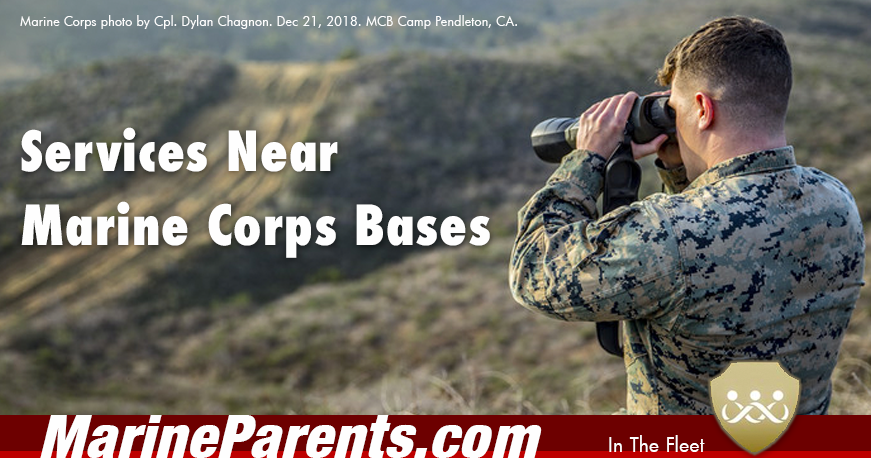 ---
CAMP PENDLETON, CA
CHERRY POINT, NC
HAWAII
JAPAN
TWENTYNINE PALMS, CA
Would you like to add your Marine Corps Base-Friendly Services (cake or meal delivery, package delivery) or travel (hotels, rental cars) to this page? We need to hear from you!
Advertisers: Travel Related
If you offer a travel-related service near a Marine Corps base such as a hotel, vacation rental, or rental car, please visit our Advertising Rates page below:
MarineParents.com/Contact/Advertising.asp
Delivery & Food Services
To qualify for a listing on this page, your Marine Corps Base delivery or food service must be willing and able to deliver packages, homemade meals for Marines, or Birthday Cakes for Marines ONTO a Marine Corps base.

We ask that you provide business/organization name, all contact information, website links, and at least three references you have recently done business with using our "Link" request form:
MarineParents.com/Contact/Link.asp

Other Resources
If you know of other resources near a Marine Corps Base which would benefit our Marine Corps family members and Marines, we want to hear from you. Please complete our "Link" request form with full details of the resource you would like us to add:
MarineParents.com/Contact/Link.asp