MarineParents.com: Support Support Programs for Recruiters
MarineParents.com has been providing services to Marines and their families since 2003. We've been providing Recruiters with pamphlets and literature for parents of poolees and recruits since 2005.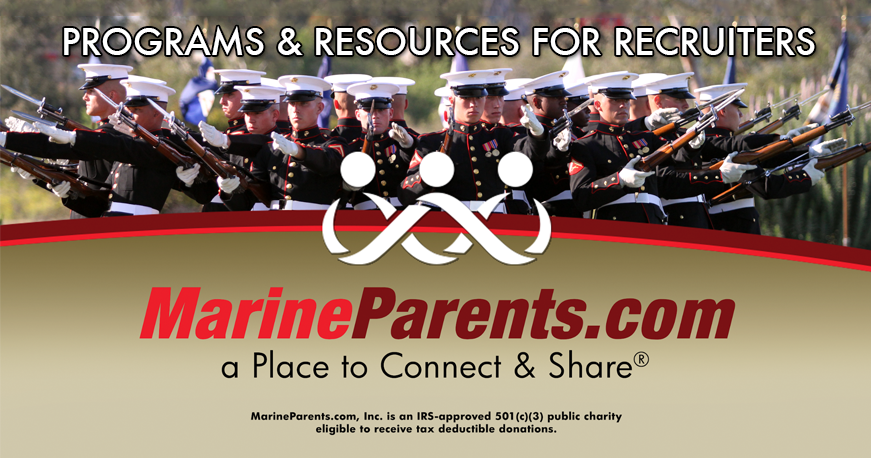 ---
Order a Poolee Kit at No Cost to Recruiters
Our Corps Kit™: Poolee Presentation Kit is intended for use on a display table during Parents and Poolees functions put on by your local Marine Corps recruiting office. For distribution to Marine Corps Recruiters only!
The Corps Kit™: Parents & Poolees is free to recruiters and contains the following:
40 Presentation folders with the following inserted:
MarineParents.com Workbook
Training matrix for San Diego or Parris Island
Welcome letter from the founder
5 Parris Island matrices will be included in San Diego kits for female recruits
3'x5' posters of both MCRD Parris Island and San Diego Training Matrix
50 MarineParents.com wristbands
10 RecruitParents.com Brochures in Español
20 Calendars (while supplies last)
1 Door prize for poolee events (while supplies last)
---
Request a Speaker for Your Event
If you would like a representative from MarineParents.com to speak to family members about MarineParents.com at your poolee or recruiting event, please send us an email at MP@MarineParents.com. The speaker will provide each guest with a presentation folder filled with brochures and graduation information and will follow these talking points.
---
MarineParents Travel Assistance
We offer financial assistance for travel to boot camp graduations. Parents who may be having a hard time with finances may apply to our program, MarineParents.com Travel Assistance (MPTA). We've been supporting Marines and their family members since 2003 and have been providing travel assistance since 2018 through this outreach program. Click here to learn more: www.MarineParents.com/TA.
---
We Support Marine Families through Every Stage of the Corps
We have information for every step of the journey, whether it's the poolee stage, through boot camp, the school of infantry and military occupational schooling, permanent duty stations and deployments, then after the Corps and reintegrating back into civilian life. Click here to learn more about our outreach and services.
---
Thank you so much. These packages that you have sent have helped out a lot. I've been sending them to each one of my poolees' parents when they're about to ship and they have said that your website has helped them out a lot. SSgt Mendoza, RSS El Paso West, 2015