Ranks in the Marine Corps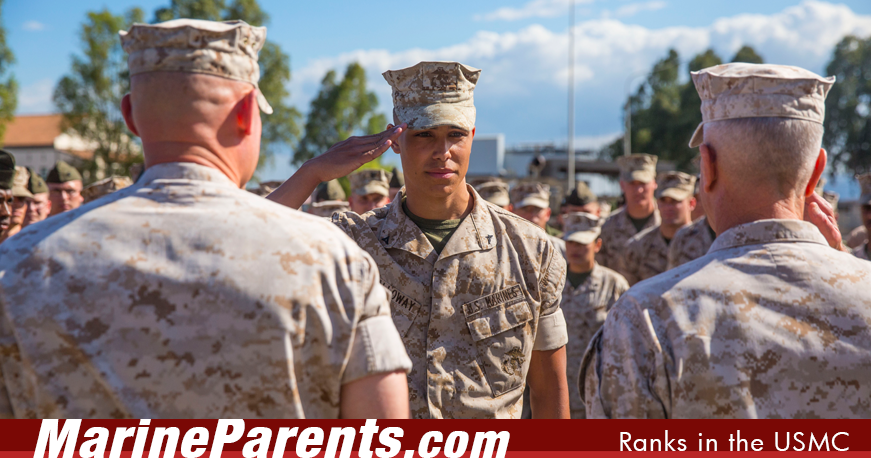 This list is in ascending order. It includes pay grades and abbreviations in the style used by the Marine Corps.
Enlisted:
E-1, Private, Pvt
E-2, Private First Class, PFC
E-3, Lance Corporal, LCpl

Noncommissioned Officers, or NCOs:
E-4, Corporal, Cpl
E-5, Sergeant, Sgt

Staff Noncommissioned Officers, or SNCOs:
E-6, Staff Sergeant, SSgt
E-7, Gunnery Sergeant, GySgt
E-8

Master Sergeant, MSgt
First Sergeant, 1Sgt

E-9

Master Gunnery Sergeant, MGySgt
Sergeant Major, SgtMaj
Sergeant Major of the Marine Corps
NOTE 1: The E-8 and E-9 levels each have two ranks per pay grade, each with different responsibilities. Gunnery Sergeants indicate on their annual evaluations, called "fitness reports," or "fitreps" for short, their preferred promotional track: Master Sergeant or First Sergeant. The First Sergeant and Sergeant Major ranks are command-oriented, with Marines of theses ranks serving as the senior enlisted Marines in a unit, charged to assist the commanding officer in matter of discipline, administration and the morale and welfare of the unit. Master Sergeants and Master Gunnery Sergeants provide technical leadership as occupational specialists in their specific MOS. First Sergeants typically serve as the senior enlisted Marine in a company, battery or other unit at similar echelon, while Sergeants Major serve the same role in battalions, squadrons or larger units.
NOTE 2: The Sergeant Major of the Marine Corps is the senior enlisted Marine of the entire Marine Corps, personally selected by the Commandant of the Marine Corps.
Enlisted Insignia

E-2
Private First Class
PFC
E-3
Lance Corporal
LCpl
E-4
Corporal
Cpl
E-5
Sergeant
Sgt
E-6
Staff Sergeant
SSgt
E-7
Gunnery Sergeant
GySgt
E-8
Master Sergeant
MSgt
E-8
First Sergeant
1Sgt
E-9
Master Gunnery Sergeant
MGySgt
E-9
Sergeant Major
SgtMaj
E-9
Sergeant Major of the Marine Corps
SgtMajMC
Warrant Officers
W-1, Warrant Officer 1, WO1
W-2, Chief Warrant Officer 2, CWO2
W-3, Chief Warrant Officer 3, CWO3
W-4, Chief Warrant Officer 4, CWO4
W-5, Chief Warrant Officer 5, CWO5
NOTE 3: A Chief Warrant Officer, CWO2-CWO5, serving in the MOS 0306 "Infantry Weapons Officer" is designated as a special rank: "Marine Gunner". A Marine Gunner replaces the Chief Warrant Officer insignia on the right collar with a bursting bomb insignia. Other Warrant Officers are sometimes informally also referred to as "Gunner" but this usage is not considered correct.
Warrant Officer Insignia

WO1
Warrant Officer 1

CWO2
Chief Warrant Officer 2

CWO3
Chief Warrant Officer 3

CWO4
Chief Warrant Officer 4

CWO5
Chief Warrant Officer 5

Commissioned officers:
Company-grade officers
O-1, Second Lieutenant, 2ndLt
O-2, First Lieutenant, 1stLt
O-3, Captain, Capt
Field-grade officers
O-4, Major, Maj
O-5, Lieutenant Colonel, LtCol
O-6, Colonel, Col
Generals
O-7, Brigadier General, BGen
O-8, Major General, MajGen
O-9, Lieutenant General, LtGen
O-10, General, Gen
NOTE 4: There has never been an O-11 "five-star" General rank thus far in the Marine Corps, though such a rank could theoretically be created at any time by an act of Congress. Currently, no officer in any branch of the U.S. military holds such a grade.
Commissioned Officer Insignia

O-1
Second Lieutenant

O-2
First Lieutenant

O-3
Captain

O-4
Major

O-5
Lt. Colonel

O-6
Colonel

O-7
Brigadier General

O-8
Major General

O-9
Lt. General

O-10
General

Image Info: Sigonella, Italy, Italy - Lance Corporal Antonio C. Galloway (center), an aircraft communications, navigation, electrical and weapon systems technician with Marine Medium Tiltrotor Squadron [VMM 264], is meritoriously promoted to the rank of corporal by General James F. Amos (right), 35th Commandant of the Marine Corps and Sgt. Maj. Micheal P. Barrett (left), Sergeant Major of the Marine Corps, during a visit to Special-Purpose Marine Air-Ground Task Force 14 aboard Naval Air Station Sigonella, Sicily, Sept. 3, 2014.
—(U.S. Marine Corps photo by Cpl. Shawn Valosin)