On December 15, 1948, then-Secretary of the Navy John L. Sullivan and then-Secretary of Defense James V. Forrestal signed a "Memorandum of Agreement" that laid the basis for the foundation of the Marine Security Guard program. In the decades since, Marine embassy guards have served with honor and distinction, protecting U.S. diplomatic missions, interests, and personnel around the world.
The Marine Corps Embassy Security Group, as it is known today, is an elite group comprised of Marines who have been specially selected and trained for this duty. Currently, there are more than 1,000 Marines currently assigned to the Marine Corps Embassy Security Group and Marine Security Guard detachments located at more than 170 U.S. embassies and consulates across the globe.
Marine Security Guards are commonly referred to as "ambassadors in blue" and they are typically the first Americans seen at U.S. diplomatic missions. The guards perform guard duties 24 hours a day, seven days a week, 365 days a year. Their job duties include, but aren't limited to, the following:
Protect American government personnel and property
Prevent classified information and equipment from being compromised
Control access to/within U.S. missions
Conduct inspections to ensure classified information is secure
Monitor surveillance devices, fire alarms, and serve as the focal point for emergency communications
As the U.S. government's first line of defense in crisis situations overseas, Marine Security Guards have protected embassies and consulates from anti-American riots and demonstrations, as well as helped evacuate U.S. diplomats, their families, and other American nationals during times of unrest, often times giving their lives in the line of duty.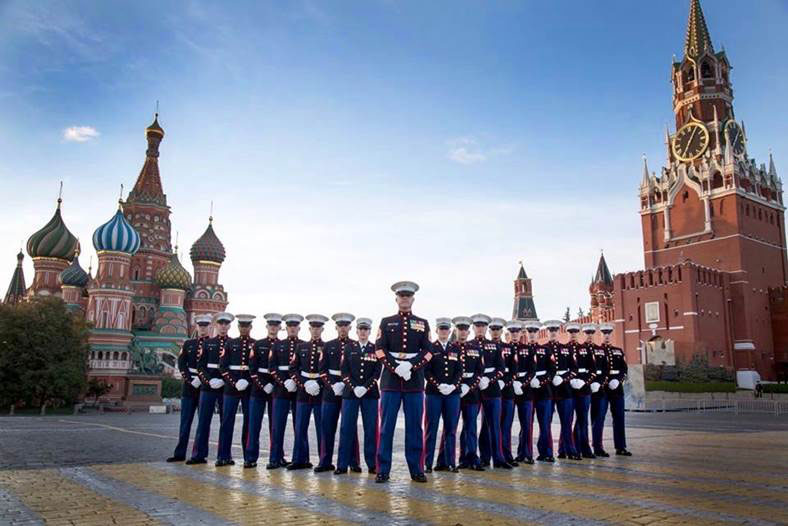 —The Moscow Marine Security Guard detachment October 7, 2015. (USMC photo/released)