Adopted in 1859, the United States Marine Corps NCO sword is carried by Non-Commissioned Officers (NCOs) and Staff Non-Commissioned Officers (SNCOs).
Currently used solely for ceremonial purposes, the M1859 NCO sword was introduced by the sixth Commandant of the Marine Corps, Colonel John Harris in recognition of the leadership of NCOs/SNCOs in combat.
The Marine Corps NCO sword is the oldest weapon in continuous use in the United States military (the USMC Officer's sword, the "Mameluke," was introduced prior to the NCO sword, but was out of use during the early years of the Civil War).
To purchase your NCO sword today, please click here...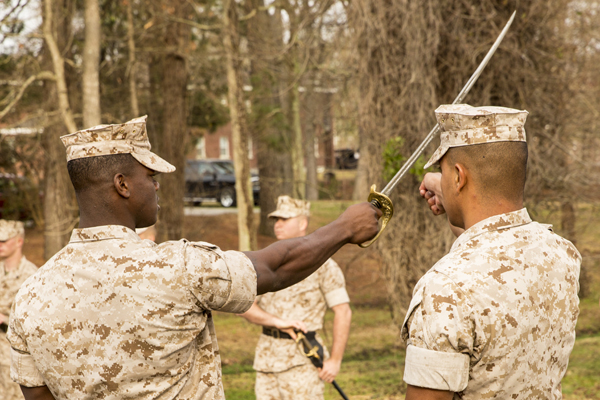 An instructor with the 2nd Marine Logistics Group's Corporal's Course assists a noncommissioned officer with sword drill movements aboard Marine Corps Base Camp Lejeune, N.C., March 20, 2014. Instructors used a combination of demonstration and repetitive application to hone the Marines' form and command presence.
—(USMC photo Cpl. Shawn Valosin)