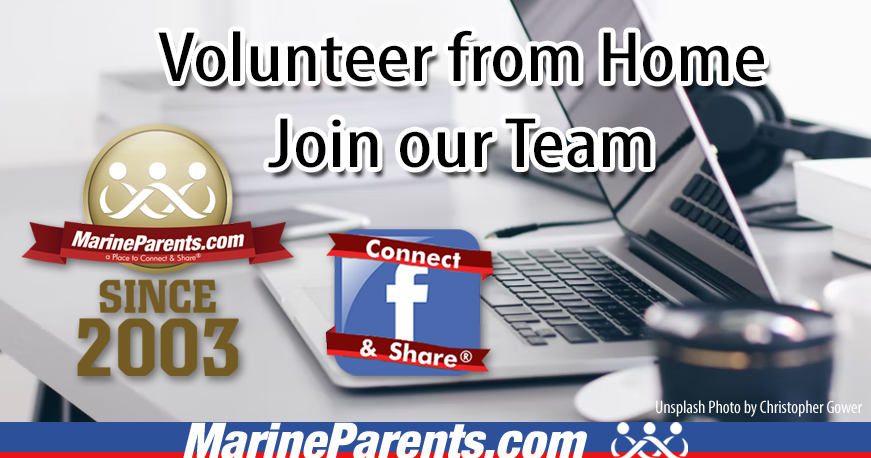 Volunteering at MarineParents.com
Thank you for your interest in becoming a volunteer at MarineParents.com, Inc.®. The organization is growing daily, and our need for additional volunteers is growing as well. Volunteering at Marine Parents is a rewarding experience and opens many doors to new friendships and levels of support, and provides you an opportunity to lend support to other Marine Corps families, in addition to our Marines and Sailors. Volunteers at Marine Parents receive no compensation, either monetarily or with benefits.
Volunteer positions at Marine Parents cover a wide range of capabilities, number of hours required, and levels of responsibility. The organization currently has over 150 volunteers working to support our Marines and their family members in a variety of ways.
Volunteers are expected to make a daily time commitment and must sign a confidentiality agreement and contract to volunteer for 12-months. Volunteer positions require training, including the reading of informational resources and a telephone interview(s). Our social media volunteers are required to complete 4-Phase training with exams for each phase, as well as a fifth phase with a mentor, totaling an average of 40 hours of training over 4-6 weeks.
Volunteers are provided with online tools, online instruction, and an online office environment via Google Docs for communicating and working with other volunteers, directors, and paid staff. Volunteers are required to have access to a computer and an internet connection.
MarineParents.com, Inc. does not discriminate on the basis of race, color, religion, national origin, ancestry, sex, sexual orientation, gender identity, gender expression, age, marital status, genetic information, disability, military service, or veteran status. The organization's nondiscrimination policy applies to all phases of its employment, appointment and compensation process for applicants, staff, consultants, volunteers and directors as well as to all aspects of its services, programs and activities that it operates.
We look forward to the possibility of working with you as a volunteer!
To learn more about MarineParents.com's volunteer positions, please click here...
To learn more about MarineParents.com's volunteers, please click here...
To apply to volunteer with MarineParents.com, please click here...