Travel Assistance Boot Camp Graduations
The mission of our Travel Assistance program is to support Marine Corps recruits by assisting one of his/her family members who shows significant financial need, to attend boot camp graduation events so the Marine is not alone.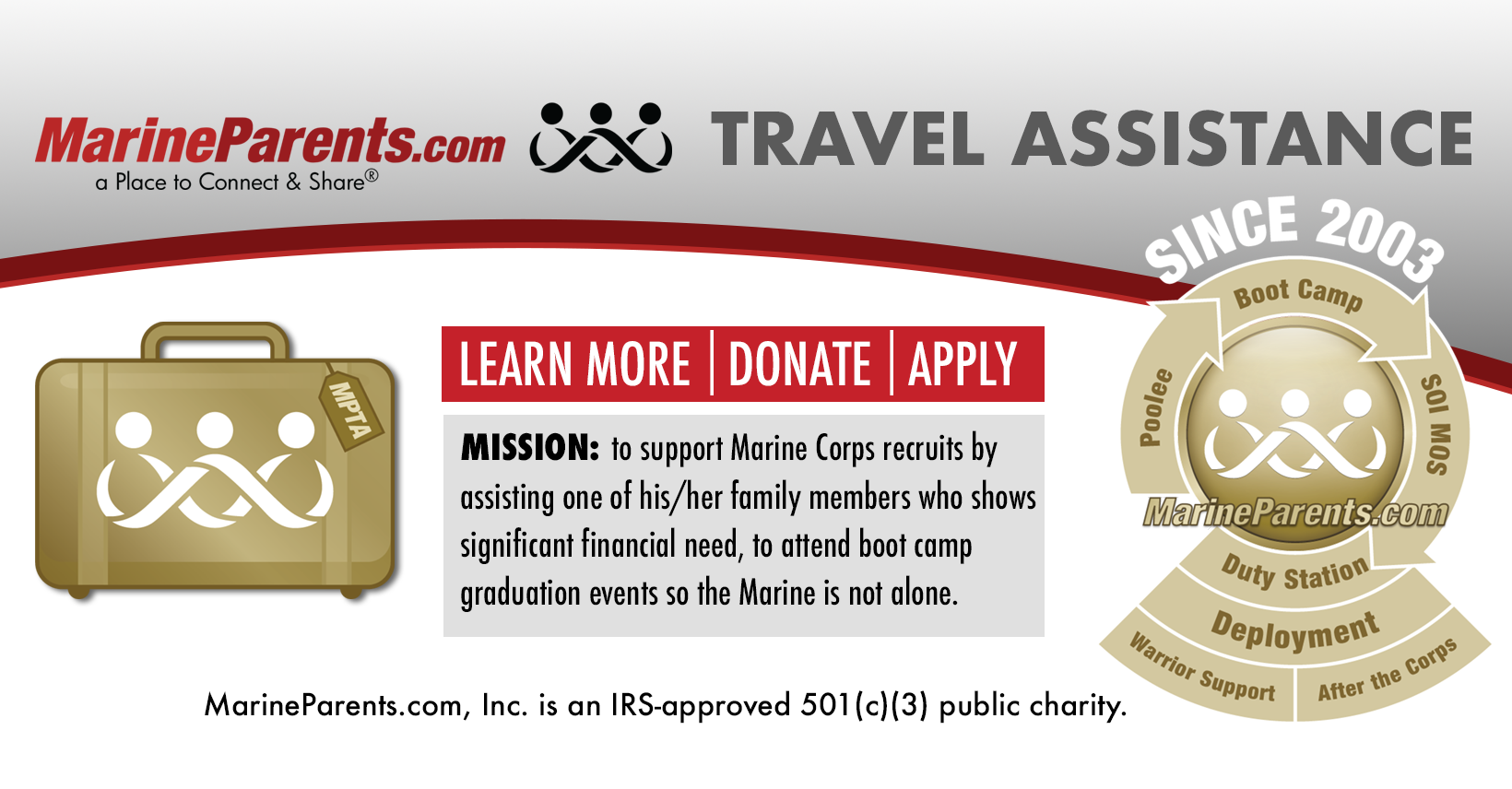 ---
COVID-19 & GRADUATION CEREMONIES
Due to the effects of the COVID-19 pandemic, effective March 13, 2020, the Secretary of Defense has provided direction that public attendance at graduation ceremonies and related activities is prohibited, with no exceptions.
Until further notice, applications and processing applications for MarineParents.com Travel Assistance to Marine Corps graduations has been suspended. Stay informed with updates using our COVID-19 announcement page: https://marineparents.com/covid-19-update.asp
---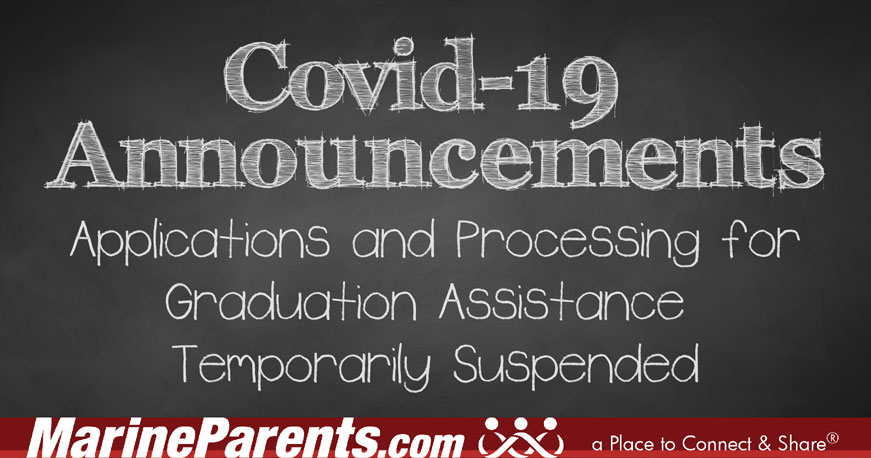 How Our Travel Program Works
Attending the graduation ceremony for your newly-minted Marine is an experience every soon-to-be Marine parent would like to experience. However, some families cannot afford to attend their recruit's graduation. For each boot camp graduation cycle, we raise money to fund our Travel Assistance program. Funds are used to reimburse a recruit's family members who meet our financial need requirements. Administrative costs for the program are funded through MarineParents.com. Recipients are not required to repay the travel costs.
Make a Donation
MarineParents.com, Inc. is an IRS-approved 501(c)(3) public charity.
If you would like to make a monthly donation to Travel Assistance, click here.
YOU can help another family member attend their recruit's graduation. Make your donation to the Travel Assistance program by selecting a Location, Company and Graduation Date below:
Share in Social Media
We encourage you to share our RecruitParents.com page on the Travel Assistance program in Social Media. The following page includes all the graduation dates and active fundraising for current boot camp graduation dates.
RecruitParents.com/bootcamp/mpta.asp
Stories & Photos
We will be sharing the photos and stories of families we have helped as the family members report back to us. Click here to view.
Who Can Apply for Assistance
The MarineParents.com Travel Assistance Program provides for limited reimbursement of airline tickets (and possibly other expenses) for a recruit's family member to attend BOTH family day (typically Thursday) and graduation day (typically Friday). Applicants must be the parent, legal guardian or spouse of the recruit. In a joint application for a married couple, at least one person must be the parent or legal guardian.
We are not able to provide Travel Assistance for siblings or relatives who are not a parent, legal guardian, or spouse of a recruit.
Reimbursement For Travel Expenses
When donations allow, travel assistance may be available in the form of partial travel reimbursements for qualified recipients. Travel expenses (airfare and hotel) vary widely depending on locations, but can run $650 per person and $1,000 for a couple traveling together. The award from MarineParents.com Travel Assistance will NOT cover all costs of travel and overnight accomodations. Award recipients will incur additional costs to attend graduation, including meals and should be prepared to cover those expenses themselves.
What to Know Before You Apply
Before completing the online application, read our APPLICATION GUIDELINES which includes tips and timeline to assure your application is received according to our established procedures. Applicants who fail to follow the timeline and instructions will not be considered for Travel Assistance from MarineParents.com.
Click here for APPLICATION GUIDELINES.
Step 1: Our Guidelines
Step 2: Our Application (Application is temporarily unavailable.)