Meet the Volunteers of MarineParents.com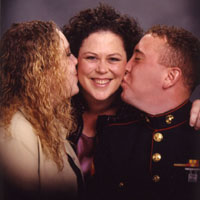 This organization could not exist if it were not for the contributions of hundreds of parents around the United States. Our volunteers have taken that one step further and contribute endless hours answering emails, moderating the social media groups, researching information, and supporting the parents, spouses, family and friends of our United States Marines. The dedication to our Marines and their family members from each of these individuals benefits thousands of families around the world.
It takes some pretty incredible people to keep all the balls afloat at Marine Parents, and that includes our staff and directors. Each of these people have a personal commitment to excellence in an organization that is over the top. The compelling "Get it Done" attitude amongst these team players makes it an amazing workplace and a true joy to come to work each day. Our directors are volunteers and work remotely from their homes, often in addition to full-time jobs. Their vacation time is used for travel to meetings and events around the United States on behalf of Marine Parents. That, simply put, is dedication!
Words can never express my gratitude to each of the volunteers, directors, and staff members that work together to make MarineParents.com an amazing resource and outreach. Thank you, to each of you, for your tireless commitment on the web site, MarineParents.com: a Place to Connect & Share®!
I just wanted to say thank you to all of you at Marine Parents during this difficult time of our son's deployment. Thank you for all the time spent and those who volunteer to make this possible. Once again, thank you from us and from my son.
015— A Marine Mom in 2010
---