Hispanic Heritage Month Feature—Kiki Camarena
Enrique "Kiki" Camarena Salazar was a Mexican-born American Marine and undercover agent for the United States Drug Enforcement Administration (DEA).
Born in Mexicali, Mexico in 1947, Camarena joined the Marine Corps in 1973, serving for two years. Following his time in the corps, Camarena joined the DEA, first in Calexico, California, before transferring to the agency's Fresno office in 1977 and then to its Guadalajara, Mexico office in 1981.
Four years later, on February 7, 1985, while on an undercover assignment in Mexico, Camarena was kidnapped, tortured, and murdered by corrupt Mexican police officers working for drug lord Miguel Angel Felix Gallardo. His body was found nearly a month later, on March 5 outside the small town of La Angostura, Michoacan State, Mexico.
During his time with the DEA, Camarena received multiple awards for his service and, following his death, was awarded the Administrator's Award of Honor, the highest award given by the organization. He was survived by a wife and three sons.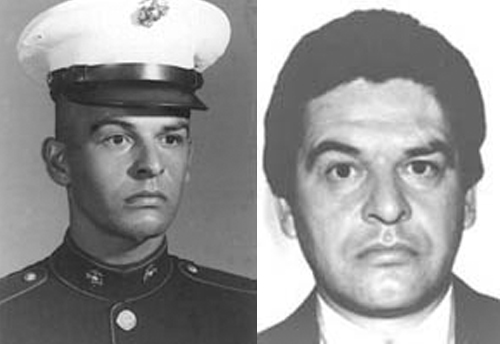 — Enrique "Kiki" Camarena Salazar's USMC (left) and DEA (right) photos. (U.S. government photos/released).