Marine Corps History: Frederick C. Branch
The Marine Corps, more so than any other branch of America's military, values and embraces its history. Beginning in boot camp, every Marine is educated on the Corps' proud and storied past as they learn what it means to be part of such a prestigious organization. In the spirit of the value the Marine Corps places on its history, we wanted to give you, Marine families and supporters, an opportunity to embrace and learn about this part of Marine Corps legacy as well. In this piece, we take a further look at the first African-American officer in the United States Marine Corps - Frederick C. Branch.
Background
Frederick Clinton Branch was born in Hamlet, North Carolina, in 1922, the son of an African Methodist Episcopal Zion minister. After graduating high school in New York, Branch enrolled at Johnson C. Smith University in Charlotte, NC, before transferring to Temple University in Philadelphia, Pennsylvania. While enrolled at Temple, Branch received his draft notice from the US Army in 1943 and reported to Fort Bragg, North Carolina, for basic training.
Marine Corps Career
After reporting to Fort Bragg for induction into the Army, Brach was chosen to become a Marine and was sent to the nearby Camp Montford Point for Recruit Training, becoming one of the more than 20,000 Montford Point Marines (African-American Marines who underwent separate, segregated Recruit Training at Camp Montford Point between 1942 and 1949.) After Recruit Training, Brach applied for Officer Candidate School (OCS), but was denied due to his race and was sent to serve with a supply unit supporting operations against the Japanese in the Pacific instead.
While serving in the Pacific, Branch's performance earned him a recommendation for OCS from his commanding officer. He was then sent to Purdue University in West Lafaeyette, Indiana, to receive his officer's training in the Navy's V-12 program, the only African-American candidate in a class of 250. At Purdue, Branch made the dean's list and was commissioned a Second Lieutenant on November 10, 1945. As World War 2 had already concluded, 2nd Lt. Branch went into the Marine Corps Reserve.
During the Korean War, Branch was re-activated, commanding an antiaircraft training platoon at Camp Pendleton, California. Branch was discharged from active duty in 1952 and returned to the Reserve. Three years later, in 1955, having reached the rank of Captain, Branch retired from the Corps due to ongoing discrimination and promises for advanced training were not kept.
February 24, 2015
Written by: Collin Hoeferlin
Communications Specialist
© 2015 MarineParents.com, Inc.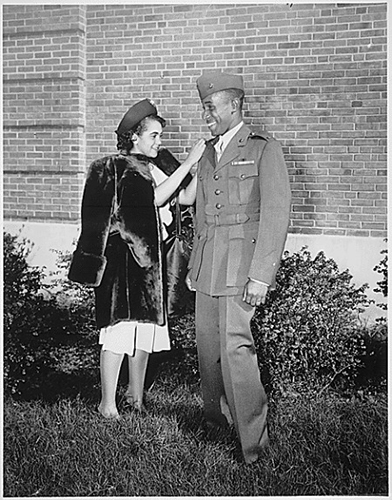 Frederick C. Branch being pinned with his 2nd Lt. bars by his wife, Camilla "Peggy" Branch.
—USMC photo
Post-Marine Corps Life
In 1947, Branch had received his bachelor's degree in physics from Temple University. After retiring from the Marine Corps, he taught at Dobbins High School in Philadelphia for more than three decades, retiring in 1988. In 1999, Branch's wife of 55 years passed away. Six years later, in 2005, Captain Frederick C. Branch passed away after a short illness and was buried at at Quantico National Cemetery in Quantico, Virginia. He was 82 years old.
Legacy
Frederick C. Branch's legacy is not to be understated. While the eventual integration of the Corps was inevitable, brave, determined, pioneering men such as Frederick Branch were crucial in speeding that process along. In the years since Branch became the first African-American Officer in the Marine Corps in 1945, a number of other African-American milestones have been reached in the Corps. In 1948, John E. Rudder became the first African-American officer in the regular Marine Corps (Branch was an officer in the Reserve. In 1968, PFC James Anderson Jr. became the first African-American Marine to be awarded the Medal of Honor. In 2002, 1st Lt. Vernice Armour became the first African-American female combat pilot in any branch of the American armed forces. And, perhaps most visibly, three of the last four Sergeant Majors of the Marine Corps (14th Sgt. Maj. Alford L. McMichael, 15th Sgt. Maj. John L. Estrada, and 16th Sgt. Maj. Carlton W. Kent, respectivel), as well as current Sgt. Maj. Ronald L. Green, have all been of African descent.