May is Military Appreciation Month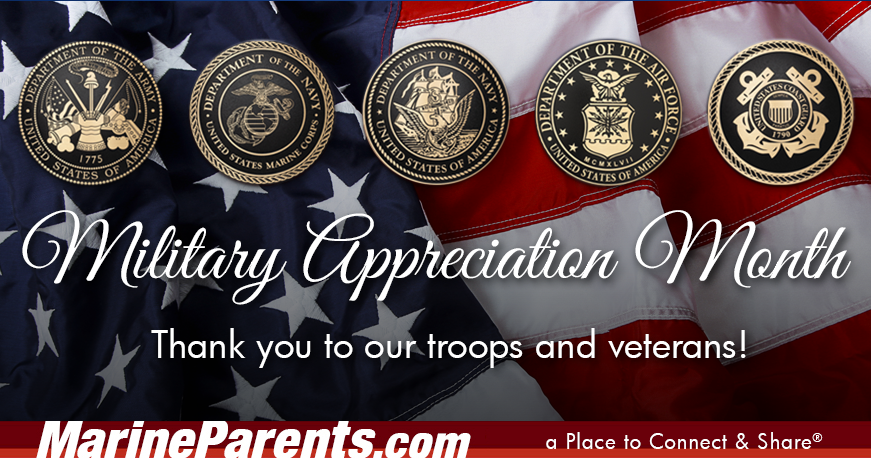 May is designated as "Military Appreciation Month" and, as such, I would like to take this opportunity to thank all of those who serve or have served our great nation for the sacrifices and hardships they have borne on behalf of a grateful nation. Without the patriotic individuals who have served our country over the years, the freedoms, liberties, and way of life we as Americans hold so dear would be impossible to maintain.
I'd also like to thank those who sacrifice and bear hardships on a daily basis in a less visible way - military family members. Love and support begin at home, and, while many not realize it, that love and support is more important than words can adequately describe.
Again, thank you to our service members, past and present, and their family members and loved ones around the world. You're inspirations to us all.
Thank you and God Bless,

Tracy Della Vecchia
Founder and Executive Director
MarineParents.com, Inc.
---
In 1999, the U.S. Senate passed a resolution designating May as National Military Appreciation Month (NMAM). NMAM began as a simple idea - to honor, remember, recognize, and appreciate those who serve and have served our great nation.
The first legislation for National Military Appreciation Month (S.Res 33) began in 1999 with the support and sponsorship of Senator John McCain, (R-AZ) and Representative Duncan Hunter, (R-CA) of San Diego, along with over 50 veteran service organizations. In 2004, more comprehensive legislation was passed by unanimous consent in both Houses of Congress, as H. Con. Res. 328 solidified May as National Military Appreciation Month. It also calls for the President of the United States to issue an annual proclamation calling on Americans to recognize this month through a number of ceremonies and events.
---
Free: Military Appreciation Month Wristbands

Click here to buy for $3.00
During the month of May, the first 1,000 customers in the EGA Shop, will get a free Military Appreciation Month Wristband. Wristbands are only available while supplies last. At EGAshop.com, 100% of the proceeds benefit the outreach programs of MarineParents.com, Inc. You can also purchase a wristband for $3.00, which will be used as a donation towards our outreach programs.