Sergeant Major Bradley Kasal
A Legendary Marine and a story worth reading. Iconic Washington Post Blue Door Photo on the cover of the book taken during Operation Iraqi Freedom.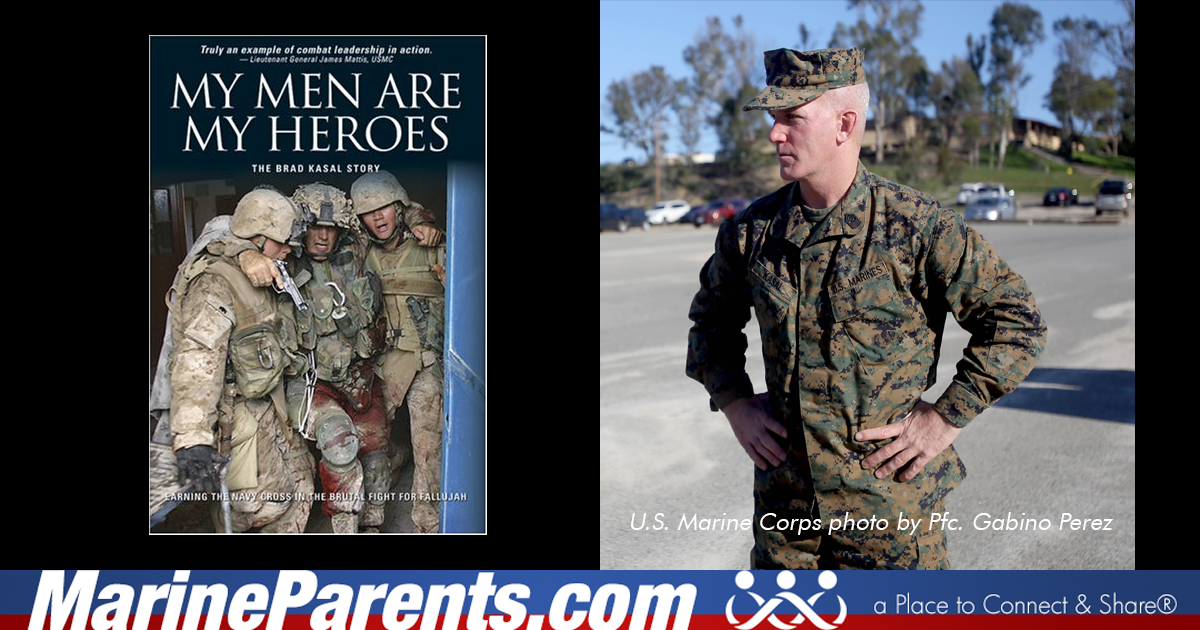 U.S. Marine Corps photo by Pfc. Gabino Perez
Sergeant Major Bradley Kasal is one of the most legendary Marines in Marine Corps history. While he is most well-known for the iconic photograph of him being helped from a building in Fallujah, Iraq by two of his Marines, he is equally well-known by Marines for his leadership and courage.
Kasal was born on May 1, 1966. He enlisted in 1984 and served for 34 years in the Marine Corps. Kasal's friends in school described him as a natural leader, so it's no surprise that he became one of the most iconic leaders in the history of the Marine Corps.
Over the years Kasal served in several different roles. He attended Ranger School at Fort Benning, Georgia, a school mainly attended by the Army. He was an Infantry Instructor at the School of Infantry at Camp Pendleton, and he also served three years as a recruiter. As a Sergeant Major, Kasal served as the senior enlisted leader of the 4th Marine Division, and the 1st Marine Expeditionary Force.
In 2004, while serving as First Sergeant for 3rd Battalion, 1st Marines, Weapons Company, Kasal was injured inside a building in Fallujah, Iraq. After being wounded by gunfire, Kasal was tending to another wounded Marine when he saw a grenade lying on the floor next to them. Kasal would lay on top of his Marine to protect him from the blast and sustained injuries from more than 43 pieces of grenade shrapnel. While losing blood from his injuries, Kasal refused medical treatment and extraction until the other Marines received medical treatment. He also shouted encouragement to his Marines as they continued to clear the building. Kasal was finally extracted from the building by LCpl Christopher Marquez and LCpl Dan Schaeffer.
For his actions that day, Kasal received the Navy Cross in 2006, the military's second-highest award for valor.
A biography of Kasal, "My Men Are My Heroes," written by Nathaniel Helms and Kasal, was quickly added to the Commandant's Professional Reading List and has been a popular recommendation ever since.
Sergeant Major Kasal retired from the Marine Corps on May 18, 2018.