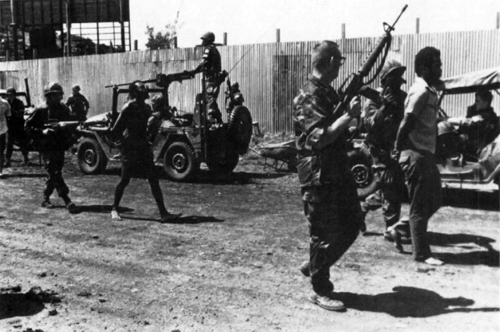 Suspected members of the Grenadian People's Revolutionary Army are taken by U.S. Marines to temporary compounds at the Queen's Park Racecourse, north of St. George's, Grenada, in 1983.
(USMC photo)
22nd MAU Lands on Carriacou
On November 1, 1983, 300 U.S. Marines from the 22nd Marine Amphibious Unit (MAU) staged an amphibious and helicopter landing on the island of Carriacou, 15 miles northeast of Grenada, in a search for Cuban military installations or personnel. 17 Grenadian soldiers were captured in the assault, and arms, ammunition, and training sites were found as well. The next day, the 22nd MAU left Grenada and headed to Beirut, Lebanon to replace the 24th MAU.