13th MEU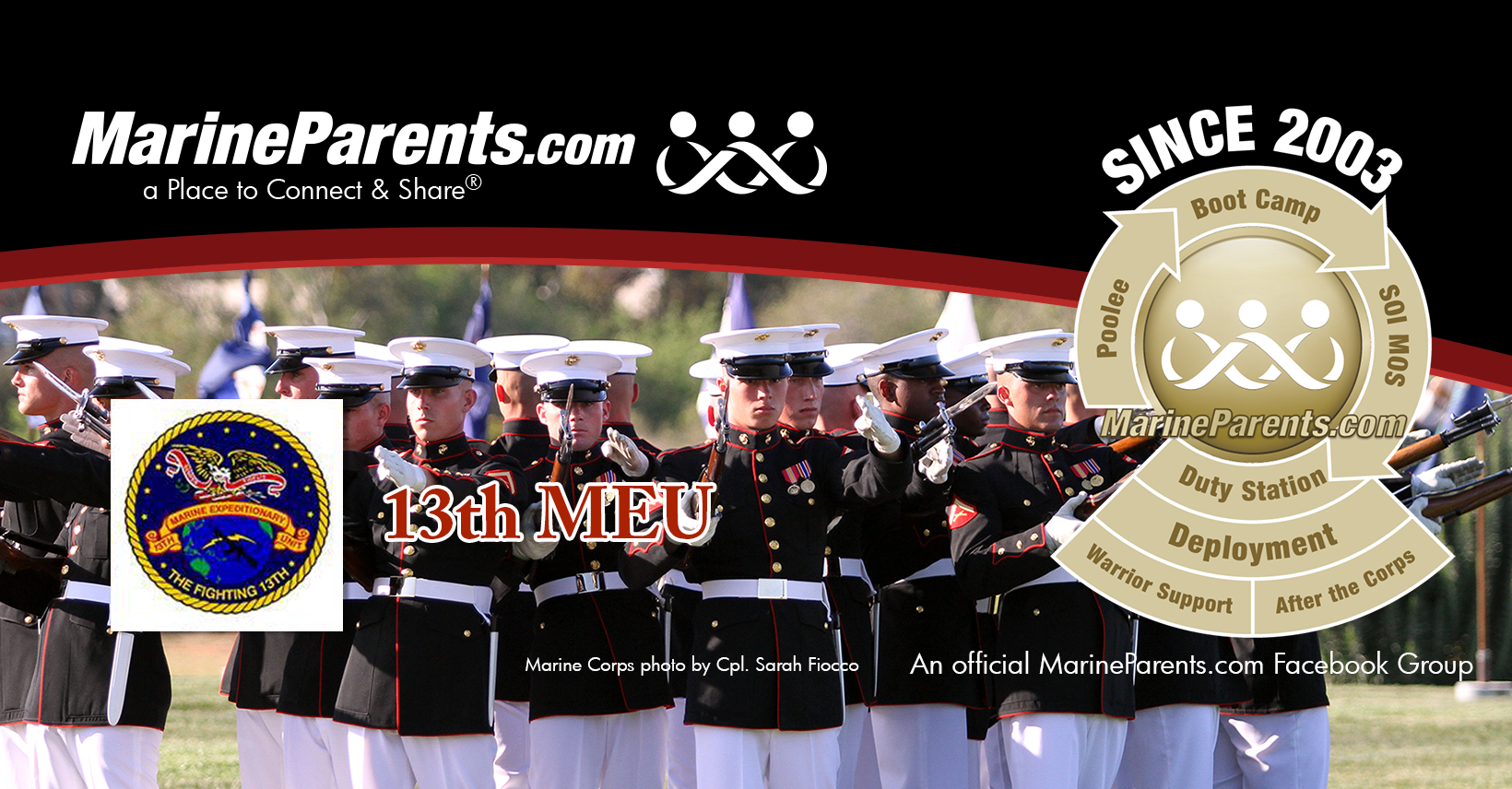 ---
Welcome to the Official MarineParents.com page for 13th MEU.
Unit Information Page™
MarineParents.com has Unit Information Pages (UIP) that contain unit history and location, USMC contact information, and web sites for each unit. The following links are UIP's for units aboard this Permanent Duty Station (PDS):
13th MEU: Mission
The 13th MEU provides a forward deployed, flexible sea-based Marine Air Ground Task Force (MAGTF) capable of conducting amphibious operations, crisis response and limited contingency operations, including enabling the introduction of follow on forces and designated special operations in order to support the theater requirements of Geographic Combatant Commanders.
History
The 13th Marine Expeditionary Unit (MEU) was activated Feb. 1, 1985, at Camp Pendleton, Calif., as the 13th Amphibious Unit, Fleet Marine Force and assigned to I Marine Amphibious Force. The unit was redesigned on Feb. 5, 1988, as 13th Marine Expeditionary Unit.
Between 1988 and 1995, the 13th MEU participated in Operations Desert Shield and Desert Storm, Southwest Asia, from September to November 1990, and January through March 1991, respectively. The unit also participated in Operation United Shield, Somalia, from February through March 1995.
Between 1996 and 2007, the 13th MEU participated in Operation Southern Watch, Southwest Asia, in August 1996, December 1997 through January 1998, and October through December 2000. The 13th MEU also participated in Humanitarian Assistance Operations, East Timor, in September 2000, Operation Determined Response, Yemen, from October 2000 through January 2001, and Maritime intercept operations in the Northern Arabian Gulf, in December 2000.
The 13th MEU also participated in Operation Enduring Freedom, Afghanistan, from January through May 2002 and Operation Iraqi Freedom, Iraq, in October 2003, October through December 2005 and from June through September 2007.
The 13th MEU most recently deployed for seven months during Western Pacific Deployment 16-1, from February through September 2016, conducting exercises, theater security cooperation events, and postured to support the Theater Commanders in response to crisis.
Information taken from https://www.13thmeu.marines.mil/ on 6/1/2018.
A Place to Connect & Share®
We have an Official MarineParents.com Facebook Group for 13th MEU. Click here to join now. Our Official Marine Parents Facebook Groups are run by volunteers who have gone through our training program. To help assure our groups are educational and on-topic, the volunteer Group Leader and volunteer Group Guides are the ones who will post topics in the group. The topics will be either educational or posts for members to have a Place to Connect & Share®. You are welcome to ask your questions or post your comments to any thread posted by the Group Leader and Group Guides.