PDS MCRD SD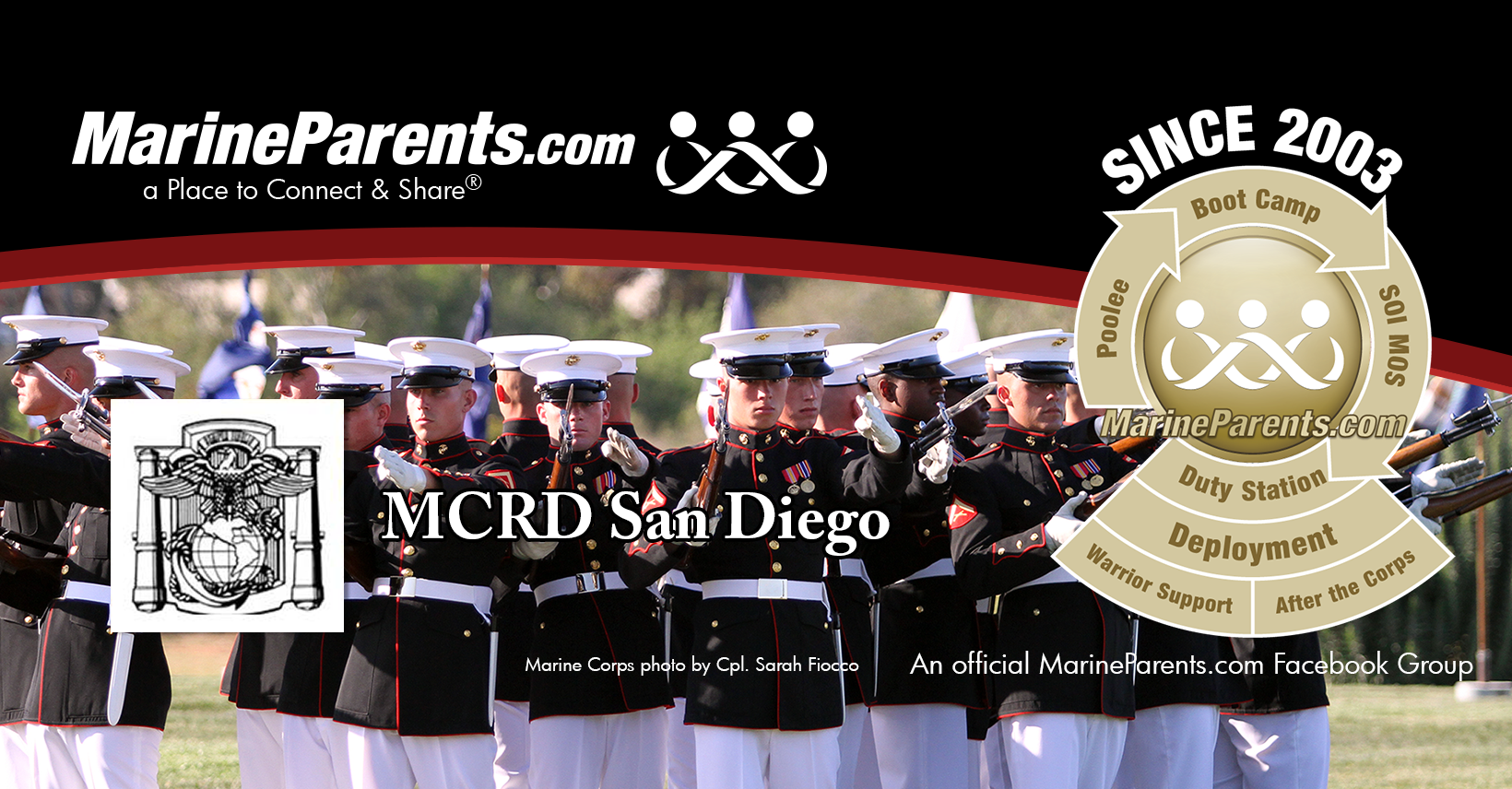 ---
Welcome to the Official MarineParents.com page for PDS MCRD SD.
Unit Information Page™
MarineParents.com has Unit Information Pages (UIP) that contain unit history and location, USMC contact information, and web sites for each unit. The following links are UIP's for units aboard this Permanent Duty Station (PDS):
Marine Corps Recruit Depot: San Diego
Mission:
Welcome to the Marine Corps Recruit Depot San Diego. The Depot's primary function is to take quality young men from the western two-thirds of the United States and transform them through the foundations of rigorous basic training, our shared legacy, and a commitment to our Core Values, preparing them to win our Nations battles in service to the country. The depot is also home to: Drill Instructor School which teaches sergeants, staff sergeants and gunnery sergeants what it takes to make Marines; and Recruiters School which teaches noncommissioned officers and staff NCO's how to find America's best and brightest and bring them into our ranks.
Information taken from https://www.mcrdsd.marines.mil/About/The-Mission-We-Make-Marines/ on 6/25/2018.
A Place to Connect & Share®
We have an Official MarineParents.com Facebook Group for PDS MCRD SD. Click here to join now. Our Official Marine Parents Facebook Groups are run by volunteers who have gone through our training program. To help assure our groups are educational and on-topic, the volunteer Group Leader and volunteer Group Guides are the ones who will post topics in the group. The topics will be either educational or posts for members to have a Place to Connect & Share®. You are welcome to ask your questions or post your comments to any thread posted by the Group Leader and Group Guides.
Travel to MCRD San Diego
Gate Information
There are three gates to access Marine Corps Recruit Depot San Diego. Gate 5, the Main Gate, is located on Washington St. and is open 24 hours a day. You'll also find the Visitor Control Center at this gate. Gate 4 is located on Old Town Ave. and is open Monday-Saturday from 6:00 a.m. - 9:00 p.m. Gate 2 is located on Barnett Ave. and is open Monday-Friday from 6:00 a.m. to 9:00 p.m.
Driving Directions
The driving directions will vary depending on the rental car location. These directions are from the San Diego International Airport. Head west on Airport Terminal Rd and take the left two lanes and turn slightly left to remain on Airport Terminal Rd. Use the right lane to take the ramp to Downtown. Merge onto N Harbor Dr and stay on the road for almost a mile. Use the left two lanes to turn left onto W Laurel St. and then turn left onto Pacific Hwy. After a half mile turn left onto Sassafras St. and almost immediately use the right 3 lanes to turn slightly right onto Admiral Boland Way. Finally, turn right onto W Washington St.
Local Activities
This is Southern California, so the activities in the area are endless. There are several beaches to enjoy, including a couple on base. There is Sea World, the San Diego Zoo, Knottsberry Farm, and Legoland. You can go out on the water with the Hornblower Cruise, which is a dining cruise and ferry service.
Local Climate and Weather
The climate is moderate and dry with winter temperatures anywhere in the 40's to 60's, and summer temperatures in the 60's and 70's. Generally, the days are clear with little rain. Temperatures never seem to be too high in the summer and winters are mild. There are approximately 7 inches of rain in the winter. This area is prone to wildfires in the hot, dry weather. Be prepared to evacuate at any time if there is one in the area.
Click here to view a list of hotels we recommend for your stay near MCRD San Diego.