PDS MCB Quantico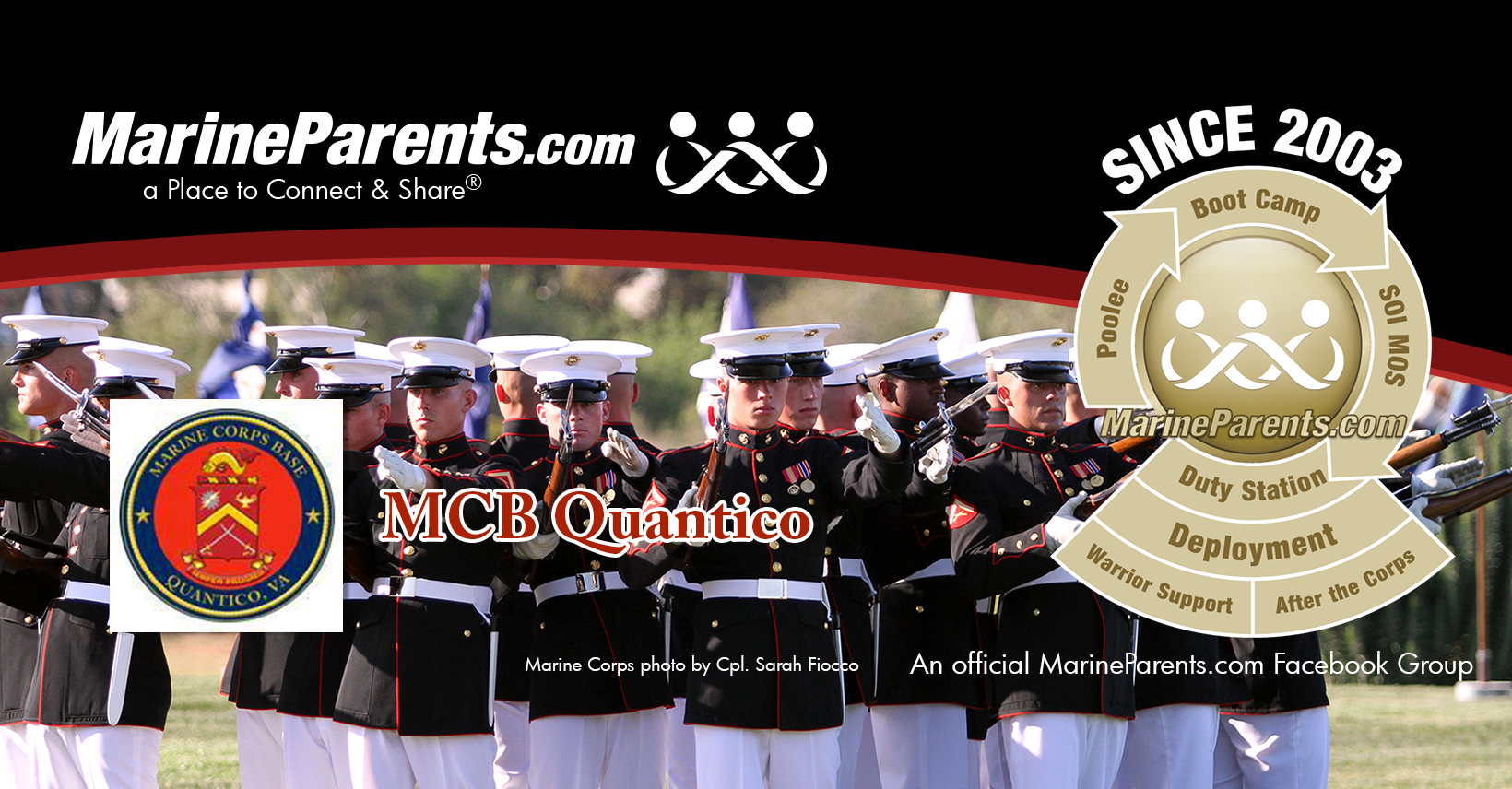 ---
Welcome to the Official MarineParents.com page for PDS MCB Quantico.
Unit Information Page™
MarineParents.com has Unit Information Pages (UIP) that contain unit history and location, USMC contact information, and web sites for each unit. The following links are UIP's for units aboard this Permanent Duty Station (PDS):
PDS MCB Quantico Mission
MCINCR-MCBQ commands and controls assigned organizations and provides installation support to tenant command, military and civilian personnel and families. When requested, MCINCR-MCB Quantico provides installation management functional support to Marine Corps activities and organizations within the National Capital Region (NCR). MCINCR-MCB Quantico also serves as the General Court-Martial Convening Authority to those Marine Corps Activities and organizations within the NCR that are not under the Command of a General Courts-Martial Convening Authority.
PDS MCB Quantico Vision
As the "Crossroads of the Marine Corps" MCINCR-MCBQ builds on a long tradition of excellence in providing world-class installation support and quality of life services that are responsive to its tenants; regional USMC commands and activities; and our military members, families, and civilians.
MCINCR-MCBQ will formalize its role as the premier provider of installation support to USMC commands and activities in the National Capital Region and provide the battlespace and essential support that enables the nucleus of the Marine Corps Title X mission as well as the many DoD, Agency, and National-level missions.
MCINCR-MCBQ remains flexible, adaptable, innovative, and proactive in identifying and exploiting opportunities, mitigating threats, and meeting challenges to preserve and cultivate current capabilities, modernize facilities, and prepare for the future.
MCINCR-MCBQ will expand its long tradition of partnership with the local communities and provide quality of life services. Through modernizing energy efficient facilities and housing, enhancing community safety and security, providing model family support programs, and a wide array of recreational opportunities, MCINCR-MCBQ continues to directly contribute to enhanced force readiness, morale, and retention.
Information taken from https://www.quantico.marines.mil/About/Mission-and-Vision/ on 6/1/2018.
A Place to Connect & Share®
We have an Official MarineParents.com Facebook Group for PDS MCB Quantico. Click here to join now. Our Official Marine Parents Facebook Groups are run by volunteers who have gone through our training program. To help assure our groups are educational and on-topic, the volunteer Group Leader and volunteer Group Guides are the ones who will post topics in the group. The topics will be either educational or posts for members to have a Place to Connect & Share®. You are welcome to ask your questions or post your comments to any thread posted by the Group Leader and Group Guides.