PDS MCAS Yuma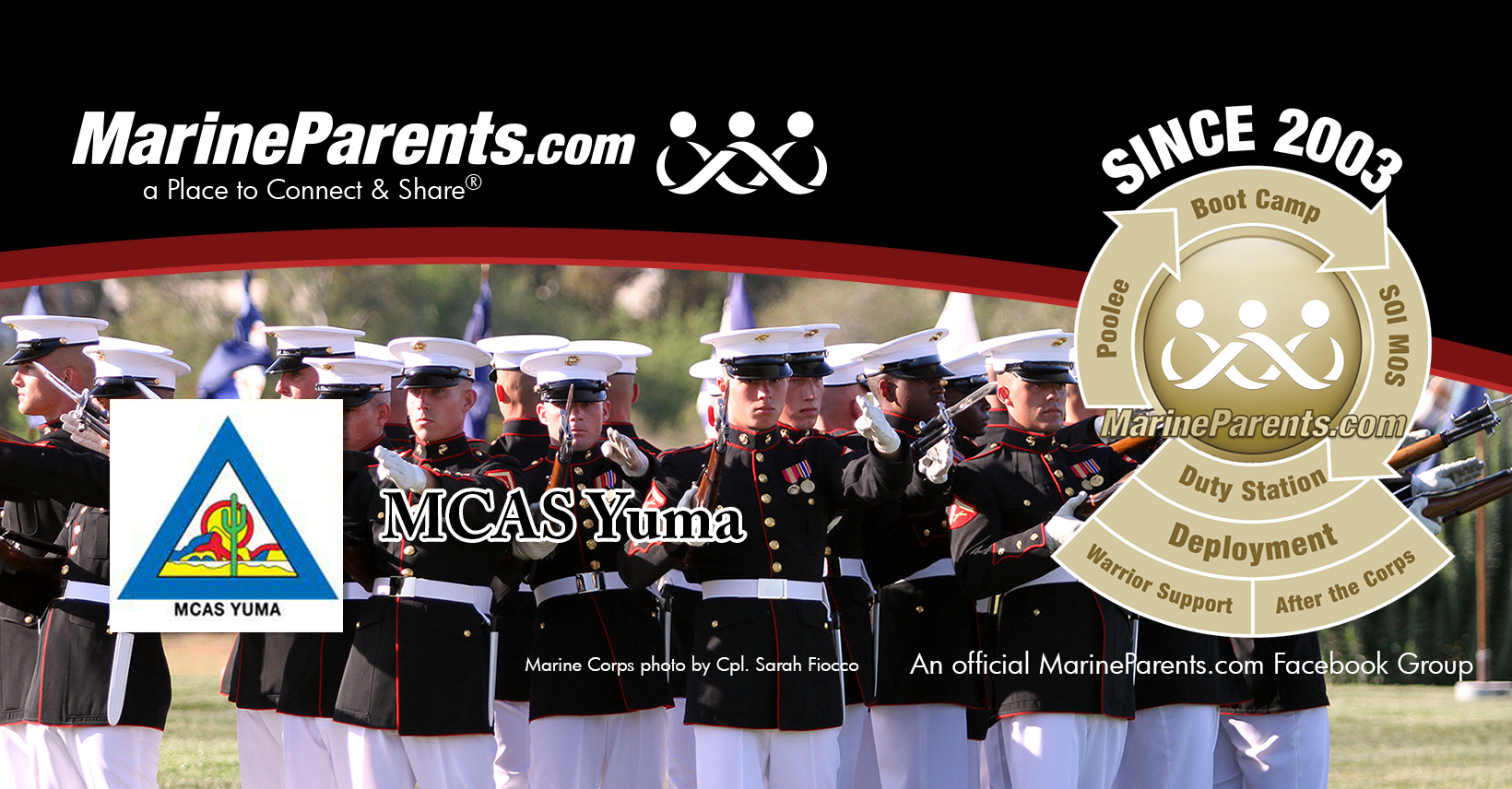 ---
Welcome to the Official MarineParents.com page for PDS MCAS Yuma.
Unit Information Page™
MarineParents.com has Unit Information Pages (UIP) that contain unit history and location, USMC contact information, and web sites for each unit. The following links are UIP's for units aboard this Permanent Duty Station (PDS):
PDS MCAS Yuma: Welcome
Welcome to Marine Corps Air Station Yuma. The mission of MCAS Yuma is to provide aviation ranges, support facilities and services that enable our tenants, other Marine Corps commands, visiting military and interagency forces to enhance their mission capabilities and combat readiness.
You will soon become an integral part of the Marine Corps' premier aviation training base, serving along with approximately 4,000 fellow active-duty Marines and Sailors. With access to more than one million acres of bombing and aviation-training ranges and superb flying weather, MCAS Yuma supports 80 percent of the Corps' air-to-ground aviation training. The air station hosts approximately 70 aviation units, bringing an average of 600 aircraft and 14,000 personnel for ongoing training that takes place throughout the year.
The ideal weather and location along the Colorado River make Yuma and the surrounding area an oasis in the southwestern Sonoran Desert. The area offers a variety of recreational opportunities and water sports, as well as seasonal hunting and fishing. Whether you're assigned to the air station or one of the tenant commands, your stay here is sure to be an enjoyable one.
Covering five square miles of southeastern Yuma, the air station is home to a number of tenant units, including Marine Aviation Weapons and Tactics Squadron 1 (MAWTS-1), Marine Operational Test and Evaluation Squadron 1 (VMX-1), Marine Aircraft Group 13 (MAG-13), Marine Air Control Squadron 1 (MACS-1), Marine Fighter Training Squadron 401 (VMFT-401), and Combat Logistics Company 16 (CLC-16).
Information taken from https://www.mcasyuma.marines.mil/Welcome/ on 6/4/2018.
A Place to Connect & Share®
We have an Official MarineParents.com Facebook Group for PDS MCAS Yuma. Click here to join now. Our Official Marine Parents Facebook Groups are run by volunteers who have gone through our training program. To help assure our groups are educational and on-topic, the volunteer Group Leader and volunteer Group Guides are the ones who will post topics in the group. The topics will be either educational or posts for members to have a Place to Connect & Share®. You are welcome to ask your questions or post your comments to any thread posted by the Group Leader and Group Guides.