PDS MCAS Camp Pendleton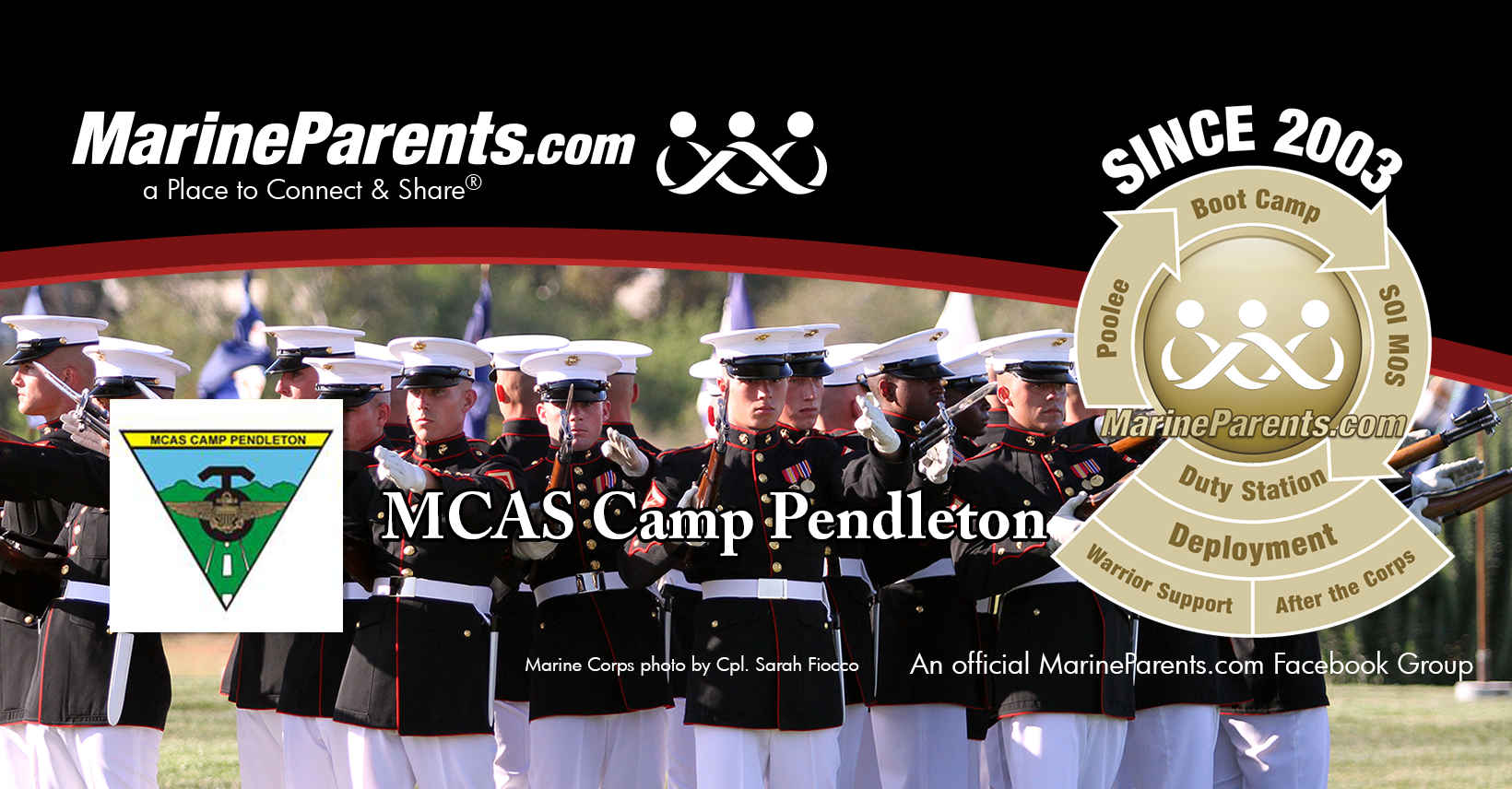 ---
Welcome to the Official MarineParents.com page for PDS MCAS Camp Pendleton.
Unit Information Page™
MarineParents.com has Unit Information Pages (UIP) that contain unit history and location, USMC contact information, and web sites for each unit. The following links are UIP's for units aboard this Permanent Duty Station (PDS):
PDS MCAS Camp Pendleton:
The installation is a full service Air Station that handles both rotary and fixed wing aircrafts. The installation itself is located within Marine Corps Base, Camp Pendleton boundaries in sunny Southern California approximately 35 miles north of San Diego and 100 mile south of Los Angeles. Marine Corps Base Camp Pendleton comprises of more than 125,000 acres of breathtaking scenery, abundant plant and wildlife. For residents aboard MCAS and MCB, there is a wide assortment of places to go and things to see.
MCAS CAMP PENDLETON COMMANDING OFFICER'S VISION
Marine Corps Air Station Camp Pendleton provides operating forces and tenant organizations with continuous and effective aviation service and support. We utilize dedicated professionalism, a can-do work ethic and innovative technology to attain the best possible quality of life and support services, better enabling our customers to accomplish their mission.
MISSION
Maintains and operates air station facilities and property, providing support and services that enable I Marine Expeditionary Force, our tenants and visiting units to maintain and enhance their mission capability and combat readiness.
Information taken from https://www.mcaspendleton.marines.mil/Newcomers/ on 6/4/2018.
A Place to Connect & Share®
We have an Official MarineParents.com Facebook Group for PDS MCAS Camp Pendleton. Click here to join now. Our Official Marine Parents Facebook Groups are run by volunteers who have gone through our training program. To help assure our groups are educational and on-topic, the volunteer Group Leader and volunteer Group Guides are the ones who will post topics in the group. The topics will be either educational or posts for members to have a Place to Connect & Share®. You are welcome to ask your questions or post your comments to any thread posted by the Group Leader and Group Guides.