III MEF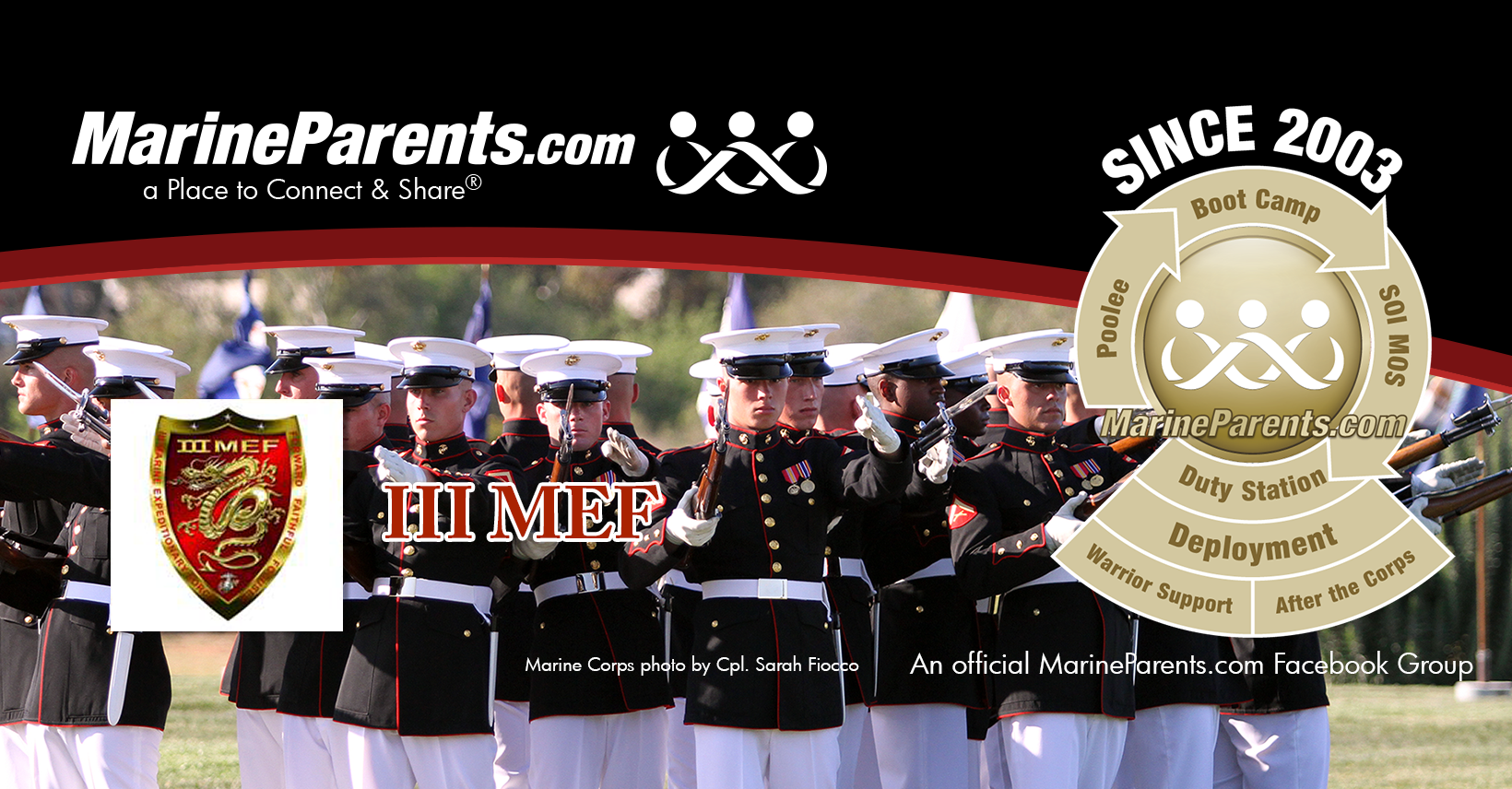 ---
Welcome to the Official MarineParents.com page for III MEF.
Unit Information Page™
MarineParents.com has Unit Information Pages (UIP) that contain unit history and location, USMC contact information, and web sites for each unit. The following links are UIP's for units aboard this Permanent Duty Station (PDS):
III MEF: Mission
III Marine Expeditionary Force (III MEF) provides the United States with a forward-deployed force in readiness in the Pacific Theater, as a globally responsive, expeditionary, and fully scalable Marine Air Ground Task Force (MAGTF), capable of generating, deploying, and employing forces for crisis response, forward presence, major combat operations, and campaigns.
III MEF: About
III MAF was redesignated as III Marine Expeditionary Force on Feb. 5, 1988 and has since supported military operations throughout the world. In the Middle East, III MEF supported Operation Desert Shield, Operation Desert Storm, Operation Provide Comfort, Operation Iraqi Freedom and Operation Enduring Freedom. III MEF elements also played a vital role in Operation Sea Angel, in Bangladesh, from May-June 1991; Operation Fiery Vigil, in the Philippines, during June 1991; and Operation Restore Hope and Operation Continue Hope, in Somalia, from December 1992 to March 1994.
Today, III MEF supports a wide range of military operations, including humanitarian assistance and disaster relief. III MEF provided HADR assistance during Super Typhoon Megi in the Philippines during 2010; earthquake-relief efforts in Japan during March 2011; Operation Tomodachi, a tsunami-relief effort in Japan during May of the same year; flood-relief efforts in Thailand during October-November 2011; typhoon-relief efforts in the Philippines during December 2012 and November 2013; earthquake-relief efforts in Nepal during 2015 and in Kumamoto, Japan, in 2016.
III MEF, currently headquartered in Okinawa, Japan, maintains a forward presence in support of the Treaty of Mutual Cooperation and Security between the U.S. and Japan, and other regional allies of the U.S. III MEF also conducts combined operations and training throughout the region in support of the National Security Strategy for Theater Security Cooperation.
III MEF subordinate units include the 3rd Marine Division, 1st Marine Aircraft Wing, 3rd Marine Logistics Group, 3rd Marine Expeditionary Brigade, 31st Marine Expeditionary Unit and III Marine Expeditionary Force Information Group.
Information taken from https://www.iiimef.marines.mil/ on 6/1/2018.
A Place to Connect & Share®
We have an Official MarineParents.com Facebook Group for III MEF. Click here to join now. Our Official Marine Parents Facebook Groups are run by volunteers who have gone through our training program. To help assure our groups are educational and on-topic, the volunteer Group Leader and volunteer Group Guides are the ones who will post topics in the group. The topics will be either educational or posts for members to have a Place to Connect & Share®. You are welcome to ask your questions or post your comments to any thread posted by the Group Leader and Group Guides.