PDS MCAS New River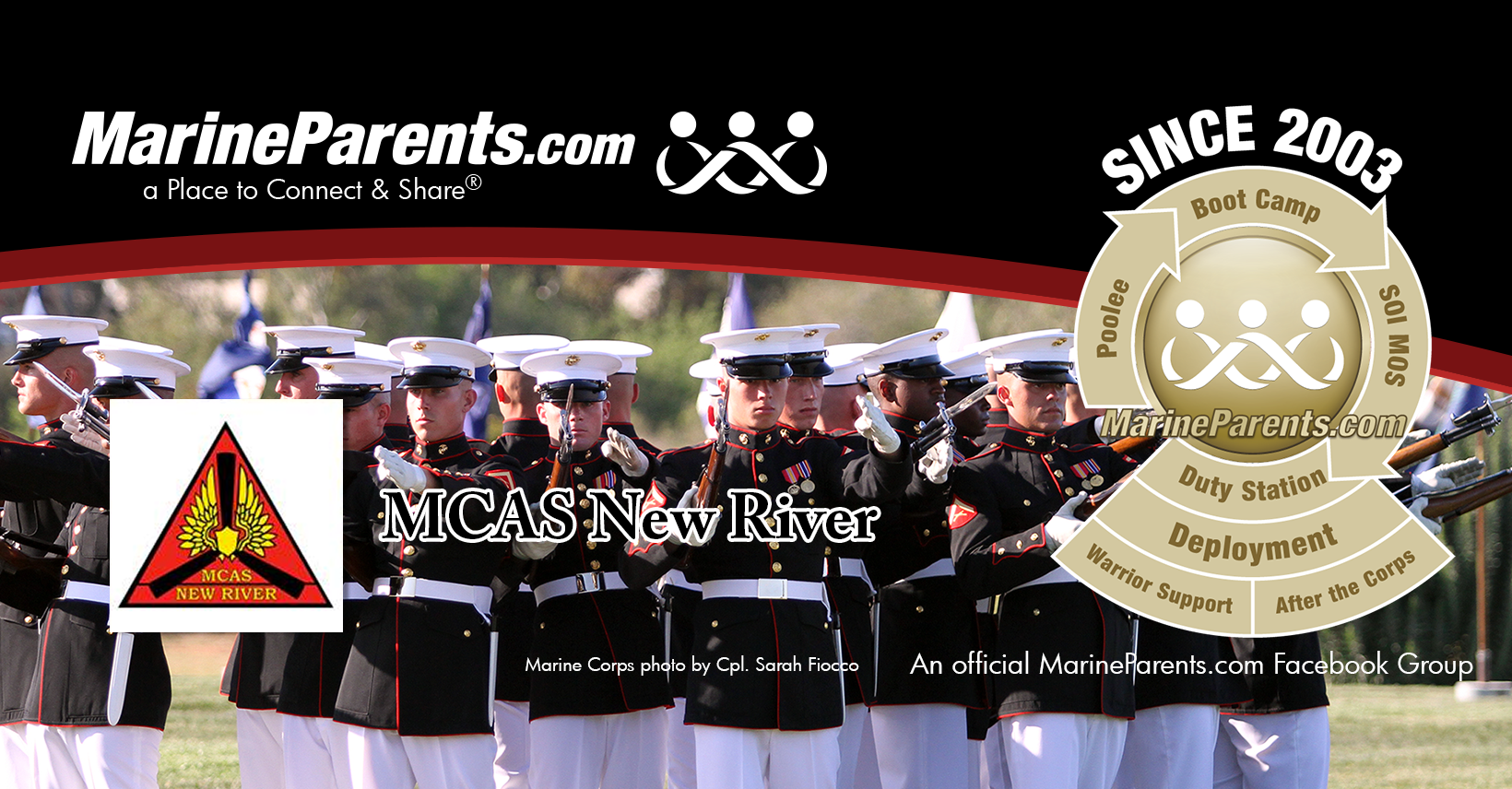 ---
Welcome to the Official MarineParents.com page for PDS MCAS New River.
Unit Information Page™
MarineParents.com has Unit Information Pages (UIP) that contain unit history and location, USMC contact information, and web sites for each unit. The following links are UIP's for units aboard this Permanent Duty Station (PDS):
PDS MCAS New River: Mission
Support and enhance the combat readiness of the Marine Corps Aviation Combat Element and Department of Defense units while improving the quality of life for military personnel, their families, and work force assigned to the Air Station.
Operational Competence
Winning battles and responding to crisis hinges on individual and collective competence. Discipline, tactical/technical proficiency, professional development and teamwork are elements of this competency. MCAS New River will support operational units to the maximum extent possible to ensure they achieve the competence required for combat. We will also ensure MCAS New River personnel achieve and sustain competence in air station functions while also being prepared to deploy if called upon.
Expeditionary Readiness
This is one of the Marine Corps core competencies. To that end, we will be prepared to operate with only what we need, for only as long as we need it and support the expeditionary readiness of operational forces. We must stay adaptive and not be thrown off course by the unexpected.
Leadership
We will give Marines, Sailors, and civilian personnel decision-making authority commensurate with their responsibilities and capability. Initiative and imagination must be encouraged.
"Supervision" is not a four-letter-word. Nor does it insinuate a lack of trust or confidence. It is an important element of leadership. Trust, but verify.
Everyone is accountable for themselves and those under their charge.
We must set and enforce high standards of personal conduct. Honor, Courage, Commitment, and Integrity are more than words. They must be ingrained in our profession and daily operations.
Marines, Sailors, Civilian Marines and Their Families
People form the foundation of our Corps of Marines. The dignity and respect we pay them and their family members are a reflection of our love for them, our Corps and Country.
We must recognize that family readiness contributes to combat readiness.
Individual performance is important in that it contributes to the mission of the unit or team. Every member of the MCAS New River Team has a part to play in ensuring forces are combat ready and successful in every assigned mission.
Safety
Marines are aggressive, competitive warriors. This aggressiveness makes opponents fear them. We must be able to regulate our conduct and behavior based a reasonable assessment of risk.
Risks we take in combat are different from the risks we can afford in peacetime or in CONUS. This is not about avoiding risks at all costs. It is about making sure that our people make sound decisions in all activities. Risk assessment skills must be taught, tested and evaluated. ORM must be a part of the daily routine.
Priorities
Some things are more important than others. Some things need to be done sooner than others.
All personnel must understand what the priorities are.
Simultaneous operations are a characteristic of maneuver warfare and a reality of the asset-constrained environment we operate in. You will never have enough time, people, or money. Get used to it and figure out how to make it work despite the constraints.
We will be challenged to handle multiple tasks while shifting priorities to support success.
Just because something is not a top priority does not mean that we lower our standards.
Establish, communicate and set timelines for priorities.
C3 = Communicate, Coordinate, Consultate: The enemy should be surprised, not each other.
Information taken from https://www.newriver.marines.mil/About/ on 6/4/2018.
A Place to Connect & Share®
We have an Official MarineParents.com Facebook Group for PDS MCAS New River. Click here to join now. Our Official Marine Parents Facebook Groups are run by volunteers who have gone through our training program. To help assure our groups are educational and on-topic, the volunteer Group Leader and volunteer Group Guides are the ones who will post topics in the group. The topics will be either educational or posts for members to have a Place to Connect & Share®. You are welcome to ask your questions or post your comments to any thread posted by the Group Leader and Group Guides.