PDS MCAS Beaufort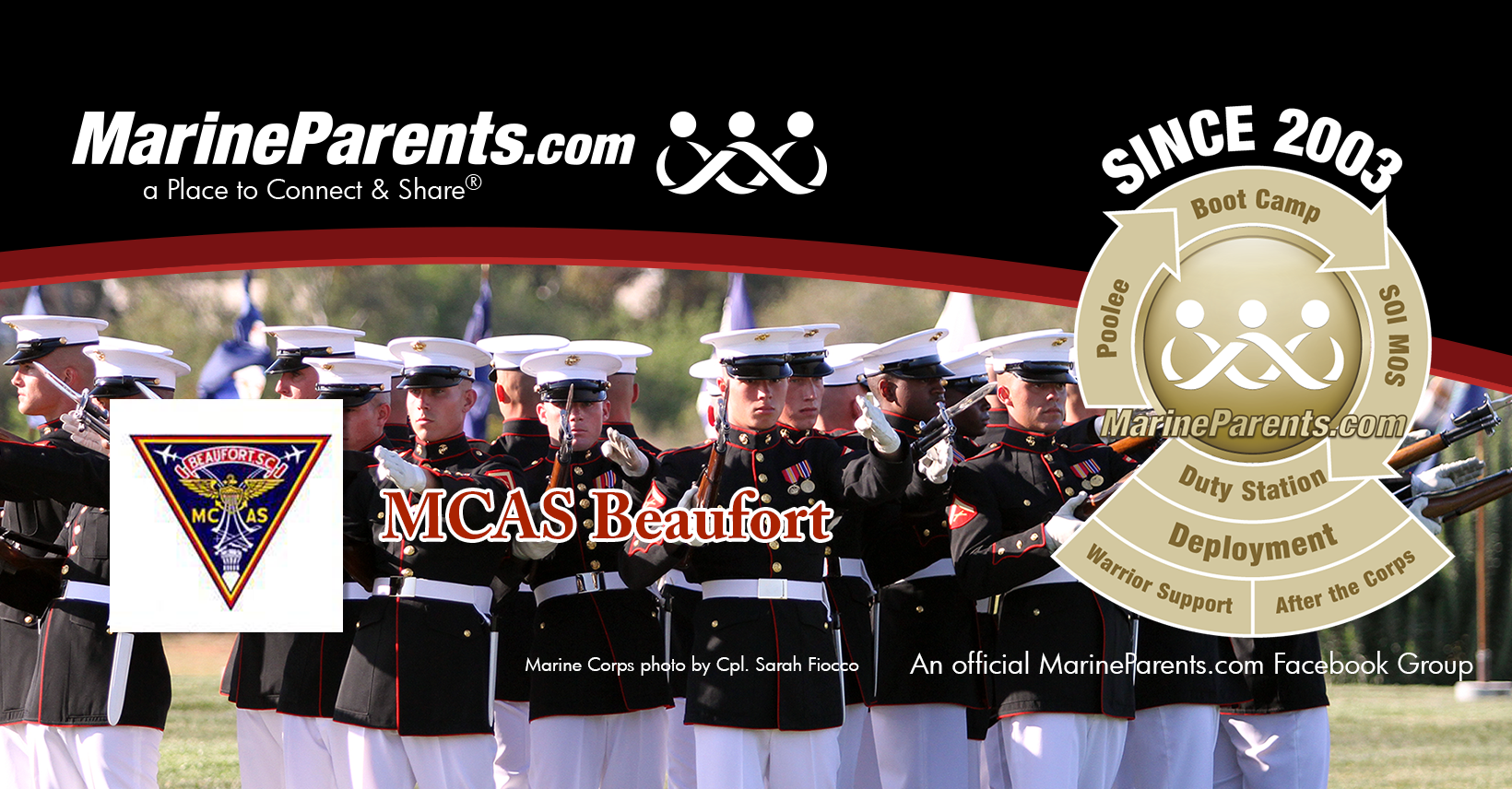 ---
Welcome to the Official MarineParents.com page for PDS MCAS Beaufort.
Unit Information Page™
MarineParents.com has Unit Information Pages (UIP) that contain unit history and location, USMC contact information, and web sites for each unit. The following links are UIP's for units aboard this Permanent Duty Station (PDS):
PDS MCAS Beaufort:
Marine Corps Air Station Beaufort, home of the Marine Corps' Atlantic Coast fixed-wing, fighter-attack aircraft assets, is located in the heart of the South Carolina Lowcountry and is among the United States military's most important and most historically colorful installations. Consisting of some 7,000 acres 70 miles southwest of Charleston, South Carolina on Highway 21, the installation is home to five Marine Corps F/A- 18 squadrons and one F-35B Fleet Replacement Squadron. Three versions of the F/A-18 Hornet are found aboard MCAS Beaufort, the F/A-18A and C Hornet and the F/A-18D Hornet. The F-35B squadron is also the only location in the world where pilots train to fly the F-35B. The squadron also trains the United Kingdom's future F-35B pilots and maintainers.
A proud tradition
The acreage occupied by the Air Station was formerly the site of several prominent Lowcountry plantations, including the Clarendon and Edgerly, Bull and Deveaux plantations. In 1779, during the Revolutionary War, British troops landed at what is now the Laurel Bay Housing area and battled American revolutionary troops at Gray's Hill. The Beaufort area was also a staging area for both Confederate and Union troops during the civil war and elaborate plantation homes still line Bay Street, overlooking the Beaufort River.
By June 15, 1943, the Civil Aeronautics Authority established Naval Air Station Beaufort as an auxiliary air station which supported advanced training of anti-submarine patrol squadrons which ensured the security of shipping along the Eastern seaboard.
Today
Currently, the Fightertown family consists of more than 700 Marines and Sailors along with 600 civilian personnel who ensure approximately 3,400 personnel of Marine Air Group 31 and its component squadrons and tenant units are readily deployable.
Fightertown's Hornet squadrons rotate overseas regularly, either for deployments to support Operation Inherent Resolve, for six month Western Pacific deployments or aboard Navy aircraft carriers. At any given time, up to half the squadrons may be found at various points around the globe, and are routinely called into action when the Commander in Chief requires airborne strikes or support for ground forces. Most recently, squadrons have seen combat in the skies over Iraq and Syria.
On the home front, the installation has weathered installation closures in the post-cold War, and with the recognition of the growing role of air power in conflicts in the developing world.
Information taken from https://www.beaufort.marines.mil/About/ on 6/4/2018.
A Place to Connect & Share®
We have an Official MarineParents.com Facebook Group for PDS MCAS Beaufort. Click here to join now. Our Official Marine Parents Facebook Groups are run by volunteers who have gone through our training program. To help assure our groups are educational and on-topic, the volunteer Group Leader and volunteer Group Guides are the ones who will post topics in the group. The topics will be either educational or posts for members to have a Place to Connect & Share®. You are welcome to ask your questions or post your comments to any thread posted by the Group Leader and Group Guides.
Travel to MCAS Beaufort
Gate Information
There two gates to access the base. The Main Gate is open 24 hours a day and is located along US 21 on the west side of the base. The Commercial Gate is open from 6:00 a.m. to 6:00 p.m.
Driving Directions
The driving directions will vary depending on your starting location. The following directions are to the Main Gate from the Savannah Hilton/Head International Airport. First, get on I-95 N and then take exit 8 to merge onto US-278 E toward Beaufort. Turn left onto Argent Blvd and then turn left onto SC-170 E. After about 14 miles take a slight left onto US-21 N/Parris Island Gateway. Use the left 2 lanes to turn left onto US-21 N/Trask Pkwy and then turn right onto Geiger Blvd. This drive is approximately 50 minutes.
Local Activities
There are a lot of activities nearby, and many of them are historical. Beaufort History Museum, Old Sheldon Church, and the National Cemetery are three popular locations. You can also go paddleboarding and kayaking as well as crabbing. There is also a Beaufort Walking Tour and a Chocolate Tree.
Local Climate and Weather
This area has a warm, humid climate with winter temperatures ranging from the 30's to 60's, and summer temperatures ranging from the 70's to 90's. The humidity is moderated a little by being on the coast. Ocean storms such as Atlantic tropical depressions and hurricanes do occur from time to time.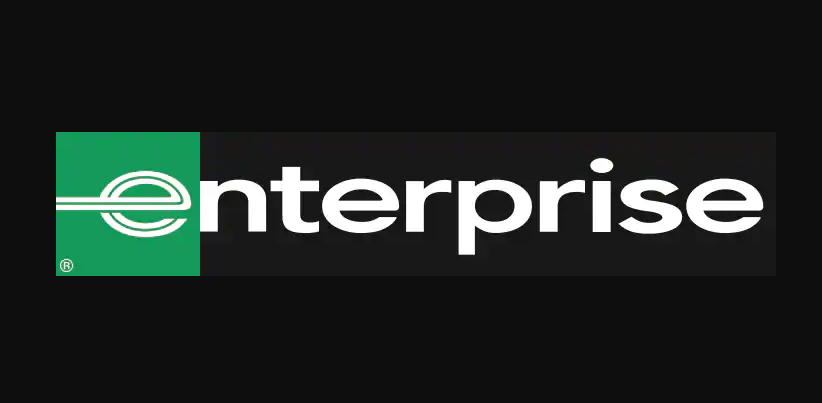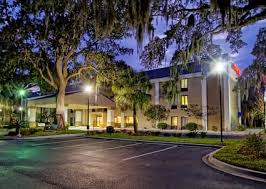 Hampton Inn Beaufort
Welcome to the Hampton Inn Beaufort hotel. Centrally located, our 76-room Beaufort, SC hotel is one mile from historic downtown Beaufort, the University of South Carolina's Beaufort campus, and National Cemetery and is only five miles from Parris Island and the Marine Corps Air Station. Visit Penn Center, Hunting Island State Park, and the Low Country Estuarium and Coastal Learning Center. Admire the views of the sunrise over the Salt Marsh from our Beaufort hotel.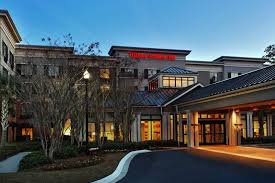 Hilton Garden Inn Beaufort
Welcome to the Hilton Garden Inn Beaufort hotel. Located in beautiful, historic Beaufort, South Carolina, just one mile from the downtown historic district and only three miles from Parris Island, our hotel in Beaufort, SC offers easy access to all of the area's military bases.