8th and I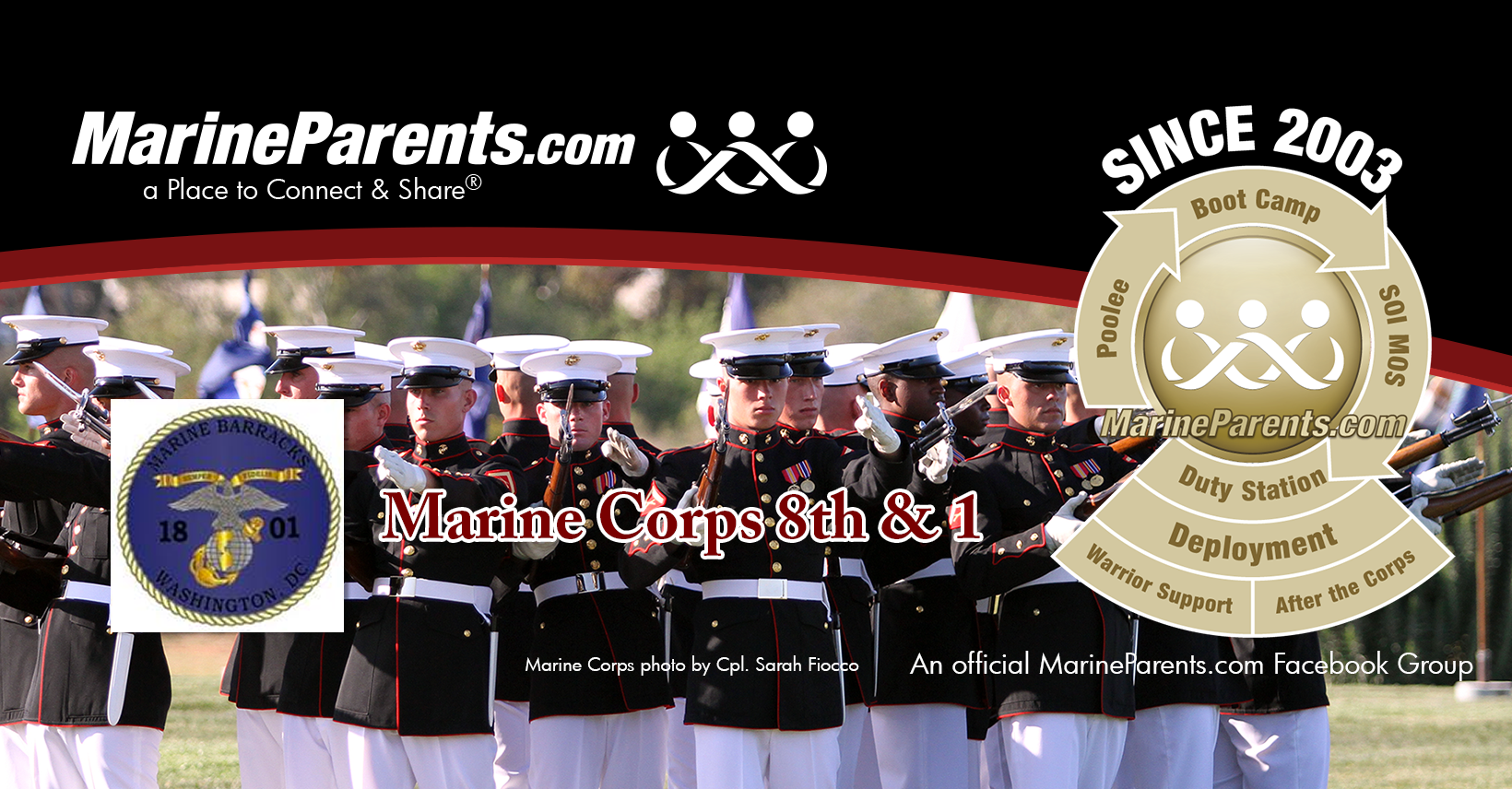 ---
Welcome to the Official MarineParents.com page for 8th and I.
Unit Information Page™
MarineParents.com has Unit Information Pages (UIP) that contain unit history and location, USMC contact information, and web sites for each unit. The following links are UIP's for units aboard this Permanent Duty Station (PDS):
Mission: Marine Corps Installations Pacific
MCB Butler, MCB Hawaii, MCAS Futenma, MCAS Iwakuni, Camp Fuji, and Camp Mujuk
Marine Corps Installations Pacific strengthens and enables force projection in the Indo-Asia-Pacific with our allies and partners to protect and defend the territory of the United States, its people, and its interests. Our camps and installations, arrayed across the region with purposeful designs, clearly set theater-strategic conditions for partnered presence, logistics throughput, command and control, and military readiness. Our utility, resiliency and strategic design represent the requisite and foundational support to the power of U.S. Marine Corps Forces, Pacific.
Information taken from https://www.barracks.marines.mil/ on 6/25/2018.
Travel to 8th & I
Gate Information
There is one gate to access the base. The Main Gate is located at the corner of 8th Street and I Street. It is open 24 hours a day to DoD and other authorized personnel. It is only open to the public at certain times for scheduled parades. Click here to view the parade schedule for 2019.
Driving Directions
Driving directions will depend on your starting location. The following directions are from the three main airports in the Washington, D.C. area.
From Ronald Reagan Washington National Airport:
Get on I-395 N from George Washington Memorial Pkwy. After a half mile, keep right to stay on I-395 N and then a mile down the road keep left to continue on I-695. Take the 6th St. SE exit toward Navy Yard. Use the right lane to merge onto Virginia Ave SE. Turn left onto 8th St. and the base will be on your right. This is approximately a 10-minute drive.
From Washington Dulles International Airport: Toll roads along this route.
Head west on Saarinen Cir towards Copilot Way. Make a slight right onto Copilot Way and almost immediately turn left to stay on Copilot Way. Turn right onto Cargo Dr and continue toward Aviation Dr. Use the left 2 lanes to take the ramp to State Hwy 28/I-66 and then keep left at the fork, follow signs for VA-28 N/VA-7/Sterling. Next, you'll follow signs to merge onto VA-267 E. After about 11 miles use the right two lanes to take Exit 18 B/I-495 N exit toward Baltimore. After merging onto I-495 N, take exit 43 for George Washington Memorial Pkwy toward Washington. Stay on George Washington Memorial Pkwy for about 10 miles and then take the exit onto I-395 N. Keep left on the fork to continue on I-695. Take the 6th St SE exit toward Navy Yard. Use the right lane to merge onto Virginia Ave SE. Turn left onto 8th St. and the base will be on your right. This is approximately a 40-minute drive.
From Baltimore/Washington International Thurgood Marshall Airport:
Follow Service Rd Lower Level and Friendship Rd to I-195 W. Continue onto I-95 W and take Exit 2B for MD-295 S/Balt/Wash Pkwy toward Washington. Merge onto MD-295 S. Continue onto Baltimore-Washington Pkwy and take the exit onto I-495 S/I-95 S toward Richmond VA/Andrews a F B. Take exit 19B to merge onto US-50 W toward Washington and then take the MD-201 S/Kenilworth Ave exit toward I-295/Alexandria. Merge onto Baltimore-Washington Pkwy. Continue onto MD-201 and then State Hwy 295. Use the right 2 lanes to take exit 1B-C toward I-695/Route 395/Downtown and turn right to continue toward I-695, look for signs for I-395/Downtown. Take exit 1D - 8th St SE to merge onto I St SE. Turn right onto 8th St and the base will be on your right. This is approximately a 50-minute drive depending on traffic.
Local Activities
When in D.C., we always recommend going to the National Mall if you haven't been there before. Some of the most prestigious museums and monuments are within a close proximity to tour. Also in the area is the Fort Dupont Park, Frederick Douglas National Historic Site, and the Kenilworth Park and Aquatic Gardens.
Local Climate and Weather
The climate in D.C. is humid. The temperatures in the winter average from the 20's to 40's with summer temperatures averaging in the 70's and 80's. The area has four full seasons, with wet springs and falls, hot humid summers, and rainy or snowy winters. The area can suffer from severe storms, including rare hurricanes.
A Place to Connect & Share®
We have an Official MarineParents.com Facebook Group for 8th and I. Click here to join now. Our Official Marine Parents Facebook Groups are run by volunteers who have gone through our training program. To help assure our groups are educational and on-topic, the volunteer Group Leader and volunteer Group Guides are the ones who will post topics in the group. The topics will be either educational or posts for members to have a Place to Connect & Share®. You are welcome to ask your questions or post your comments to any thread posted by the Group Leader and Group Guides.