PDS MCB Camp LeJeune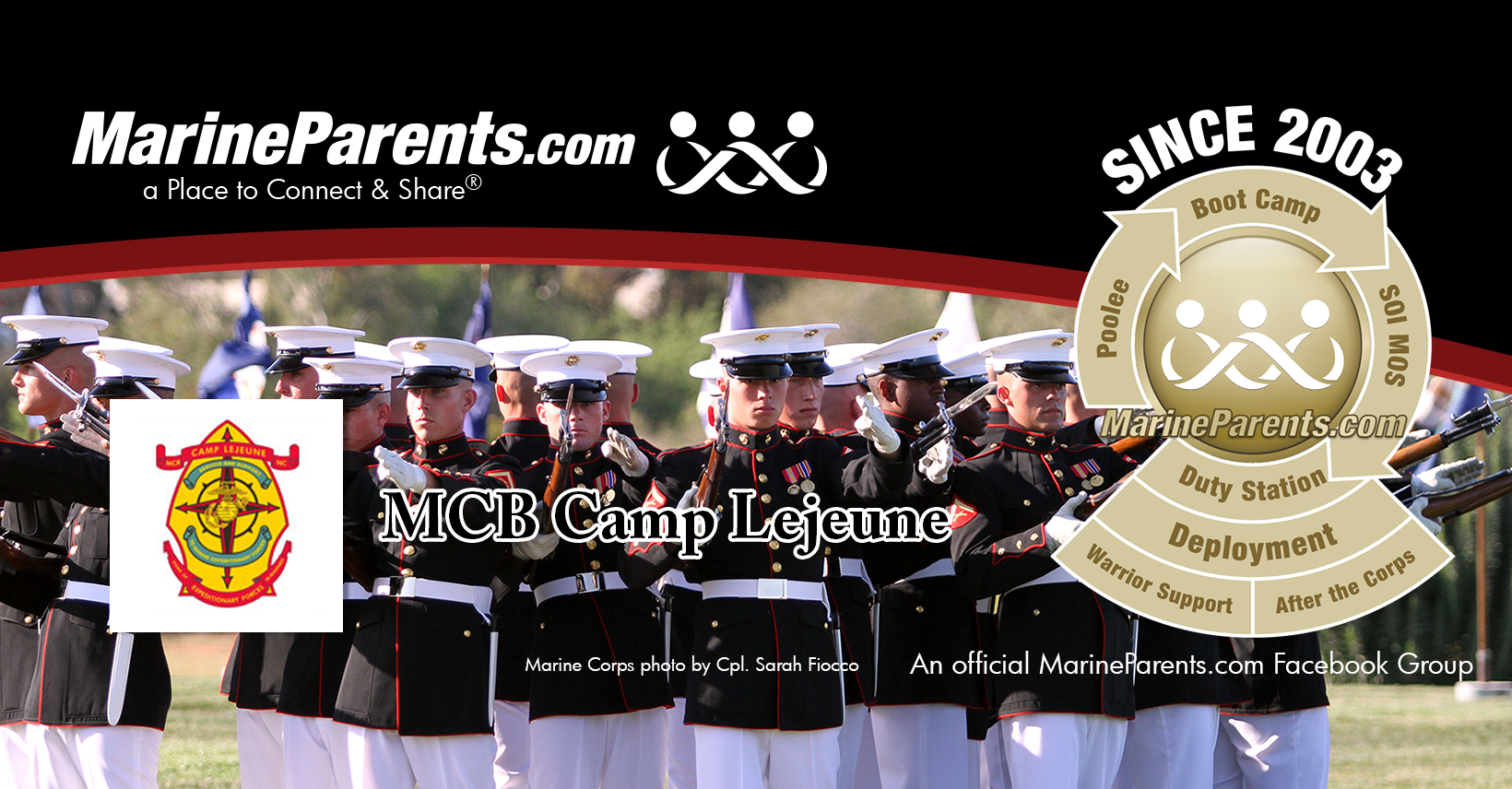 ---
Welcome to the Official MarineParents.com page for PDS MCB Camp LeJeune.
Unit Information Page™
MarineParents.com has Unit Information Pages (UIP) that contain unit history and location, USMC contact information, and web sites for each unit. The following links are UIP's for units aboard this Permanent Duty Station (PDS):
About
Since September 1941, Camp Lejeune (luh-jern) has been the home of "Expeditionary Forces in Readiness", and throughout the years, it has become the home base for the II Marine Expeditionary Force, 2nd Marine Division, 2nd Marine Logistics Group and other combat units and support commands.
There are several major Marine Corps commands and one Navy command aboard Camp Lejeune. Some tenant commands include Marine Corps Base Camp Lejeune, II Marine Expeditionary Force, 2nd Marine Division, 2nd Marine Logistics Group, and the naval hospital to name a few. Marine Corps Base owns all the real estate, hosts entry-level and career-level formal schools and provides support and training for tenant commands; II Marine Expeditionary Force conducts operational planning for Fleet Marine Force commands; 2nd Marine Division is the ground combat element of II MEF; 2nd Marine Logistics Group is the combat service support element of II MEF; and 2nd Marine Air Wing, headquartered at Cherry Point, N.C., is the air combat element of II MEF. Additionally, the naval hospital provides primary medical care to service members and their families stationed at Camp Lejeune and Marine Corps Air Station New River.
Today, as in the past, Camp Lejeune's mission remains the same to maintain combat-ready units for expeditionary deployment.
To help prepare warfighters for combat and humanitarian missions abroad, Camp Lejeune takes advantage of 156,000 acres, 11 miles of beach capable of supporting amphibious operations, 34 gun positions, 50 tactical landing zones, three state-of-the-art training facilities for Military Operations in Urban Terrain and 80 live fire ranges to include the Greater Sandy Run Training Area.
The base and surrounding community is home to an active duty, dependent, retiree and civilian employee population of approximately 170,000 people. The base generates almost $3 billion in commerce each year, coming from payrolls and contracts to support the structure required to train and equip our modern Marines.
Some services available aboard Camp Lejeune include: childcare, shopping, education, family support, hunting and fishing, dining, boating and swimming.
Some facilities on base include banks and credit unions, the commissary, the library, hobby shops, fitness centers, the beach, theaters and more.
From the supporting infrastructure, a tradition of excellence in doing day-to-day business has evolved. From environmental programs that include a state-of-the-art landfill and water treatment system to quality of life programs that ensure Marine families are taken care of, Camp Lejeune stands out as a superior military base.
Camp Lejeune is a seven-time recipient of the Commander-in-Chief's Award for Installation Excellence. This award recognizes the base on a Department of Defense level for effectively managing assets and developing quality programs to accomplish the mission of providing expeditionary forces in readiness.
The Marines, sailors, Coast Guardsmen and civilian Marines who provide for the efficient management of Camp Lejeune's assets strive to ensure even grander goals are realized in the future.
Information taken from https://www.lejeune.marines.mil/About.aspx on 6/1/2018.
A Place to Connect & Share®
We have an Official MarineParents.com Facebook Group for PDS MCB Camp LeJeune. Click here to join now. Our Official Marine Parents Facebook Groups are run by volunteers who have gone through our training program. To help assure our groups are educational and on-topic, the volunteer Group Leader and volunteer Group Guides are the ones who will post topics in the group. The topics will be either educational or posts for members to have a Place to Connect & Share®. You are welcome to ask your questions or post your comments to any thread posted by the Group Leader and Group Guides.
Travel to Camp Lejeune
Gate Information
There are six gates to access the base. The Main, Triangle Outpost, Sneads Ferry and Wilson Gates are all open 24 hours a day. The Piney Green Rd Gate is open Monday-Friday from 5:30 a.m. to 5:00 p.m., but will remain open until 6:00 p.m. for Outbound traffic only. The Tarawa Terrace II Gate is open daily from 6:00 a.m. to 5:00 p.m.
Driving Directions
Driving directions will vary depending on your starting location. The following directions are from Albert J Ellis Airport to the Main Gate. Take Albert J Ellis Airport Rd to NC-111 S. After about 5 miles turn right onto NC-24 E/US-258 S and then continue onto NC-24 E/US-17 N. Use the right 2 lanes to take the NC-24 E exit toward Camp Lejeune/Morehead City and continue onto NC-24 E/Lejeune Blvd. Take the exit toward Camp Lejeune then keep left and merge onto Holcomb Blvd. The base will be on the right. This drive is approximately 30 minutes.
Local Activities
Camp Lejeune is about an hour and a half from the beach but there are other activities nearby to keep you busy. Hammocks Beach State Park and Fort Macon State Park are about 15 and 40 miles away. There's also the Lejeune Memorial Gardens, Wilmington Railroad Museum, Topsail Island, and much more.
Local Climate and Weather
This area gets more rain than the average U.S. city, but it gets little to no snowfall. The temperatures seem to have a wide range with the record being 104 degrees Fahrenheit and the low being -2 degrees Fahrenheit.