COVID-19 Impact on Fleet Marines
Please be aware, the Marine Corps doesn't have a road-map for the COVID-19 pandemic either, but they have to keep our troops safe. When the USMC provides answers and additional information, we will publish it on these pages of our website. Our take on this will be that the military will exercise more caution and keep civilians off the bases longer than what other populations and communities do in our country.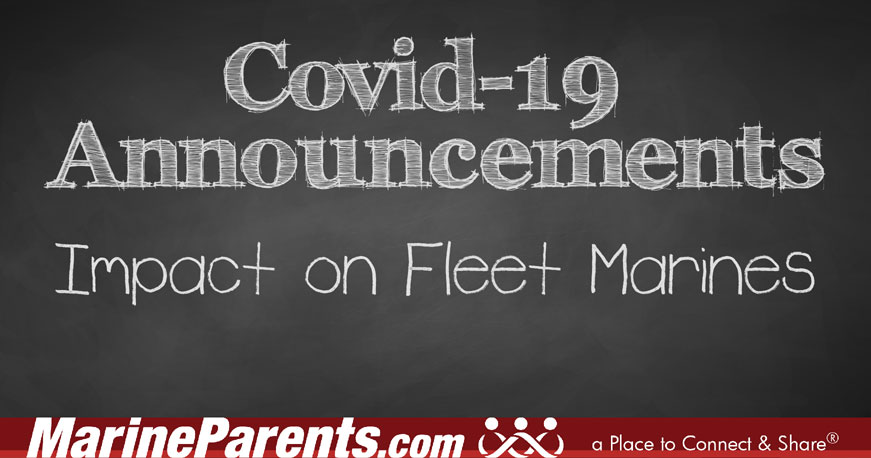 ---
COVID-19 Impact on USMC, Marines, and Family Members
INFORMATION IS UPDATED DAILY. BE SURE TO CHECK EACH DAY FOR NEW UPDATES.
Additional information in the red bar below is based on which stage of the Corps your recruit or Marine is currently.
[** haga clic para Español **]
Information by Marine Corps Career Stage
Officers: OCS & TBS
Additional Information and Help
SECDEF Issues Guidelines for Troops to Wear Masks
The Secretary of Defense announced, effective immediately, everyone on DoD property, installations, and facilities will wear face coverings when they are not able to maintain six feet distance from others. DoD will not issue face masks and individuals should make their own face coverings. These guidelines are for military personnel, DoD civilian employees, family members, DoD contractors, and everyone else on DoD property, installations, and facilities. For more information, read this article from Military Times.
Marines Can Apply for Service Extensions
Due to the Covid-19 pandemic, Marines who were scheduled to retire or separate from the Marine Corps can request for a service extension. This will help those affected to better prepare for the transition from military life amid all the confusion. This can help those Marines gain up to a month of time to plan and prepare. Deployed Marines who are stuck overseas can choose to extend through the fiscal year if their deployment return date gets pushed past the Marine's EAS date. Marines who are scheduled to retire can have their retirement date shifted within the fiscal year. For more information, click here.
ITX "Will not go in April"
A large scale training exercise for Marines, known as ITX, was originally believed to happen even amid concerns over the COVID-19 pandemic. On March 26, General Berger announced in a press conference that the decision had been made a "couple days ago" and ITX "will not go in April." The Commandant's statement on this matter happens around the 17:30 mark of the press conference.
Additionally, there will no longer be any travel to Twentynine Palms for training until further notice. All pre-deployment training will be conducted at the unit's home base. The Marine Corps will still train so they are prepared for the enemy while observing the guidelines set by the CDC and DoD.
DoD Reviewing How Many Reserve Troops to Bring Back
The Pentagon is reviewing how many National Guard, Reserve, and Individual Ready Reserve troops to call up in response to the Covid-19 pandemic.
The number of troops has yet to be determined but after the President signed an executive order, they are authorized to call up to a million troops for no longer than 24 months. The Defense Secretary and the Department of Health and Human Services will consult with state officials first and will work to call up units and personnel with high demand medical capabilities that would not adversely affect their civilian communities. For more information, click here.
DHA Covid-19 Response
The Director of the Defense Health Agency addressed the response to the Covid-19 pandemic. He pointed out the creation of a Crisis Action Team that works to address patient concerns, patient care, equipment availability, blood supply monitoring, and sharing DHA capabilities with those who may need them to ensure military forces maintain a high level of operational readiness.
They are also working to address issues such as bed spaces, military health capabilities and capacity, the trade-offs of shifting resources from one need to another, assisting people with self-screening, and triage and testing of patients. The Military Health System is also working on reducing elective procedures to free up bed spaces.
For the full transcript of the teleconference, visit defense.gov.
Travel Restrictions
The purpose of the DOD imposed travel restrictions is to protect our fighting forces from contracting the Coronavirus during these uncertain times. Travel restrictions from the DOD are changing continually during the pandemic. Please see the red alert section above with a PDF file for travel FAQ from the DOD.
Additionally, see this page for press releases from the DOD on travel. We are updating this as often as the DOD sends out press releases.
Currently, there are some military bases that are closed to visitors. If you need to get on a military base, we recommend calling the visitor's office first to gain more clarity.
Regarding Leave
The DOD has imposed restrictions on travel, and LEAVE is no exception to those restrictions.
Announced by DOD at 10:15 PM March 13, to be effective Monday, March 16: military personnel travel for leave will be limited to the local area in which the service member is stationed.
If a Marine is on leave now, s/he is required to return to base as scheduled.
The 10-day leave for newly graduated Marines after boot camp has been suspended through May 11. New Marines will take military transport immediately following graduation to their next schooling, SOI (ITB or MCT).
For all other Marines who have leave scheduled, it will be changed to LOCAL LEAVE ONLY. The "local leave" area is defined within a certain radius of the Marine's duty station. As an example, during a 96-hour leave, it's a 450 mile radius (which is 225 miles in any direction from the base). This is a general rule of thumb as the radius is typically determined by the unit's commanding officer. It is very possible the radius for "local leave" during COVID-19 will change.
Pentagon Orders Bases to Not Release Specific Covid-19 Numbers
Due to OPSEC concerns, the Pentagon has ordered military bases to stop releasing specific Covid-19 numbers.
Defense Secretary Mark Esper said last week, "What we want to do is give you aggregated numbers. But we're not going to disaggregate numbers because it could reveal information about where we may be affected at a higher rate than maybe some other places." As of Monday March 30, 569 active-duty service members, 220 civilian personnel, 190 family members, and 64 contractors have tested positive for Covid-19. For more information on the order from the Pentagon, click here.
From US Marine Corps
From Defense.gov Website
DOD Press Releases COVID-19
Troops Returning Stateside
According to the Associated Press News (March 14, 2020), soldiers returning from Afghanistan to Fort Bragg have been quarantined for two weeks. The Army is proceeding with an abundance of caution, even though no soldiers in the unit or at Fort Bragg have tested positive for the virus. Similarly, a New York Times article (March 18, 2020) reports that the withdrawal of troops from Afghanistan has become more complicated due to measures taken to prevent the spread of the virus.
Marine families expecting a loved-one to retrograde back to the states during the COVID-19 pandemic, can likely expect the Marine Corps to implement similar measures. We will keep you posted as we learn more.
Marine Rotation to Australia on Hold
Annually, a rotation of a couple thousand Marines takes place, but that is now on hold. An advanced party for 3rd Battalion 7th Marines is currently waiting in Okinawa and will remain there until a final decision is made. The advanced party was scheduled to arrive in Australia in April, with the rest of the Marines scheduled to arrive in the summer. The battalion will stay prepared and work towards the original timeline so they can better execute when a decision is made. Click here to read the full article.
Afghanistan Draw Down Slowed Due to Covid-19
The drawdown from Afghanistan is now being slowed due to COVID-19 and this could continue for several months. Some troops entering and exiting Afghanistan airfields are being quarantined for 14 days. In order to stop the spread of the virus, approximately 1,500 personnel, troops, and contractors arriving in Afghanistan in the past week are living in screening facilities. This is not because they are sick, but out of an abundance of caution. The ordered drawdown is still expected to be executed.
USO Airport Operations
Per the Department of Defense: Due to the COVID-19 outbreak, all USO Airport locations in the United States will temporarily suspend operations until further notice in order to maintain safe environments and avoid unnecessary risks of exposure.
Financial Assistance
Service members may be financially impacted by the travel restrictions and closures due to coronavirus. Any service members affected should check with their service relief organization to see if emergency help is available to them. These relief organizations are:
OPSEC AND COVID-19:
Reporting COVID-19 Testing and Results Among Military
As part of our POSTING RULE 2: OPSEC and PERSEC, discussion or speculation on the numbers of troops or location of troops being tested or having tested for COVID-19 will not be permitted. Posting COVID-19 testing results of military members will not be permitted. There are no exceptions to this rule.
For obvious reasons, specific information about the health of our military forces is a direct violation of OPSEC.
Stating information about any Marine or recruit, your own or otherwise, testing for COVID-19 as it relates to their job duties as a military member (whether the results are positive or negative) is a violation of PERSEC and will not be permitted. Discussions of COVID-19 within your family are permitted as long as you do not identify the individual and do not state military affiliation.
FROM THE DEPARTMENT OF DEFENSE
Monday, March 30, 2020: Pentagon spokeswoman Alyssa Farah said in a statement on Monday "As we continue to grapple with the novel nature of COVID19, we are constantly assessing and adapting not only how we respond to combatting the virus, but also how we share critical public health information with our communities." Farah also said "We will not report the aggregate number of individual service member cases at individual unit, base or Combatant Commands. We will continue to do our best to balance transparency in this crisis with operational security."