PDS MCLB Albany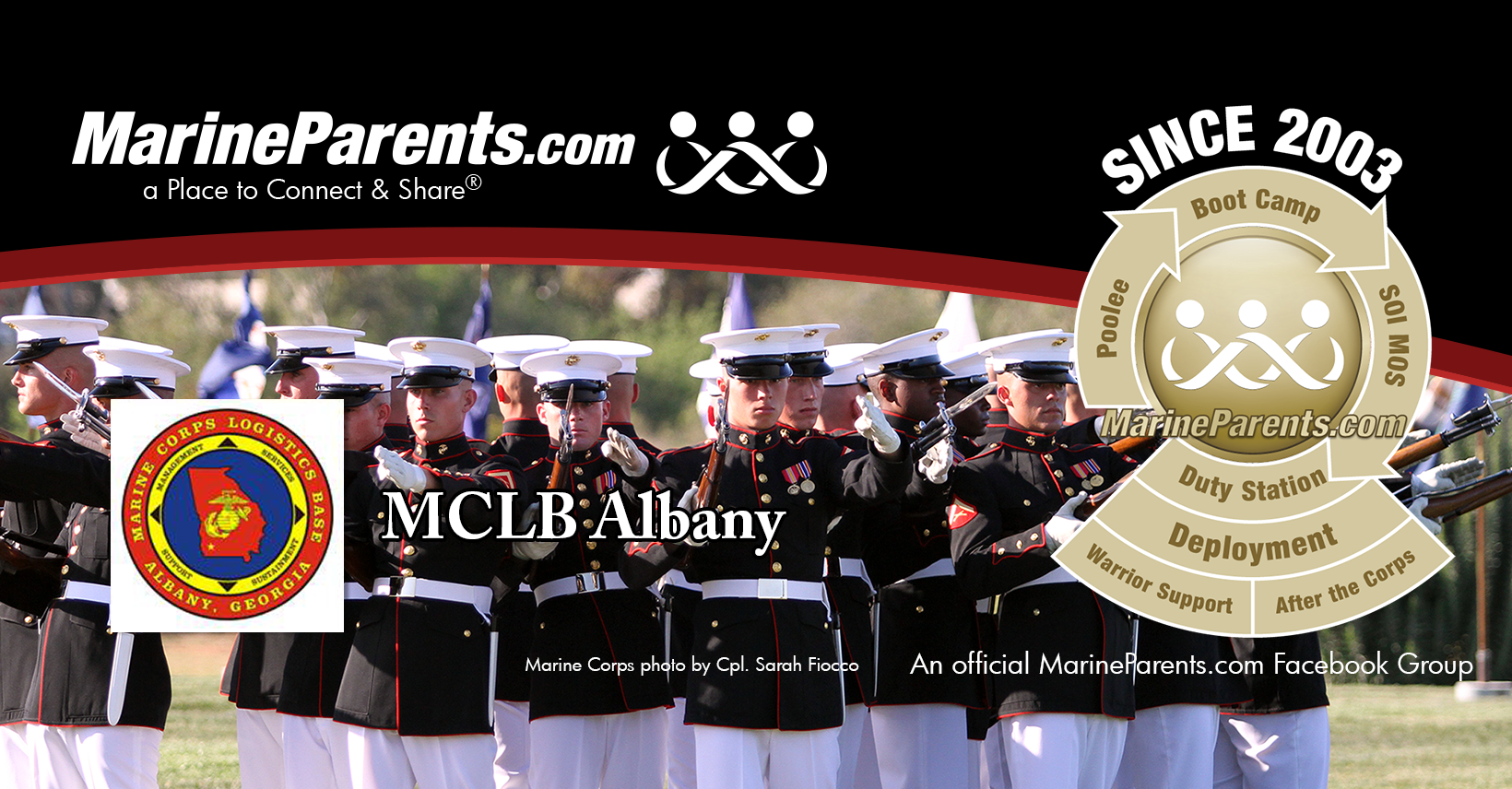 ---
Welcome to the Official MarineParents.com page for PDS MCLB Albany.
Unit Information Page™
MarineParents.com has Unit Information Pages (UIP) that contain unit history and location, USMC contact information, and web sites for each unit. The following links are UIP's for units aboard this Permanent Duty Station (PDS):
About
Marine Corps Logistics Base Albany is one of seven commands under Marine Corps Installations East (headquartered at Camp Lejeune, North Carolina) and the proud home of Marine Corps Logistics Command and Marine Depot Maintenance Command/Production Plant Albany.
Marine Corps Logistics Base Albany is dedicated to supporting the warfighter by providing high quality, cost-effective installation support services to its tenant commands. The base's priority is to its tenants, whose focus of effort is the warfighter.
Marine Corps Logistics Base Albany is also committed to providing its service members, civilian-Marines and families a safe and secure environment to work and live, thereby increasing quality of life for all. The base will be environmentally conscious and look for ways to decrease use of non-renewable energy sources to increase security and reduce cost. The base will reach out to the surrounding community to find ways to share common goals and values, and will build relationships that are good for the Corps and the community, which will last far into the future.
Marine Corps Logistics Command is currently the largest tenant organization aboard Marine Corps Logistics Base, Albany, Georgia.
Mission
As a component of the Marine Corps' supporting establishment, Marine Corps Logistics Base Albany provides facilities infrastructure and a range of tailored support services enabling supported commands aboard the installation to accomplish their assigned missions in support of the warfighter.
MCLB Albany is dedicated to the success and welfare of its:
Supported commands and agencies, particularly Marine Corps Logistics Command and its components;
Marines, Sailors and other service members, and families;
Civilian personnel;
The surrounding community, especially Dougherty, Lee and Worth counties.
Information taken from https://www.albany.marines.mil/About/ on 6/1/2018.
A Place to Connect & Share®
We have an Official MarineParents.com Facebook Group for PDS MCLB Albany. Click here to join now. Our Official Marine Parents Facebook Groups are run by volunteers who have gone through our training program. To help assure our groups are educational and on-topic, the volunteer Group Leader and volunteer Group Guides are the ones who will post topics in the group. The topics will be either educational or posts for members to have a Place to Connect & Share®. You are welcome to ask your questions or post your comments to any thread posted by the Group Leader and Group Guides.
Travel to MCLB Albany
Gate Information
There are four gates you can use to access this base. The Main Gate is located on Fleming Road and is open 24 hours a day. Johnson Road Gate is open every day from 5:30 a.m. to 10:00 p.m. Mock Road Gate is only open for inbound morning traffic, Monday-Friday from 5:00 a.m. to 8:00 a.m. Truck Gate is for commercial access only and is open Monday-Friday from 5:30 a.m. to 6:00 p.m.
Driving Directions
Driving directions will vary depending on your starting location. The following directions are from Southwest Georgia Regional Airport. First, go Northwest toward Newton Rd and turn left on Newton Rd. Turn right onto W Oakridge Dr, Continue onto Moultrie Rd. Use the left two lanes to turn left onto S Mock Rd. A half mile down the road turn right onto Fleming Rd. Turn left onto Walker Ave. At the traffic circle, take the 2nd exit onto Slack St. Make a slight left onto W Matthews Blvd and then turn right onto Radford Blvd. The gate will be on the left. This is approximately an 18 minute drive.
Local Activities
There are a few historic sites and state parks within an hour of Albany. If you are looking for activities that are a little closer to base there is the Blue Hole, Riverfront Greenway Trail, Ray Charles Memorial, RiverQuarium, the Civil Rights Institute, and the Museum of Art.
Local Climate and Weather
This area has a humid climate. The winter temperatures range from the mid 30's to low 60's and the summer temperatures range from the low 70's to 90's. The winter is typically damp, and the summer and spring are warm and humid. Winter snow is rare in this area.