PDS MCAGCC 29 Palms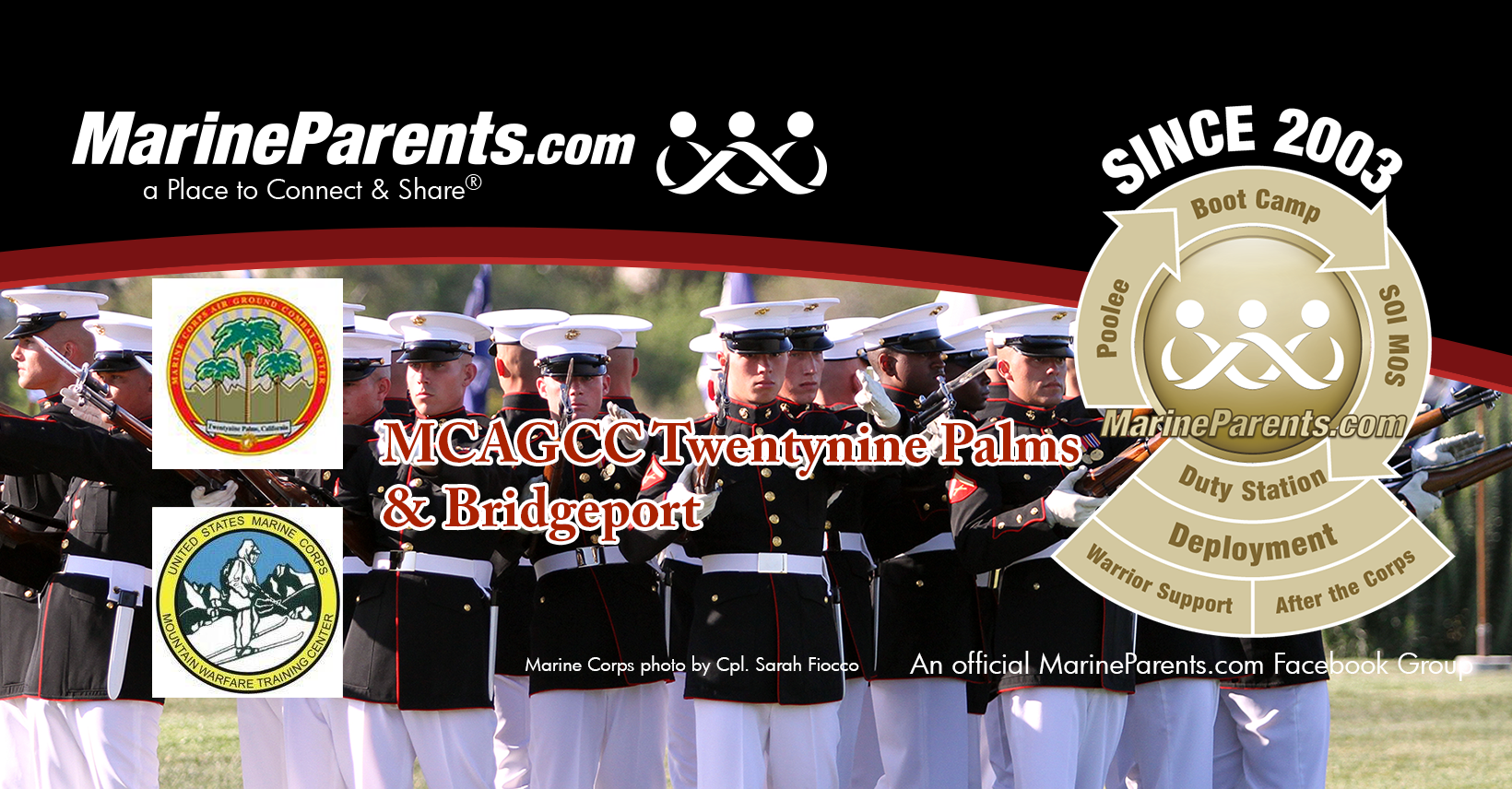 ---
Welcome to the Official MarineParents.com page for PDS MCAGCC 29 Palms. If your Marine is stationed at Twentynine Palms, California then you are in the right place.
Permanent Duty Stations (PDS)
MEUs, MEFs, MEBs
Other - In the Fleet:
Unit Information Page™
MarineParents.com has Unit Information Pages (UIP) that contain unit history and location, USMC contact information, and web sites for each unit. The following links are UIP's for units aboard this Permanent Duty Station (PDS):
PDS MCAGCC 29 Palms: Mission
Marine Corps Air Ground Combat Center (MCAGCC): Provide a standard of excellence in managing facilities, services and support to the operating forces, and families in order to ensure readiness of the tenant and resident commands aboard the Combat Center.
Marine Air Ground Task Force Training Command (MAGTFTC): Manage the Marine Air Ground Task Force Training Program (MAGTFTP) and conduct service level Marine Air Ground Task Force (MAGTF) combined arms training to enhance the combat readiness of the operating forces and support the Marine Corps' responsibilities to national security.
Topics:
Information taken from https://www.29palms.marines.mil/ on 6/1/2018.
A Place to Connect & Share®
We have an Official MarineParents.com Facebook Group for PDS MCAGCC 29 Palms. Click here to join now. Our Official Marine Parents Facebook Groups are run by volunteers who have gone through our training program. To help assure our groups are educational and on-topic, the volunteer Group Leader and volunteer Group Guides are the ones who will post topics in the group. The topics will be either educational or posts for members to have a Place to Connect & Share®. You are welcome to ask your questions or post your comments to any thread posted by the Group Leader and Group Guides.
Bridgeport: Marine Corps Mountain Warfare Training Center
The Marine Corps Mountain Warfare Training Center (MCMWTC) is one of the Corps most remote and isolated post. The center was established in 1951 as a Cold Weather Battalion with a mission of providing cold weather training for replacement personnel bound for Korea. After the Korea conflict the name was changed to the Marine Corps Cold Weather Training Center. As a result of its expanded role it was renamed the Marine Corps Mountain Warfare Training Center in 1963. MCMWTC operated on a full time basis until 1967 when it was placed in a caretaker status as a result of the Vietnam War. The training center was reactivated to a full-time command on May 19th 1976.
The center occupies 46,000 acres of Toiyabe National Forrest under management of the U.S. Forrest Service. A letter of agreement between the Forrest Service an the Marine Corps permits the use of the area to train Marines in mountain and cold weather operations.
The center is cited at 6,762 feet, with elevations in the training areas ranging to just under 12,000 feet. During the winter season (October - April) snow accumulation can rear 6 to 8 feet. Further, sever storms can deposit as much as four feet in a 12 hour period. Annual temperatures range from -20 degrees to +90 degrees Fahrenheit.
The MCMWTC conducts formal schools for individuals and battalion training in summer and winter mountain operations. The training emphasis on enhancing overall combat capability.
Marines at the center are also involved in testing cold weather equipment and clothing, and developing doctrine and concepts to enhance our Corps ability to fight and win in mountain and cold weather environments.
Bridgeport Mission
The Marine Corps Mountain Warfare Training Center conducts service-level MAGTF integrated exercises and supporting formal schools, develops warfighting doctrine, supports RDT&E for specialized equipment for use in mountain warfare operations, and maintains installation infrastructure and services in order to facilitate increased USMC readiness.
Information taken from https://www.29palms.marines.mil/mcmwtc on 6/8/2018.