PDS MCAS Miramar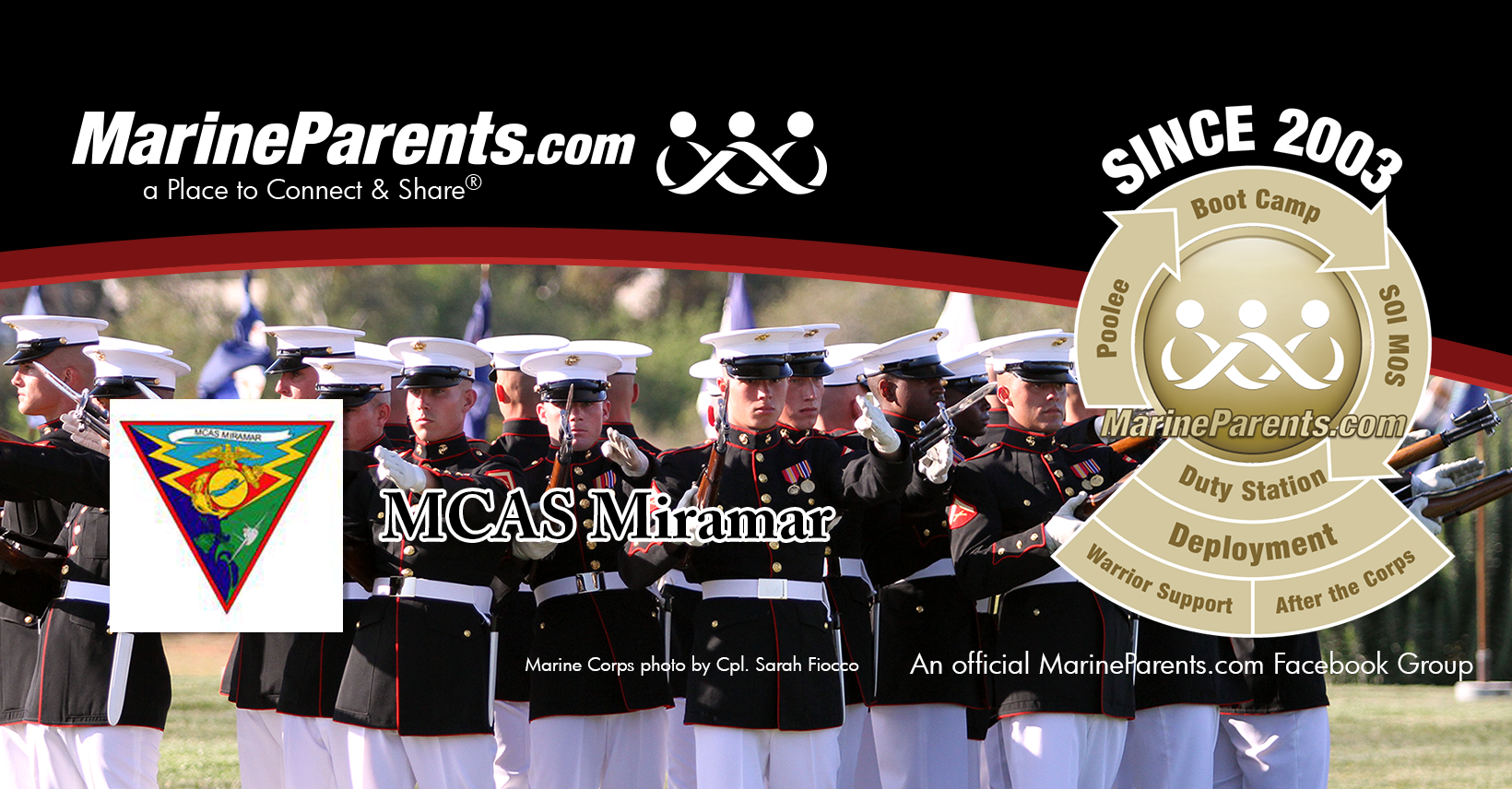 ---
Welcome to the Official MarineParents.com page for PDS MCAS Miramar.
Unit Information Page™
MarineParents.com has Unit Information Pages (UIP) that contain unit history and location, USMC contact information, and web sites for each unit. The following links are UIP's for units aboard this Permanent Duty Station (PDS):
PDS MCAS Miramar: Welcome
Marine Corps Air Station Miramar is proud to be a vital member of the San Diego community. Over 15,000 service members and their families, comprised of every branch of our military services, supported by civilian Marines and contracted employees call "America's Finest City" their home. We take great pride in being members of the San Diego community and look forward to this partnership continuing for many years to come. Marines and Sailors from the 3rd Marine Aircraft Wing continue to deploy throughout the world in support of the United States' contingency operations. "In any clime and place," these outstanding young men and women proudly serve their country and defend our nation's freedom. Their dedication to duty and the many sacrifices they willingly make while serving thousands of miles away from home, leave a lasting impression on all those who come in contact with them. MCAS Miramar's strategic location and mission are essential elements in the preparation of these young Marines and Sailors for combat. MCAS Miramar is located in the center of a constellation of Marine and Navy installations and ranges in the Southwestern United States. This ideal location allows for unimpeded access to the training needed to succeed in combat. The Marine Corps prides itself in being ready when that nation needs us, our ability to train, and the lethality of the Marine Air Ground Task Force's air combat power, must never be compromised.
The San Diego community's unwavering support of MCAS Miramar and all those who serve here is evident in the many contributions made to our warriors over this past year.
Information taken from https://www.miramar.marines.mil/Commands/About-MCAS-Miramar/ on 6/4/2018.
A Place to Connect & Share®
We have an Official MarineParents.com Facebook Group for PDS MCAS Miramar. Click here to join now. Our Official Marine Parents Facebook Groups are run by volunteers who have gone through our training program. To help assure our groups are educational and on-topic, the volunteer Group Leader and volunteer Group Guides are the ones who will post topics in the group. The topics will be either educational or posts for members to have a Place to Connect & Share®. You are welcome to ask your questions or post your comments to any thread posted by the Group Leader and Group Guides.
Travel to MCAS Miramar
Gate Information
There are three gates to gain access to the base. The Main Gate is located on Miramar Way off I-15 and is open from 6:00 a.m. - 10:00 p.m. The West Gate is located on Miramar Rd and is open Monday-Friday from 6:00 a.m. - 8:00 a.m. and 4:00 p.m. - 6:00 p.m. The West Gate is the closest to I-805. The North Housing Gate is the only gate open 24 hours and is also located on Miramar Rd.
Driving Directions
Directions may vary depending on the car rental location. Get on N Harbor Dr and turn left onto W Grape St. Use the right lane to get on I-5 S. Take exit 16 to merge onto CA-163 N toward Escondido. After 11 miles merge onto I-15 N and then use the right two lanes to take 14 for Pomerado Road toward Miramar Road. Use the left two lanes to turn onto Mitscher Way and after about a half mile turn left onto Bauer Rd. Almost a mile down the road you'll turn right onto Maxam Ave.
Local Activities
This is Southern California, so the activities in the area are endless. There are several beaches to enjoy, including a couple on base. There is Sea World, the San Diego Zoo, Knottsberry Farm, and Legoland. You can go out on the water with the Hornblower Cruise, which is a dining cruise and ferry service.
Local Climate and Weather
The climate is moderate and dry with winter temperatures anywhere in the 40's to 60's, and summer temperatures in the 60's and 70's. Generally, the days are clear with little rain. Temperatures never seem to be too high in the summer and winters are mild. There is approximately 7 inches of rain in the winter. This area is prone to wildfires in the hot, dry weather. Be prepared to evacuate at any time if there is one in the area.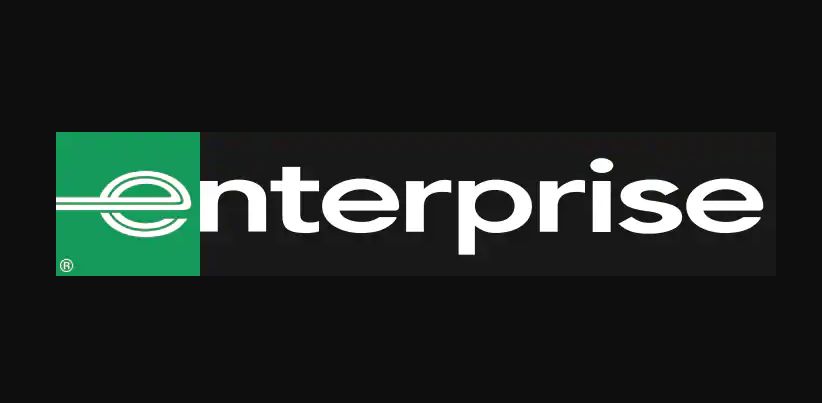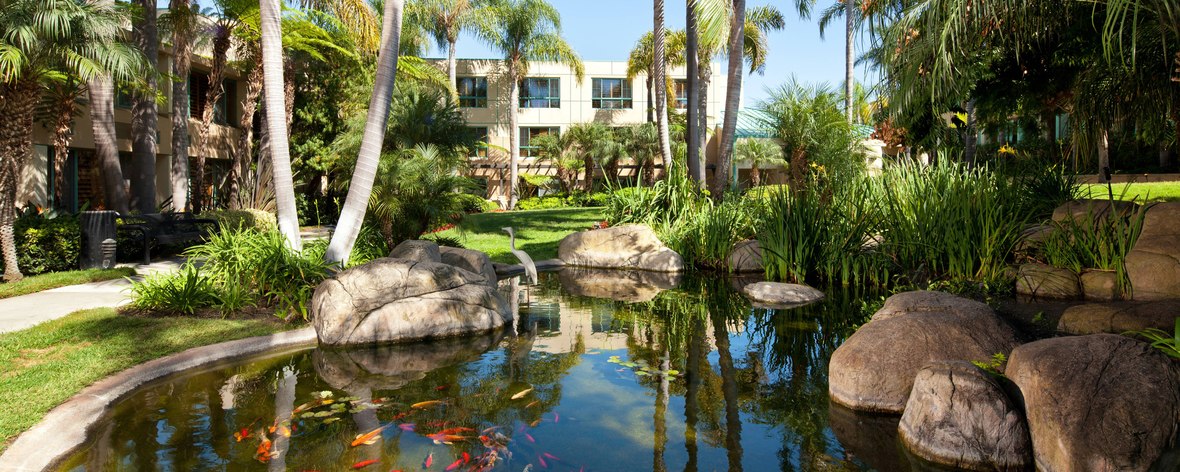 Sheraton La Jolla Hotel
Set in picturesque La Jolla, California, the Sheraton La Jolla welcomes you to enjoy nearby beaches, La Jolla Cove, Torrey Pines Golf Course and popular San Diego attractions such as the San Diego Zoo, Balboa Park, LEGOLAND and USS Midway. The hotel is conveniently located near the University of California San Diego, as well as some of the most renowned hospitals and research facilities in the world.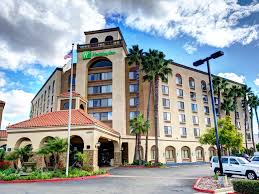 Holiday Inn San Diego Miramar
The Holiday Inn® San Diego North - Miramar is your choice when looking for simple elegance, practicality and great value: this combination attracts a variety of guests to our Hotel. With an ideal suburban location for both business and leisure travelers, you don't have to worry about any hectic commuting, courtesy of our complimentary shuttle service within five miles of the hotel.