2022 Volunteer Appreciation
This organization could not exist if it were not for the contributions of so many volunteers around the United States. If you are interested in volunteering with MarineParents.com and helping Recruit and Marine families through this journey, Click to Learn About Volulnteering at MarineParents.com.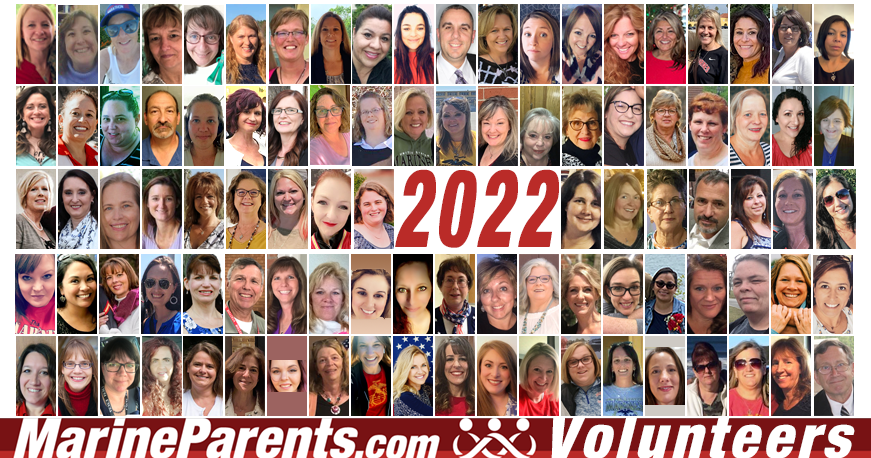 ---
Volunteer Week April 17-23
Letter from the Founder
We have 105 current volunteers working 38,246 hours in 2021, each having completed 40+ hours of training and mentoring in order to begin working in our groups. The dedication to the Marine Corps from each of these individuals benefits thousands of families around the world.
The volunteers at MarineParents.com are the heartbeat of the organization. They are the caregivers for Marine Corps family members, giving time, attention, answers, patience, and devotion to the members and the mission. Their work is unwavering and the giving of their time appears endless.
As the founder of MarineParents.com, I have worked with amazing volunteers through the years, numbering several thousand in the nearly 20 years we've been here. Each year, I am in awe of the statistics and hours and work-and the kind of people that volunteer for MarineParents.com. Sadly, the pandemic has kept us from meeting in person.
But this year, just two weeks ago, in fact, I drove to Texas for a recruiting poolee event. On the trip down, I stopped near Dallas to meet with three volunteers. Though we've worked together for years, we've never met. It was as if we'd been friends forever. The conversations and hugs flowed freely. Their hearts are like my heart; giving, caring, devoted. I met two more volunteers the next day at the poolee event and they spoke with every family member there, numbering nearly 200 people, with the same devotion and care. Simply amazing.
It was an exhausting trip-16 hours in the car each way-but it was worth every minute to meet the volunteers, to meet with 200 family members, and to see the work our volunteers and the organization do to keep family members involved and informed. Yes, it's the volunteers that are the heartbeat of the organization. And it is to each and every one of those volunteers that I am reaching out to today, during National Volunteer Week, to thank them for their work and commitment to the organization and family members.
Thank you for giving your hearts and giving family members a place to connect and share. From the bottom of my heart, thank you for all you do.
God Bless and Semper Fi!
Tracy Della Vecchia
Founder and Executive Director
National Volunteer Week April 17-23, 2022
National Volunteer Week was established in 1974 by President Richard Nixon. This was done as a way to celebrate the hard work and dedication of volunteers. Each President since then has issued a proclamation during National Volunteer Week, and this has also been the case for many mayors and governors across the country. Since 1974, National Volunteer Week has not only been a celebration of the dedication of so many volunteers, but also a nationwide effort to encourage people to volunteer in their own communities. This year, National Volunteer Week is April 15-21, and during this time we ask you to join us in celebrating the hard work and dedication of our volunteers here at Marine Parents.
This organization could not exist if it were not for the contributions of hundreds of parents around the United States. Our volunteers have taken that one step further and contribute endless hours answering emails, moderating the social media groups, researching information, and supporting the parents, spouses, family and friends of our United States Marines.
Click to read announcements and awards for the year 2021. New announcements published daily the week of April 17, 2022:
VOLUNTEERS OF THE YEAR
COACH AND ASSISTANT COACH OF THE YEAR
5 & 6 YEARS OF SERVICE
4000+ VOLUNTEER HOURS