Tweet
Training Volunteers PLUS Helping Recruiters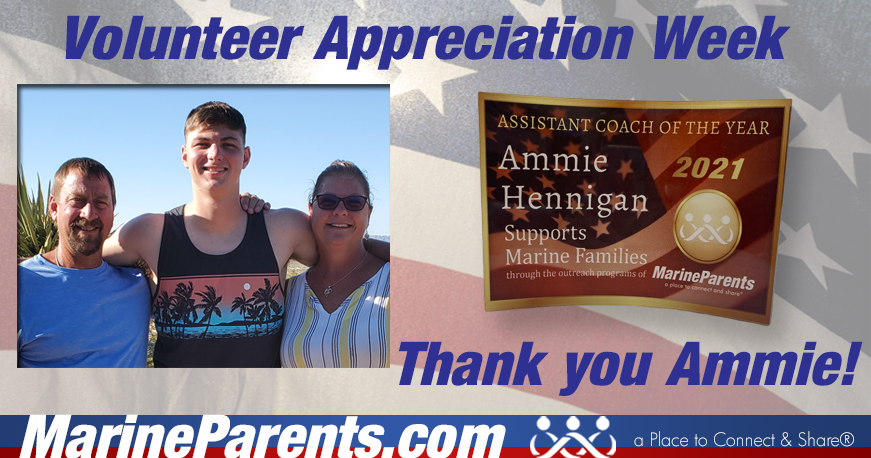 Texas Marine Mom, Ammie, Volunteer of the Year!
Ammie Hennigan is our Assistant Coach of the Year and for very good reason! Ammie's passion is with RTBN (Recruit Training Battalion) working training our volunteers to work in those groups and helping recruiters in her area.
At MarineParents.com, assistant coaches are responsible for training new RTBN Group volunteers using our self-directed program which takes 40+ hours for training and mentoring. It's a huge commitment and Ammie is amazing at it! She is also a Community Relations volunteer, contacting Recruiters in Texas to share our materials and offers to present at their Poolee Events.
Ammie truly cares about our members and our volunteers. She's always willing to help out wherever she's needed. She does an amazing job training our new volunteers to work in the San Diego RTBN Groups.
—Stacie Lynn Theis, Volunteer Manager
As the founder of the organization, I had the pleasure of meeting Ammie a couple of weeks ago while I was in Texas. She felt "honored" to meet the founder of the organization, but I have to say, the honor was all mine. She's an incredible woman with a heart as big as Texas. While we "relaxed" over dinner, it was obvious that Ammie continues her role as a volunteer in all she does—even during dinner!. Her passion is clear: she loves supporting Marines and their family members!
We're very lucky that Ammie spends her volunteer time with MarineParents.com; members of our groups, the volunteers she trains, and the recruiters she supports all benefit from her hard work and huge heart. Thank you, Ammie, for choosing MarineParents as your volunteer job!
Proud MoM Design ON SALE!
This design is a must-have for any proud Marine MoM! Take advantage of this sale and add some Semper-pride to your wardrobe! OOH-RAH! When we're sold out, we won't be restocking!