COVID-19 Relief and Assistance for Military Personnel
Please be aware, the Marine Corps doesn't have a road-map for the COVID-19 pandemic either, but they have to keep our troops safe. When the USMC provides answers and additional information, we will publish it on these pages of our website. Our take on this will be that the military will exercise more caution and keep civilians off the bases longer than what other populations and communities do in our country.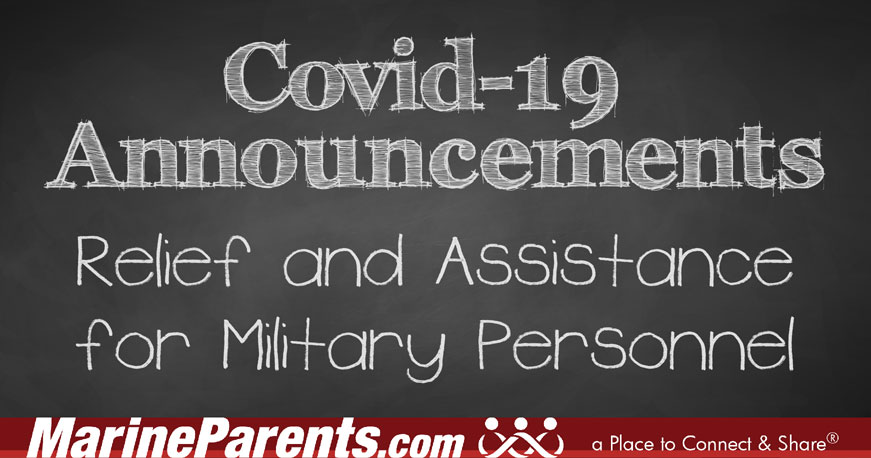 ---
COVID-19 Impact on USMC, Marines, and Family Members
INFORMATION IS UPDATED DAILY. BE SURE TO CHECK EACH DAY FOR NEW UPDATES.
Additional information in the red bar below is based on which stage of the Corps your recruit or Marine is currently.
[** haga clic para Español **]
Information by Marine Corps Career Stage
Officers: OCS & TBS
Additional Information and Help
Financial Assistance
Service members may be financially impacted by the travel restrictions and closures due to coronavirus. Any service members affected should check with their service relief organization to see if emergency help is available to them. These relief organizations are:
Military Star Card Holders
During this ongoing financial uncertainty, the Army and Air Force Exchange Service has announced that resources are being made available to assist holders of its Military Star credit card.
For more information on the Military Star Card, refer to the AAFES Press Release.
Card holders with questions or concerns are encouraged to email their inquiries to Military Star representatives directly at MilitaryStar@aafes.com.
Relief for Moving Military Members
Due to the COVID-19 pandemic and the DoD travel restrictions, many military families in the process of moving are now homeless after terminating leases and selling their homes.
On Wednesday the Pentagon released guidance that those individuals may be able to receive payments for housing and food while they wait. Those service members may be put on temporary orders at their previous duty station or an alternate unit, and dependents can be authorized per diem. That payment is not authorized, however, If those troops and families are given in-kind lodging or food by the services. Dependents must remain at the previous duty station to recive the extra per diem payment.
The new guidance also clarifies that only service members are blocked due to the travel restrictions. Dependents may travel home if they choose, but they are urged to stay where they are and follow the advice of officials at the Centers for Disease Control (CDC).
Pentagon Orders Bases to Not Release Specific Covid-19 Numbers
Due to OPSEC concerns, the Pentagon has ordered military bases to stop releasing specific Covid-19 numbers.
Defense Secretary Mark Esper said last week, "What we want to do is give you aggregated numbers. But we're not going to disaggregate numbers because it could reveal information about where we may be affected at a higher rate than maybe some other places." As of Monday March 30, 569 active-duty service members, 220 civilian personnel, 190 family members, and 64 contractors have tested positive for Covid-19. For more information on the order from the Pentagon, click here.
From US Marine Corps
From Defense.gov Website
DOD Press Releases COVID-19
---