Meet Sheryl Peavey, Volunteer for MarineParents.com
a volunteer at MarineParents.com. Our volunteers work around the United States in a variety of capacities. Please give a shout out of thanks to one of our Official Marine Parents Facebook Group volunteers!
---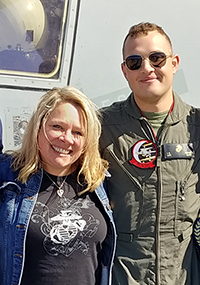 Sheryl's Positions
Click the Link to View the Group(s)
Region 5 CR Presenter Maine
PI 2nd RTBN Group Leader PI Fox
PI 3rd RTBN Group Leader PI Kilo
PI 3rd RTBN Group Leader PI Lima
Sheryl Peavey
Volunteering since 2020-08-10
Total Service Hours:
Total Service Hours in 2021: 415.6
Sheryl is a newly minted Marine MoM, but she's been the daughter of a Marine since the day she was born. Sheryl lives in rural Maine with her husband, their new puppy, two cats, nine ducks, and a bunch of chickens. Her younger son achieved his dream and graduated from Parris Island in 2020 as a Marine. Her oldest son is in college and competes as a wrestler on the DIII college team. Sheryl proudly tells anyone who will listen that both of her boys were state high school wrestling champs and her living room furniture can attest to that!
The week before her Marine first shipped out as a poolee, Sheryl discovered how incredibly supportive and helpful MarineParents groups are. She came to rely on the daily posts, not only as a way to stay connected and know what her son was doing in training, but also as a way to appreciate her own new feelings as a parent with a son in boot camp. Sheryl jumped at the chance to become a volunteer as a way of saying Thank You to the volunteers who helped her through those first fifteen weeks.
Visit Sheryl's Facebook Profile
Back to the list of Official Marine Parents Facebook Groups Volunteers