COVID-19 Letter from the Founder, MarineParents.com
Simply put, we've got this. See our newest letter from the founder March 17, 2020. Our information, services, and store are online and we're not going to miss a beat. We'll be keeping you informed while keeping our staff and volunteers safe.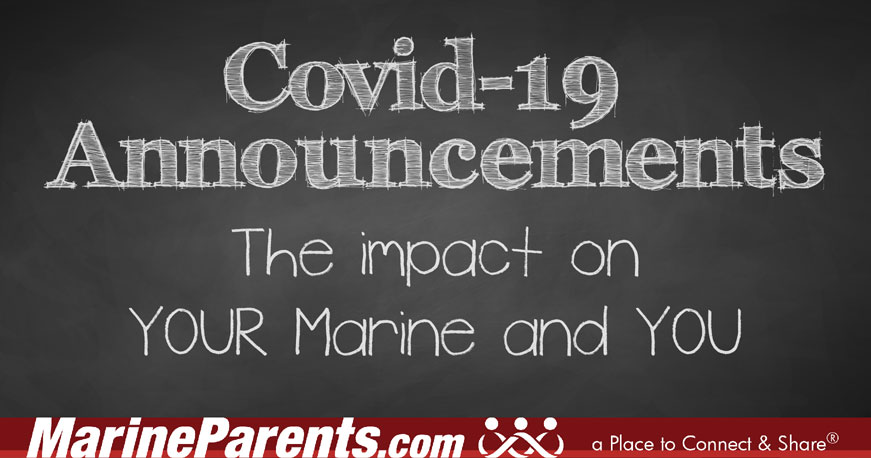 ---
COVID-19 Impact on USMC, Marines, and Family Members
INFORMATION IS UPDATED DAILY. BE SURE TO CHECK EACH DAY FOR NEW UPDATES.
Additional information in the red bar below is based on which stage of the Corps your recruit or Marine is currently.
[** haga clic para Español **]
Information by Marine Corps Career Stage
Officers: OCS & TBS
Additional Information and Help
March 17, 2020
COVID-19 impact on YOUR Marine and YOU
Dear Marine Family Members, Marines, and Supporters,
The COVID-19 pandemic has certainly created a world that is unfamiliar and surreal for all of us. For the folks who are new to the Marine Corps, it's even more disturbing. Marine families everywhere and in all stages of the Corps are stressed, and rightfully so. Remember: this is a time to unite and remain calm. We've got this!
Visit this link for the most up-to-date information we have: https://www.MarineParents.com/COVID19
Some important changes and updates for Marine family members since our newsletter on Friday, March 13 include the following:
The Marine Corps has added additional travel restrictions that impact Marines and family members across the globe. The travel restrictions will be subject to changes during the potential spread of COVID-19. Leave is impacted as well. There are six things you need to know about this:
The Marine Corps is making these decisions to keep our military personnel healthy and to preserve the readiness of our armed forces. As a Marine family member, embrace this and be grateful for your son's and daughter's commitment to our great nation!
Marines currently on leave will be required to return to their duty station or next school as per the instructions on their orders. Nothing has changed with their return dates.
Marines at a permanent duty station (PDS) with leave scheduled or wanting to schedule leave will be approved for local leave only. This means travel will be restricted by their command to a particular radius around their PDS.
Marines who will graduate from boot camp after March 16, 2020, will not be permitted the "usual" 10-day leave after boot camp. Instead, they will board a military transport to their next school location for SOI (School of Infantry) where they will continue training at ITB or MCT depending on their MOS.
For Marines currently in schools such as SOI or MOS, plans are being formulated by the USMC now and decisions by the Marine Corps will be made in accordance with the current restricted travel regulations. Marines can likely expect some holding periods and wait times upon completion of SOI and MOS while the travel restrictions are in place.
As per our last newsletter, the Marine Corps will not allow visitors on any base to watch any graduations from any schools or boot camp until further notice. Some units are making plans to record graduations and share live or recorded feeds on their websites and Facebook pages. More information is available on our website.
To stay informed, we've created pages for COVID-19 Impact for EACH stage of your Marine's career in the Corps. To access that information, follow this link: https://www.MarineParents.com/COVID19
Sadly, we've had to put a halt to our dinners served through our program the Warrior Support Team at Bethesda and Balboa. This is for the safety and well being of both the patients and our volunteers. However, our outreach continues by sending information and reintegration bags to those service members and veterans who need our help. To learn more about our reintegration bags, see http://warriorsupportteam.com/reintegration-bags.asp. To donate to the program, visit https://marineparentsinc.com.
Thankfully for Marine Corps families, we ARE united and we will remain united: Semper Family! We are continuing to keep our websites up-to-date with important information about the impact of COVID-19 to Marines, Veterans, and our family members. We continue to make changes in our day-to-day operations to assure the safety of our staff. Volunteers, and people we serve.
Semper Fi, Remain Calm, Stay Tuned, and God Bless!
Tracy Della Vecchia
Founder and Executive Director
March 13, 2020
Dear Marine Family Members, Marines, and Supporters,
As a national organization with coverage around the United States reaching hundreds of thousands of Marines and family members, we want to communicate our commitment to the organization's continuity and keeping you informed while at the same time ensuring the health and safety of our staff and volunteers during the COVID-19 pandemic.
INFORMATION AND COMMUNICATION CONTINUES
Most importantly, we are here for you during every stage of your Marine's career in the Corps. Providing information to you through our websites, newsletters, and social media will continue. We have created a page to collect and summarize Marine Corps mandates that will impact family members of Marines, and in some instances, the Marines or recruits themselves. You can visit that page online here, or visit the main page of MarineParents.com for links: https://www.marineparents.com/COVID19
THE EGA SHOP IS OPEN FOR BUSINESS
Our online store will continue to operate at full production and without interruption. We encourage you to continue shopping for Officially Licensed Marine Corps products where 100% of the proceeds support the outreach programs of the organization. We are offering a coupon for 17% off $50 orders through March 18, 2020. Enter coupon code 1775MARINE at checkout www.EGAShop.com.
SECRETARY OF DEFENSE: NO PUBLIC ATTENDANCE AT GRADUATIONS
From the Secretary of Defense: effective March 13, 2020, the public will not be allowed to attend graduations from any schools, whether recruit training, ITB/SOI or MOS until further notice.
WATCH PARTY FOR LIVE FEED GRADUATIONS
In the interim, if the Marine Corps is providing LIVE FEEDS, we will hold a watch party in our Facebook groups for the live feeds. Announcements will be made in the groups and on our Facebook pages as we learn when LIVE FEEDS will be held.
GRADUATION CELEBRATIONS AT HOME
It is an incredibly sad time for families with recruits graduating and not being able to attend the graduation ceremony. Our suggestion for graduation is to celebrate the moment that Marine hops off the plane for ten-day leave! Bring your banners and wear your shirts and show your pride! At home, you can have a graduation party complete with balloons and Marine Corps cake toppers from the EGA Shop--and hang that banner in the front yard! Graduation gifts for the recruit are encouraged. The EGA Shop is your trusted partner for Marine Corps gear and gifts with all proceeds going to the outreach programs of the organization.
STAFF AND VOLUNTEERS
In addition to any government mandates during the COVID-19 pandemic, we will minimize contact our staff and volunteers have during work. There will be no travel on behalf of the organization. To date, we have restricted access to our building to only staff and delivery personnel. Our staff who can work from home have been instructed to do so. Our volunteers all work from home. Participation of our volunteers at physical locations with the public or members will not be allowed; events are being canceled until further notice.
MARINEPARENTS TRAVEL ASSISTANCE
Applications and processing applications for the MarineParents.com Travel Assistance Program (MPTA) to help families with financial need to attend graduations have been temporarily suspended. When the Secretary of Defense lifts the mandate for no public attendance at graduations, the program will resume. All donations received to date for graduations that have been impacted will be redirected to other companies for graduations when the situation resolves.
RECRUITING STATIONS
We will continue to send our kits of information to the Marine Corps Recruiting Stations and Substations but will be unable to send speakers to the poolee events if the Marine Corps continues to hold them.
WARRIOR SUPPORT TEAM DINNERS
We are working with our East and West coast managers of the Warrior Support Team to learn details from them about whether or not our meals at the facilities will need to be suspended. At this time, they will continue as planned. We will inform you if that changes.
While it's important to understand the impact of COVID-19 in your life and precautions you can take now, it's even more important not to panic. We have to accept the mandates as they are passed on knowing this is a temporary situation and life will return to normal at some time.
Our support and prayers are with the families impacted by the COVID-19 pandemic and resulting mandates. We are here for you and stand ready to support you and keep you informed.
God Bless and Semper Fi,
Tracy Della Vecchia
Founder and Executive Director