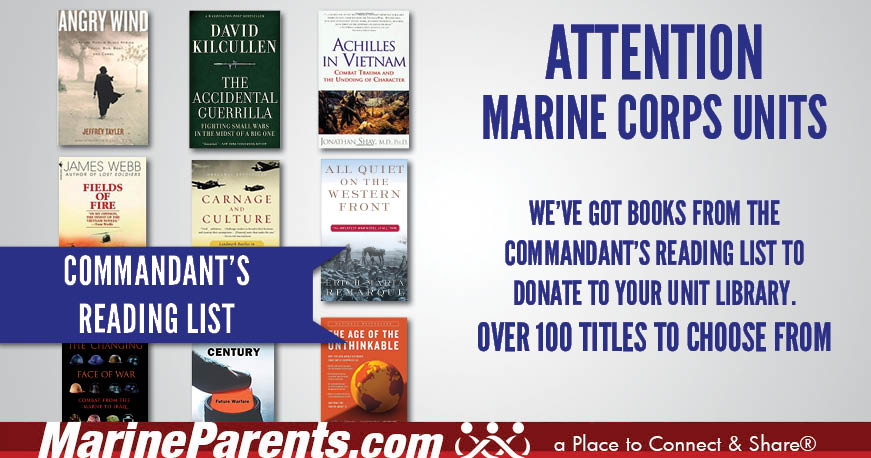 CRL Books for Marine Corps Units
MarineParents.com, Inc. has hundreds of books from the Commandant's Reading List (CRL). We want to give them away to Marine Corps units to use in their unit library. This is an outreach service to get reading material from the CRL into the hands of Marines. We will give $300 in book value to each unit requesting books as long as the inventory lasts.
Unit Command/DRC:
If you are a CO, XO, DRC, or otherwise authorized to represent your unit to make a request, please review the procedure and protocol for making a request:
There is no cost to your unit.
MarineParents.com, Inc. is an IRS-approved 501(c)(3) public charity.
We will complete donation paperwork at your request.
For ease in dissemination, we will ask you to select the books from our inventory in the EGA Shop, enter your shipping address, then use a code at check out for the donation to be shipped to your unit.
To view the current inventory, visit the CRL category of our EGA Shop at https://marineparentsinc.com/store/shop/category.aspx?catid=417
To request books for your unit, please send an email to Allison@MarineParents.com. We ask that you complete your request before the end of summer, 2019.
Marine Family Member:
If you are a family member of a Marine, please share this page with your Marine in the hopes they will pass it up the chain of command so we can get these books off our shelves and into the Marines' hands. Many books from the CRL are required reading for promotions.
NOTE: Requests must come from the unit DRC or command, not a family member or your Marine.