Operation Oklahoma Marines Recap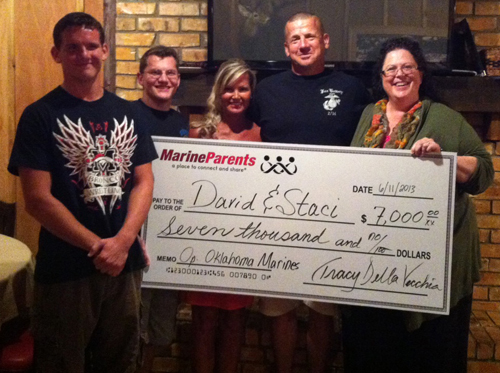 MarineParents.com, Inc. Founder and Executive Director Tracy Della Vecchia presents Gy.Sgt. David and his family with a check for $7,000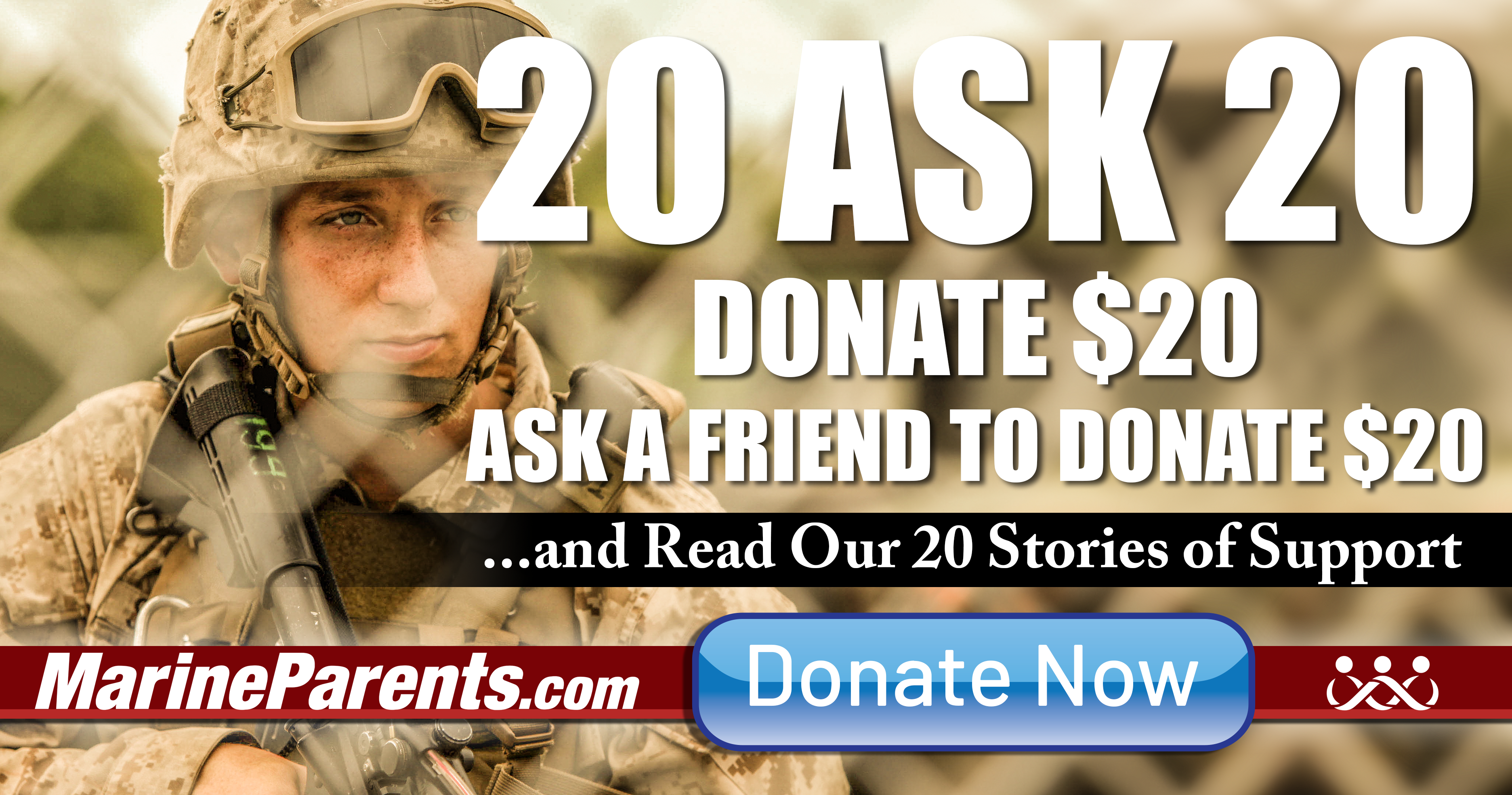 With your help and donations, we ARE making a difference. We hope you'll donate and read our stories of support through the years.
Support Stories Through the Years
Our Current Fundraiser
Semper Fidelis. Always faithful. This is the tenet by which all Marines live. And, in the wake of last month's deadly storms in Oklahoma, the Marine Parents family has shown that "Semper Fidelis" is a doctrine you've adopted as well. Your unwavering dedication to remain always faithful has proven phenomenal.
When we first launched "Operation Oklahoma Marines," we set a goal of raising $10,000 dollars for two Marine families who lost everything in the storms. Thanks to your steadfast commitment to the belief that Marines and Marine families take care of their own, our goal of $10,000 was blown out of the water.
When all was said and done, the Marine Parents family donated $21,000 and a 2002 Chevrolet Silverado to "Operation Oklahoma Marines." This is more than we ever could have expected or hoped for. Two families who, in an instant, had their lives turned upside down now have a leg to stand on as they rebuild. The process will be long and challenging, but these are Marine families--overcoming challenges is in their DNA. By no means will $21,000 and a truck replace all that was lost. But it's a heck of a start. And it's all thanks to you!
God bless and Semper Fidelis,
The MarineParents.com, Inc. Staff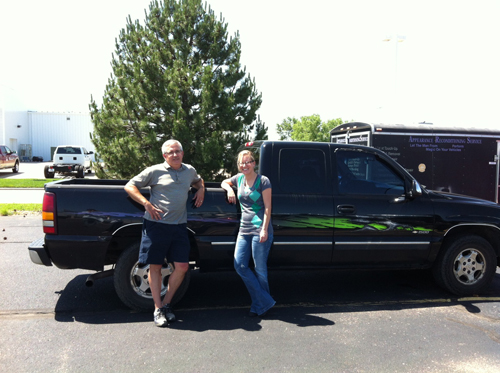 Marine Dad Doug and MarineParents.com Inc. Chief Development Officer Danielle stand in front of the 2002 Chevy Silverado Doug donated to "Operation Oklahoma Marines"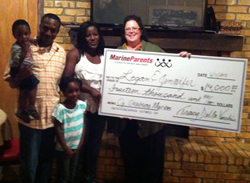 MarineParents.com, Inc. Founder and Executive Director Tracy Della Vecchia presents Sgt. Logan and his family with a check for $14,000
On Tuesday, June 11, 2013, MarineParents.com, Inc. employees Danielle and Collin traveled with Founder and Executive Director Tracy Della Vecchia from the Marine Parents office in Columbia, Missouri to Oklahoma City to meet the two Marine families who lost everything in the storms and present them with the donations raised by the Marine Parents family.
Before heading to Oklahoma City, we traveled four hours west to Salina, Kansas to pick up a truck donated by Marine dad Doug. Living in Kansas, Doug is no stranger to the despair and devastation storms of this magnitude can cause. After reading about "Operation Oklahoma Marines," he felt compelled to show his support by donating a 2002 Chevrolet Silverado, which will surely be invaluable in the coming weeks as the rebuilding process continues.
After thanking Doug for his amazing generosity, we headed south to Oklahoma City. We made a quick stop at our hotel to check in and get settled before heading to the Saltgrass Steakhouse to meet Gunnery Sergeant Chad, our point of contact in town, and to prepare for the arrivals of the two families.
At 6 pm, the two families arrived. Sergeant Logan, a Marine Reservist with seven years in the Corps, walked in first with his wife, Jennifer, and their two children Janelle and Jibriel (ages five years and 13 months, respectively), followed by Gunnery Sergeant David, a reservist with more than 30 years in the Corps, his wife Staci, and their children David and Cole, both 18.
After a quick round of introductions, we swapped stories, shared laughs, and got to know each other while waiting for dinner to arrive. After a delicious steak dinner, we had a small ceremony in which we presented both families with ceremonial checks before heading outside to present Gunnery Sergeant David and his family with the truck Doug donated. At this point, our evening came to a close as our new friends had to head home and we had to return to the hotel to prepare to head back to Missouri the following morning.
This was an amazing experience for all involved, and we can't thank the Marine Parents family enough for making this possible. We could not have found two more genuine, charming families if we'd tried, and they, like us, greatly appreciate all that you have done. We wish Logan and David and their families all the best as they continue to rebuild and move forward, and we thank you all one last time for showing what it means to be "Semper Fidelis."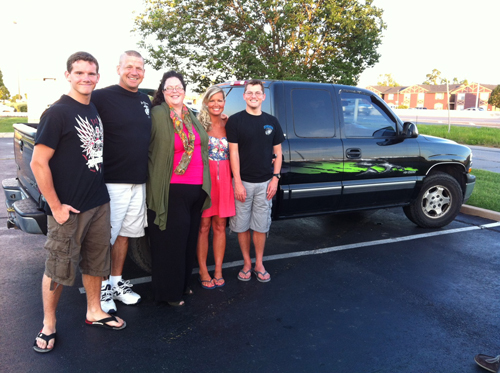 MarineParents.com Inc. Founder and Executive Director Tracy Della Vecchia stands with Gy.Sgt. David and his family in front of their new Chevy Silverado donated by Marine Dad Doug