The emotional roller coaster of your Marine's deployment may be more than tough—it may seem almost impossible to tolerate. You'll likely experience some combination of pride, fear, pride, anxiety, pride, worry, and more pride. The uncertainty of what is to come brings emotions and feelings that none of us thought would be part of our lives. But you are not alone. Thousands of other parents have the same emotions, and Marine Parents is "a Place to Connect & Share®" with those who are in your shoes and understand your emotions.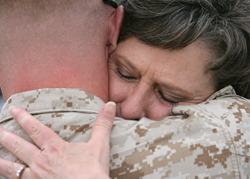 The goal of the Marine Parents Deployment Center is to provide you with the information and tools needed to better understand what will happen before, during, and after your Marine's deployment. In preparation for deployment, we strongly recomend that you read through the entire Deployment section of our web site. There is a lot to learn, but by reading and learning, you'll be empowered with knowledge and, thereby, be better prepared to support your Marine during the deployment, and just as important, be better prepared take care of yourself.
Use the red links to the left to learn more about your Marine's deployment.