Care packages are a great way to show your support of our Marines and the troops overseas. If you want to send packages to your own Marine, this section is for you. If you are wanting to support the troops and send packages to Marines that you do not know, please visit the website for our outreach project "
The Care Package Project™
". We send about 5000 care packages overseas every year.
Time Required For Packages To Arrive:
This varies widely, but you can generally count on 2-3 weeks for arrival to the Middle East and Africa, and 1-2 weeks for arrival to the Pacific Region. For additional information, use the link in the box at the top right called "Time to Arrive".
Packages From The General Public Mail:
The Department of Defense does not allow mail from the general public addressed to "Any Service Member" for two reasons: logistics and security. The military postal system does not have the capacity to screen for safety and process the tons of mail normally generated by Any Service Member mail. To add to the difficulty, bona fide mail from family and friends may be delayed by the volume of mail. To read the Department of Defense policy, see www.DefenseLink.mil/releases.
Organizations Sending Mail & Packages:
Individuals, schools, and service organizations interested in sending letters supporting deployed service members should use The Care Package Project™ as an alternate means of sending packages of support. The Care Package Project™ is an outreach program of MarineParents.com, Inc. We ship about 5000 care packages each year to Marines stationed in combat zones. We need your help and appreciate your support!
Security Of Overseas Addresses:
For security reasons, please DO NOT share your Marine's overseas address with anyone outside his/her circle of family and friends.

Suggested mailing dates for arrival by Christmas and Holidays:
You can generally count on up to 2 weeks for the packages to arrive at your Marine's base station, including FOBs (Forward Operating Bases) and various camps in and around Iraq and Afghanistan. As of the middle of 2007, US Postal regulations have changed such that we recommend Priority Mail for all APO/FPO shipping of parcels. (Remember flat rate boxes from the post office are most likely your best deal!) For Hannukah and other holidays, ship Priority Mail at least 2 weeks prior to your desired arrival date.

See below for the USPS 2011 Military Mailing Deadlines.
Don't Know A Person To Send A Care Package To?

If you would like to send care packages, please work with
MarineParents.com, Inc. Care Packet Project™
to be sure your packages arrive according to military protocol. This is a great way for churches and other organizations to support our Marines and deployed military personnel.
I would like to suggest that you send AAFES Gift Certificates redeemable at military installations around the world, including facilities supporting OIF and OEF. For more information from AAFES, click here.

2011 MILITARY MAILING DEADLINES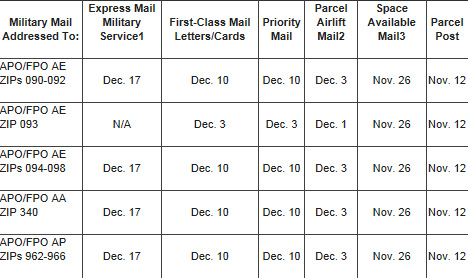 For the full press release
from the United States
Postal Service,
Click here…