Flat Rate Boxes and FREE Supplies from the USPS
Updated October 1, 2010, the following are the most current prices for sending flat rate boxes overseas:
Small: $5.20
Medium #1 and #2: $10.95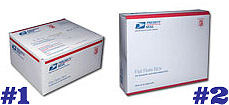 Large: $12.95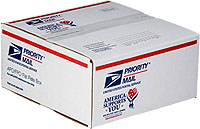 Most folks want to consider "Flat Rate" boxes for shipping care packages overseas because they are the same price to ship regardless of the weight. The boxes are provided free from the USPS; all you have to pay for is shipping. However, depending on where you live and what zip code you are shipping to, you may want to compare rates. Check with your post office. There are THREE sizes of flat rate boxes. See above for pricing. The medium-sized boxes can hold up to 70 lbs. The large box enables customers to ship 50 percent more. Order these boxes by calling toll-free at 1-800-610-8734 or visit the USPS web site.
Order FREE Supplies from the USPS Online:
You can order your flat rate boxes and customs forms online. To order, go to shop.usps.com. For the flat rate boxes, enter FRB in the search field. For customs forms and plastic sleeves, enter 2976 in the search field. The boxes and forms are shipped to you at no cost.
Care Kit 4 For Military Families From USPS: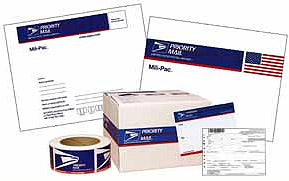 February 24, 2008: I believe the Care Kit has been discontinued with the addition of the new size flat rate box with military discount. I'm verifying that with the post office now.
You can request a "Care Kit 4" for mailing to the military by calling 800-610-8734. It has 10 boxes (5 each size), 5 envelopes, 15 customs forms and some Priority Mail tape. This is the only way we have found to receive a free roll of "priority mail" packing tape which comes in handy when you're shipping so many care packages!
Priority Mail vs. Parcel Post:
There are three advantages to shipping priority mail over parcel post. (Note: Flat Rate boxes are Priority Mail.)
Priority mail packages WILL arrive quicker at the APO/FPO mailing facilities.
Priority mail and packages will have priority for loading onto military mail flights.
A priority mail package that is non-deliverable is returned to the sender without additional postage due, which is not the case with parcel post.
FedEx, UPS, DHL and Other Carriers:
There is some disagreement as to whether or not these carriers will deliver mail overseas. We have heard instances of FedEx delivering in Kuwait for instance, and we've heard folks complain that FedEx is unable to deliver to Iraq. Certainly these carriers may have service in non-combat areas of the world. Please check with each carrier if you feel a need to ship other than USPS and Military Mail.
*Please note that postal rates my change nationwide. Please check with your post office for exact shipping costs.