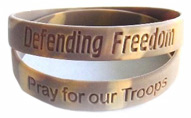 Update as of January 31, 2012: Our partnership in this program has now raised over $37,150.00 since implementation on June 17, 2005.
Thank you for your support, and thank you to DefendingFreedom.net for this opportunity!
Purchase a "Support Our Troops" wristband from DefendingFreedom.net and the proceeds will go to support shipping costs for the MarineParents.com, Inc Care Package Project. We send between 900-1100 care packages each eleven weeks to Marines deployed to Iraq and Afghanistan. Our shipping costs total a more than $10,000 each shipment.
The wristbands are desert sand camo color with "Defending Freedom" on one side and "Pray for our Troops" on the other. They come in several sizes. The cost is $3, and 100% from each wristband goes directly to MarineParents.com to support shipping costs for the Care Package Project™.
When ordering, be sure to select "MarineParents.com" as the referral so the appropriate credit can be given. Click here to order..