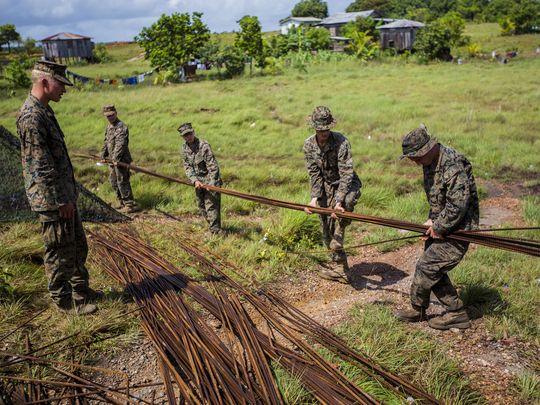 *Image info: Members of Special Purpose Marine Air-Ground Task Force -- South move rebar in Puerto Lempira, Honduras, while building a new school.
(USMC photo by Cpl. Katelyn Hunter)
Marine Corps News: Corps Helps Central American Troops Develop Training
Added November 27, 2015

Following a six month deployment to Central America, approximately 280 Marines began returning to Camp Lejeune earlier this month.
The Marines were deployed to Honduras, Guatemala, El Salvador, and Belize as part of the inaugural deployment for Special Purpose Marine Air-Ground Task Force.
During the deployment, the Marines built new schools, runways, and additional infrastructure, remained at the ready to help with any humanitarian crises that occurred during hurricane season, and dispatched four Marine Security Cooperation Teams to military bases in the region to assist local troops hone their infantry and leadership skills through the development of new training programs.