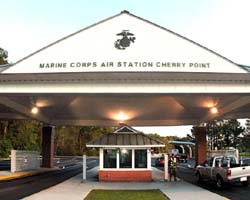 *Image info: MCAS Cherry Point front gate.
(USMC photo/released).
Marine Corps News: MCAS Cherry Point Celebrates 75th Anniversary
Added August 26, 2016

Last Thursday, August 18, saw Marine Corps Air Station (MCAS) Cherry Point, North Carolina celebrate its 75th anniversary.
On August 18, 1941, then-Commandant of the Marine Corps Lieutenant General Thomas Holcomb penned a letter establishing "Air Facilities under Development at Cherry Point." That same day, Lieutenant Thomas J. Cushman, the base's first commanding officer, reported for duty with four enlisted Marines.
In the three-quarters of a century since it's founding, MCAS Cherry Point has become largest Marine Corps Air Station in the United States.