Medical Care & Emergencies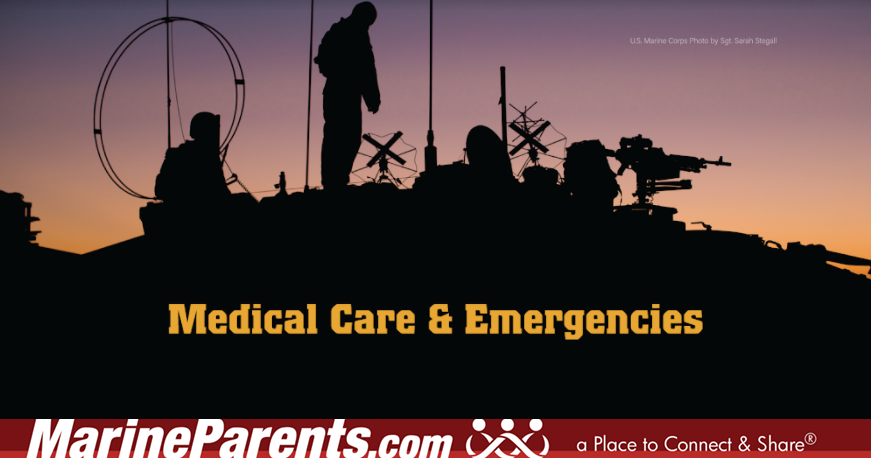 ---
Injury, Illness, or Incident of Your Recruit or Marine
Your recruit or Marine may become ill, incur an injury, or be affected by some type of incident during his/her career in the Corps. Know that this may happen and that your loved one may not be the person making the phone call to inform you.
If You Get a Call: Take Notes & Ask Questions
If you get an incident, illness, or injury phone call, stay calm and take notes. Write down the name of the person you're speaking with, dates, times, and as much information as you can. Before hanging up the phone, ask for two things:
a contact person's name and phone number regarding the incident, and
what the next course of action will be during the process
Learn more: CACO Terminology
PERSEC: Personal Security
Personal Security, known as PERSEC, is up to you and your Marine. Never provide personal information about your Marine to a caller. A legitimate person calling to report a situation to you will not ask you to provide personally identifying information about your recruit or Marine.
Learn more: PERSEC vs. OPSEC
Medical Care: Recruits, Marines, Reservists
Once your recruit leaves for boot camp and during an active-duty Marine's career in the Corps, they will have medical and dental care provided to them. All recruits and Marines (including Reservists) are considered active duty during boot camp and all other schoolings. Reserve Marines will be offered a form of insurance as part of their benefits package when theyhave completed schooling.
Learn more: Health Insurance in the Marine Corps
Family Emergencies
If your family has an emergency that you need to communicate to your recruit or Marine, the course of action for you to take is to contact your LOCAL Red Cross. The Red Cross is the only entity authorized to validate family emergencies; the validation by the Red Cross is required before any actions can be taken.
Learn more: Emergencies during Deployment