Meet Paul
a volunteer at MarineParents.com. Our volunteers work around the United States in a variety of capacities.
---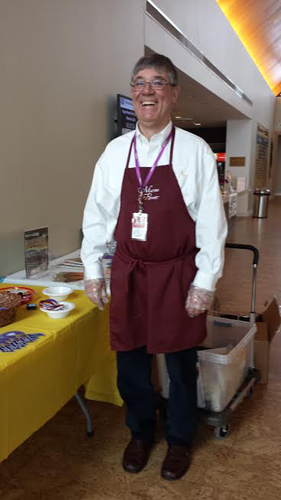 Paul
Marine Parent and Volunteer
Total Volunteer Hours 1st & 2nd Quarter of 2018: 18! Paul has been volunteering with Marine Parents along with his wife, Mary Ann, since 2008. Their oldest daughter is their Marine, and she served two tours of duty in Iraq, while their younger daughter joined the American Red Cross Service to the Armed Forces and has served at Fort Drum, New York, in Okinawa, Japan , and at Bagram Air Base, Afghanistan.
Initially, Paul volunteered with Purple Heart Hero Support (now the Warrior Support Team) to serve monthly Sunday evening dinners to recovering warriors and their families at Walter Reed National Military Medical Center (then known as "Bethesda"). At that time, the hospital's food service facilities were closed on Sunday evenings and families who were unfamiliar with the area found it difficult to find dining options that allowed them to stay close to their Marines. Working with our now long-time partner, California Tortilla, Paul helped serve dinners to the families on the same floor where their Marines were recovering. According to Paul, "The meals were nothing fancy—tortillas, salad, chips and dessert—yet the families were so grateful to have them [and] be able to eat dinner while staying close to their wounded Marine."
In recent years the number of wounded service members coming to the hospital has decreased as the pace of overseas hostilities has slowed,but many wounded, ill, and injured service members are still undergoing outpatient treatment, under the care of dedicated military medical staff. The Warrior Support Team has shifted its center of operations to the new USO facility, where our volunteers serve dinners twice a month to outpatients and their families and other active duty military members assigned to the base, as well as delivering meals to inpatients and staff in the traumatic brain injury and behavioral health wards of the hospital. Volunteering with the Warrior Support Team has remained an important part of Paul's life. According to Paul, his favorite part of volunteering, and the part he finds most rewarding, is simply working "on the line" on the Sunday dinners and being able to ask a young service member "what I can get them for dinner. It has been one of the most satisfying experiences in my life," Paul says.