Meet Ellen Griffin, Volunteer for MarineParents.com
a volunteer at MarineParents.com. Our volunteers work around the United States in a variety of capacities. Please give a shout out of thanks to one of our Official Marine Parents Facebook Group volunteers!
---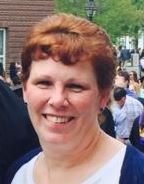 Ellen's Positions
Click the Link to View the Group(s)
Region 5 CR Presenter New Hampshire
STATES CR Coordinator
Ellen Griffin
Volunteering since 2016-03-31
Total Service Hours: 3241.73
Total Service Hours in 2021: 36.78
Ellen is incredibly proud of her son and his decision to become a Marine. Her Marine was born and raised in New Hampshire and has an older sister and a younger brother. Both of his grandfathers served in the military and he has family members who are police officers. Ellen works in H.R. for a international medical manufacturing company.
Ellen looks forward to being able to help other recruit family members understand what their recruits will be experiencing at boot camp and how they can support their recruits through their 13 week journey.
Visit Ellen's Facebook Profile
Back to the list of Official Marine Parents Facebook Groups Volunteers