Meet Bree Hagen, Volunteer for MarineParents.com
a volunteer at MarineParents.com. Our volunteers work around the United States in a variety of capacities. Please give a shout out of thanks to one of our Official Marine Parents Facebook Group volunteers!
---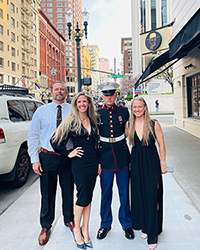 Bree's Positions
Click the Link to View the Group(s)
SD 2nd RTBN Assistant Group Leader SD Fox
Bree Hagen
Volunteering since 2022-03-14
Total Service Hours:
Total Service Hours in 2021: 33.38
Bree, an incredibly proud Marine Mom from Portland, Oregon. She has been a MarineParents.com volunteer since 2022, joining the team of volunteers shortly after her Marine went into Boot Camp. Bree comes from a lineage of servicemen/women, however, this is the family's first Marine. The pride and joy for her Marine are beyond capacity.
Behind the Marine Mom label, Bree is a Mom to her daughter, Wife, and a fur baby Mom to their three dogs. Outside of the home, she is an avid ultra-athlete, taking part in a variety of intense hiking, running, and growth challenges. Her personal mantra is if "less than 1% of people will ever try it, then I'm trying it"! When not training, she's a yogi, reader, traveler, and takes part in several humanitarian efforts across the globe. Personal growth is a huge driver for her, living her best life each day.
MarineParents became her next love when her Marine left for Boot Camp. As a Mom who has lived through the Poolee, Recruit, and now Marine stages of this journey, it became evident that support and knowledge were going to be her best friends. Her "why" is embedded in how she operates her lifestyle, giving back. She leaned in during her transitional times and wants to be there and offer the same support to others as they go along the same journey. The journey to becoming a Marine Parent can be a lonely one, not always having family and friends who understand the depth of the intensity, however, as a Volunteer and amongst other Volunteers in the Semper Fi family, she can provide next level support to those who seek it. For Bree, this is an honor to be part of the Marine Parents Volunteer community, entrusted with the knowledge and skills to ensure other families are provided the support, information, and encouragement they need during this time.
Back to the list of Official Marine Parents Facebook Groups Volunteers