Meet Lisa Carr, Volunteer for MarineParents.com
a volunteer at MarineParents.com. Our volunteers work around the United States in a variety of capacities. Please give a shout out of thanks to one of our Official Marine Parents Facebook Group volunteers!
---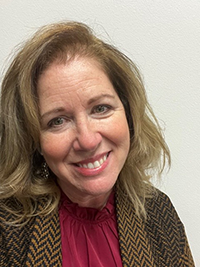 Lisa's Positions
Click the Link to View the Group(s)
PI 3rd RTBN Group Guide PI Kilo
Lisa Carr
Volunteering since 2022-01-17
Total Service Hours:
Total Service Hours in 2021: 85.81
Lisa Carr is a new volunteer and eager to be a part of such a great team. She and her husband, Andy, live in the beautiful state of Michigan with their dog and two cats. Lisa is a Director of Public Safety & Operations for an airport and is a proud step-mom to Julia, a student, and a step-son Garrett, who is a Marine. She and Andy are incredibly proud of the decisions made by these amazing kids! Our Marine first thought about being a Marine when he was in eighth grade. It started with a Christmas ornament and soon became something he really wanted to do. When he graduated from high school he wasn't so sure about joining but after some time off and speaking to friends, family, and his recruiter he made the leap of faith. The family enjoys boating, hiking, backpacking, and really anything outdoors. Andy, as a Boy Scout himself, taught Garrett early on about the great outdoors, tying knots, and learning navigation. Garrett was put to the test once, having to find help in the wilderness after his father was hurt, saving his life.
Lisa decided to volunteer early in the process. Their Marine wasn't a Poolee for long, only two weeks, so she and her husband Andy, jumped in headfirst to learn more. That is when they found MarineParents.com and it has been incredible. Lisa and her husband used the site regularly to learn terminology, understand the process, and catch a glimpse into the life of their recruit, and now Marine. They quickly learned the story is just starting and there is so much more they want to know. It is like having a very large, extended family.
Back to the list of Official Marine Parents Facebook Groups Volunteers