Meet Lisa Robertson, Volunteer for MarineParents.com
a volunteer at MarineParents.com. Our volunteers work around the United States in a variety of capacities. Please give a shout out of thanks to one of our Official Marine Parents Facebook Group volunteers!
---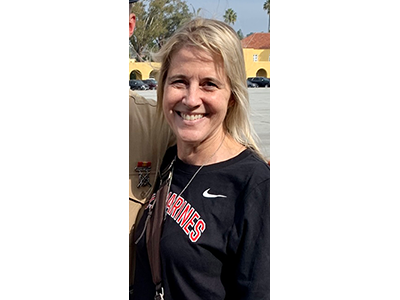 Lisa's Positions
Click the Link to View the Group(s)
SD 2nd RTBN Group Guide SD Echo
SD 3rd RTBN Group Guide SD Kilo
Lisa Robertson
Volunteering since 2021-12-08
Total Service Hours:
Total Service Hours in 2021: 61.24
Lisa is a High School Math Teacher with two grown children. Her oldest, Jentry, is a dance instructor and an award-winning choreographer in Tulsa, she is engaged to be married in September to Brandon. Her youngest is her Marine, Camden. He was an avid motocross racer for several years and has an ornery redbone coon hound named Sadie. She loves to read and craft in her downtime as well as spend time with her kids as often as possible.
When her son joined the Marines, she wanted to learn as much as possible about it. She was overwhelmed with all the information regarding the Marines. She found MarineParents. com and then the Facebook groups. She finally found peace and answers in the groups and she appreciated the guidance and encouragement given by the volunteers. She wanted to be that light for others looking for answers and advice, so she was excited when they asked for volunteers.
Back to the list of Official Marine Parents Facebook Groups Volunteers