Meet Linda Guerrero, Volunteer for MarineParents.com
a volunteer at MarineParents.com. Our volunteers work around the United States in a variety of capacities. Please give a shout out of thanks to one of our Official Marine Parents Facebook Group volunteers!
---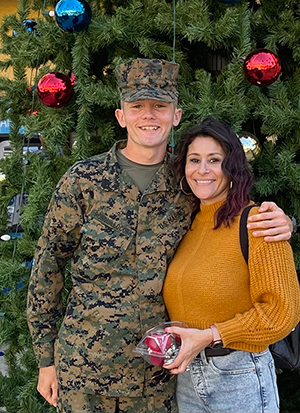 Linda's Positions
Click the Link to View the Group(s)
SD 1st RTBN Group Guide SD Charlie
Linda Guerrero
Volunteering since 2021-12-07
Total Service Hours:
Total Service Hours in 2021: 102.55
Born and raised in California, Linda is married and has 4 children. Linda is a homemaker and takes care of her elderly father, who lives with her and her family. Linda comes from a proud military family. Her 6 uncles all served ranging from the Army, Air force, and Navy. Her son is the first to join the Marines in his generation and past generations as well. Linda's Marine graduated on November 10th, the Marine Corps birthday from the 3rd RTBN Lima Company. She was honored to be able to wish her son a first happy birthday as a Marine. Her Marine is currently in SOI school in North Carolina, after which he will receive his permanent duty station.
Linda decided to become a volunteer for Marineparents.com to help other parents and family members going through the same emotions and experiences she went through while her son went to boot camp. Having a place to reach out, ask questions or just receive support helped her tremendously during that difficult time, which is what she would like to give back to others experiencing the same. Linda hopes to be able to provide the same level of support, information, and guidance she was given by the wonderful volunteers she now gets to be a part of and gets to call her Marine family.
Visit Linda's Facebook Profile
Back to the list of Official Marine Parents Facebook Groups Volunteers