Meet Melissa Messina, Volunteer for MarineParents.com
a volunteer at MarineParents.com. Our volunteers work around the United States in a variety of capacities. Please give a shout out of thanks to one of our Official Marine Parents Facebook Group volunteers!
---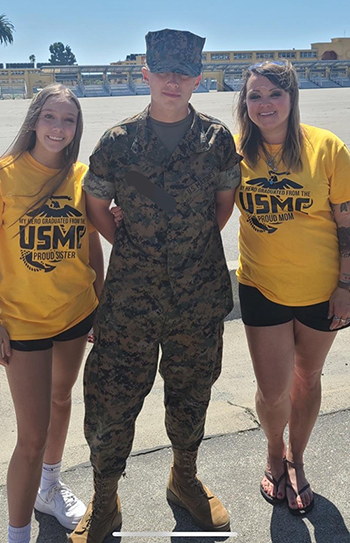 Melissa's Positions
Click the Link to View the Group(s)
SD 2nd RTBN Group Guide SD Golf
Region 4 CR Presenter Illinois
Melissa Messina
Volunteering since 2021-09-29
Total Service Hours:
Total Service Hours in 2021: 204.56
Melissa, her significant other, and her 16-year-old daughter live in the Northwest Suburbs of Chicago, Illinois. Her son is a Marine and currently finishing up his MOS. Melissa's son worked very hard to become a Poolee. He trained very hard and went from a kid that was 100lbs overweight to becoming a young man who ran 10 miles in the Polar Vortex as a challenge from his recruiter at the time. He decided to become a Marine at the young age of 15 years old and trained fully and fiercely until the day that he left for Boot Camp! Her daughter is a Sophomore in high school who has also been a competitive dancer since she was 2 years old. Between both of her children having extremely busy lifestyles, Melissa is very happy to be volunteering with Marine Parents as it makes her feel closer to her Marine Son. Melissa is EXTREMELY PROUD of both of her Marine Son and her "Dancing Daughter" who plans to go to College in California or Florida in 2024. Melissa has been a Full Time Registered Diagnostic Cardiac Sonographer for almost 20 years. Saving lives is definitely one of her passions in life and she finds it very funny when both of her children think that she is a Doctor. She enjoys traveling A LOT, crocheting, photography and spending as much time with her family and friends as possible. Melissa lost both of her parents to cancer when they were both very young so she has learned to embrace life, to try to do as much as you can with the life and time you are given and to always be kind!
Melissa joined MarineParents.com right after her son became a Marine and was going to SOI. While Melissa grew up in a military family and it was the "norm" for most of her family to be active duty military or veterans, her family had never had a Marine before. Melissa's family members served in the Air Force, National Guard, Coast Guard, and Army and fought in many Wars. When Melissa's son decided that he wanted to become a Marine it was a whole different experience for not only her but her entire family. Melissa's family could not be more PROUD of her son for completing their "Military family tree" by becoming a Marine and earning his Eagle, Globe, and Anchor! Melissa felt that becoming a volunteer would help her along her Marine's career path by being able to talk to other family members, get support when needed, and even loved learning the language of the Marines so that she could communicate with her Son better when they spoke on the phone. Melissa has experienced so much positivity by becoming a volunteer and she hopes to share the wealth of knowledge that MarineParents.com has taught her with new Marine families!
Visit Melissa's Facebook Profile
Back to the list of Official Marine Parents Facebook Groups Volunteers