Reaching out to Families of our Fallen Heroes
It's heartbreaking when any service member loses their life, whether we know that individual and their family or not. What can you do for the family members of our fallen heroes? (If you are the family member of a fallen hero, please get in touch with us.)
Family Privacy & Notification
MarineParents.com often receives phone calls and emails when a Marine dies in service or is killed in action asking what they can do. Every phone call and email is well-intentioned. There are some things you can do and some things you should not do.
First and foremost, it's essential to respect and maintain the privacy of the family. The Marine Corps will notify the Primary Next of Kin as soon as possible, usually within 24 hours. Names will be released to the public after formal notification to a family member.
Sending Cards or Gifts
People often want to send condolence cards or gifts they've made for the family members of our fallen heroes. These range from hand-made cards from children, prayer shawls, comfort quilts, poems, or paintings of their hero, to name a few. While it is always well-intentioned, the family members are not giving out their name and contact information to the general public for safety reasons. And we do not have those names and addresses either. The standard operating protocol keeps the family members' personal information secure, not sharing it with the public or organizations that send cards or provide remembrance gifts.
Donations for Expenses
Folks often ask where to donate for the families when a Marine or Marines have died in service or killed in action. While the organization appreciates the offers, contributing to the family members of fallen Marines for funeral expenses is not necessary. Fortunately, between Department of Defense funds and insurance policies, the families of our fallen heroes will not experience any immediate financial needs related to their Marine's death.
Requests from Family Members
If and when a financial need arises from a family member of a fallen hero, the family member is requested to reach out to us directly using our contact page. After verifying the information, we would publish any fundraiser or assistance required here on our website, our Facebook Page, and our Newsletters.
Donations in Memory
We do accept donations to the organization in memory of recently fallen Marines if the family member requests us to receive donations in place of flowers, for example. We then build a donation page specific to that Marine's name.
To donate to Marine Parents in memory of a fallen hero, visit MarineParentsInc.com.
Ways We Help Families of Fallen
There are instances where we have done fundraisers for the families of our fallen Marines; in particular, we held a fundraiser in 2013 when the government had shut down, and the death benefits for family members were on hold. We raised funds to help the family members in that situation immediately. More recently, we raised money to fund Marines attending the funerals of two families whose Marine sons had died during training exercises.
If requested, we provide small garden flags with the Marine's name and unit to display during services or at the hero's permanent duty station or unit.
Family-Sponsored Memorials
We will help Gold Star family members promote any memorials they may do in their Marine's name through our outreach program Gold Star Legacy. Visit our website to learn about memorials you can participate in from the family members themselves: GoldStarLegacy.com.
What You Can Do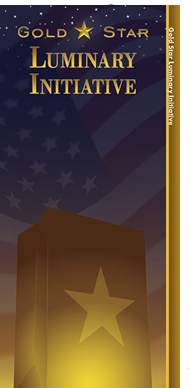 There is a way for you to honor the families of our fallen heroes that respects their privacy and involves your group, neighborhood, organization, or just your own family. You can remember the family members this year, and every year, on Gold Star Family day. On the last Sunday of September each year, Gold Star Family day is recognized nationally by a presidential proclamation. The Luminary Initiative is a great way to bring "remembering the families of our fallen" to your community. To learn more about holding a luminary lighting on Gold Star Family day, visit LuminaryInitiative.com.
We publish photos and stories of luminary lightings on the Luminary Initiative website for Gold Star Family members to see. We encourage you to contact your local media about any events you may hold to honor Gold Star Family members on that day.
Battle Cross Lapel Pin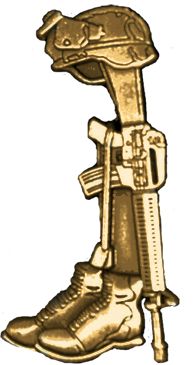 Wearing a battle cross lapel pin is a way to recognize and honor the sacrifice of our fallen heroes. It is a symbolic representation of honoring the families and respecting their loved one's ultimate sacrifice for our country. Visit the EGA Shop for single lapel pins or packages of 10 to share with others. www.EGAShop.com.
Final Word: Crowd Funding
Please be careful donating through crowd-funding platforms for the family members of our fallen heroes from any branch of the service. While some may be well-meaning with their intent, you do not know the purpose of the raised funds nor who the person is running the fundraiser. If they claim it is to help with funeral expenses, it is simply not valid if the person was in service when the death occurred.