Tweet
United We Stand: We Need Your Help
The Organization Needs to Raise $130,000 to Continue to Operate
We're holding a fundraiser to keep our doors open and continue to serve the Marine Corps community. We have helped thousands of Marines and hundreds of thousands of family members. Today, we need your help.
Click the image to learn more and donate, or Click to Donate Using PayPal.
a Place to Connect & Share® is a registered trademark of the United States Marine Corps. Used with permission.
With the combined wisdom of you and your team at MarineParents.com, I feel I have "grown up" as a Marine parent, and I am grateful for that. Thank you for your service.
— Julie Arca, Marine Mom, 2011
Since the pandemic, we've struggled to make ends meet. The shutdown of graduations and our outreach programs during the restrictions created a down spin of donations and store sales we could not overcome. We are grateful for two PPP loans granted and forgiven, which saved the organization.
Store sales, which fund operating costs for our programs, decline week by week. We've cut expenses, salaries, benefits, and staff for two years. Our remaining staff of 9 plus 100 volunteers continue to carry the full load of our mission, including casework. This month, we switched to a cloud-based phone system and have sublet our warehouse for an additional $2000 savings. There are no other cuts we can make and still be operational.
Please, take action today. Help us continue serving Marines and their families. We truly hope we can continue to serve for another 20+ years.
God Bless and Semper Fi,
Tracy Della Vecchia, Founder and Mother of a Marine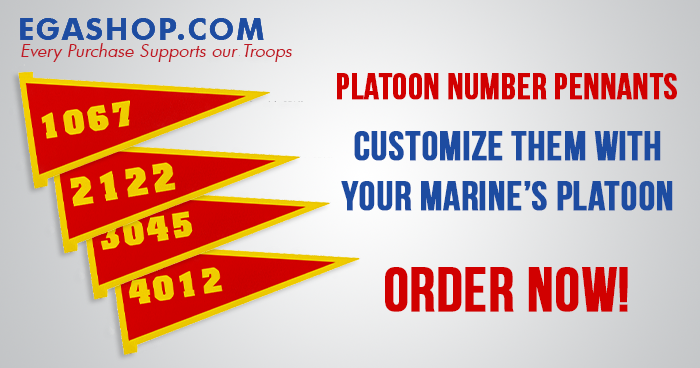 Platoon Pennants
Customize these with your Marine's platoon number! Get one for every family member to carry for the moto run!