Tweet
Welcome Sarah to Team Marine Parents
Vowing 85 Days of Fitness During Boot Camp
Posted on 8/20/2022
Sarah has embraced the challenge of fitness during her son's 85 days in boot camp and has joined Team Marine Parents to make it happen! This is what TMP is about; taking the challenge and riding the waves with your son or daughter while they're in boot camp and during their career in the Corps! Let's give a huge OOH RAH to Sarah Yturbide. Read her story...and get inspired!
In Sarah's own words:
My name is Sarah Yturbide. I am 42 years old, have three beautiful children, and live in Reno, Nevada. My oldest child recently shipped out on August 8th, 2022 to MCRD in San Diego, CA. This has been a tough transition for all of us, during which we found the wonderful support pages on Facebook run by MarineParents.com.
Over the course of our recruit's transfer from MEPs to MCRD, I reassured him and told him to trust the process. I reminded him to not only survive training but more importantly, to thrive. The day after we received his phone call notifying us he had arrived safely at MEPs, I realized I needed to start taking some of my own advice. Knowing we couldn't see or speak to him for the next 85 days, I decided we as a family needed to do more than just survive this experience. We thought it would be beneficial for each of us to set goals to improve ourselves during the time our recruit is gone. We are not merely surviving, we are seizing this opportunity and have launched our FB group campaign known as 85 to Thrive! We have a sign in our entryway now serving as a place to talk about our recruit, write him letters and work on achieving our goals. I, personally, have made a pledge to work out EVERY DAY while my son is at boot camp. Even when I am tired or feel too busy, I run or work out, reminding myself that my recruit is pushing himself beyond his comfort level, so I can too!
When I found the virtual runs posted on the MarineParents.com website, I thought this would be another great opportunity to thrive during our 85-day campaign - helping me with my fitness goal, allowing me to help spread awareness about this amazing organization, and the support it's provided me and my family. I'm also excited to raise funds to help support future families and recruits.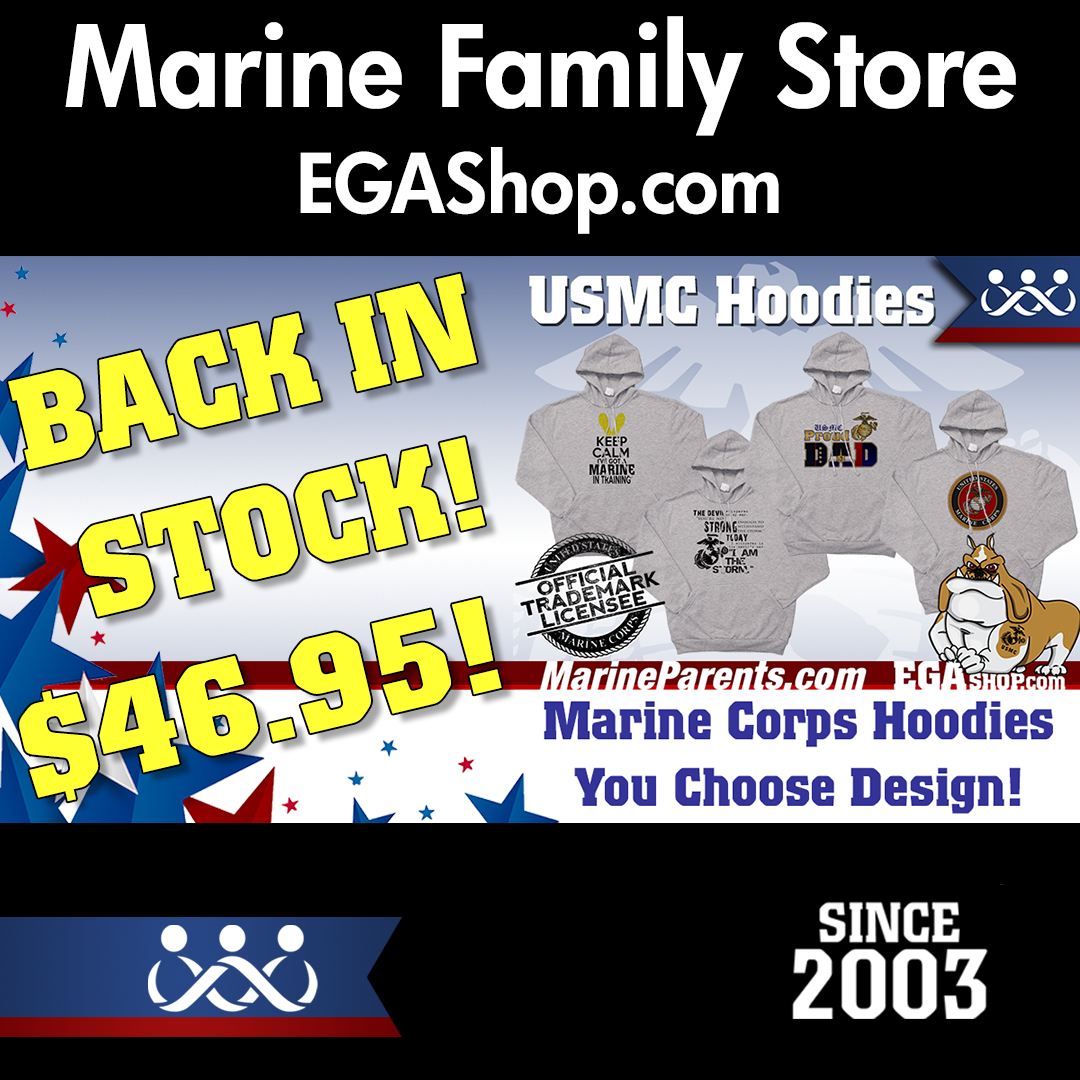 HOODIES BACK IN STOCK!
'Tis the season! Stay warm this winter with our Marine Corps Hoodies!